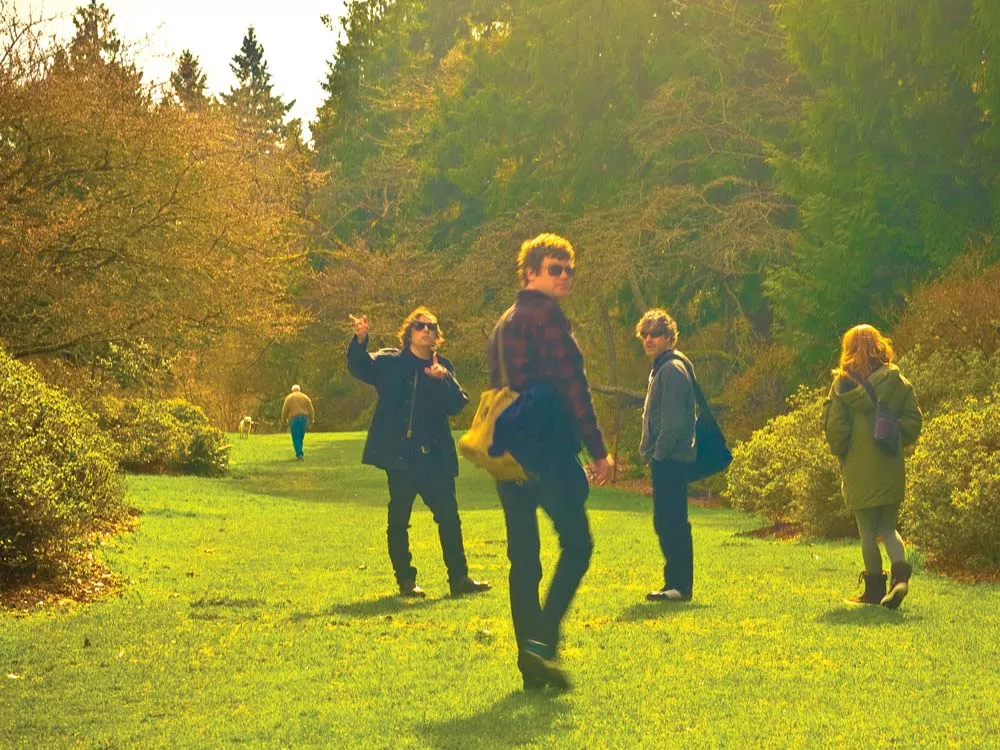 "We were just saying that after we release our next record we'll be able to buy an island — a kitchen island," cracks Jima, frontman of long-running Seattle psych-pop band the Purrs. With a tumbler of Maker's Mark in front of him, straggly bangs brushed across his forehead, Jima looks every bit the veteran of the garage band trenches.
Seated with him at a candlelit table at Gainsbourg, a bar in north Seattle's Greenwood neighborhood, are the rest of the band — guitarists Jason Milne and Liz Herrin and drummer Craig Keller. Perpetual underdogs of the Seattle rock scene, the Purrs celebrated their tenth anniversary last summer with the release of Tearing Down Paisley Garden, a seven-song album of their trademark catchy, psych-inflected garage rock. Obviously, a lot can happen over the course of a decade. But as far as their approach, "The only thing that's changed is our rhythm guitarist," says Jima. "We've had, like, six."
Currently the band is coasting on a wave of energy brought on by the introduction of Herrin, whom they recruited from her day job selling guitars at American Music. Since they discovered her talents, she's become a hot commodity, and other bands have tried to poach her at several recent shows. Heated words were exchanged, but Herrin says you couldn't pay her to leave. "That's funny," drummer Keller chimes in, "You could pay me any money and I'd leave."
That's the kind of band the Purrs are. They have a sense of humor about being a hard-working but under-appreciated act. And despite Jima's claim that nothing's changed in the past decade, it's clear they've gained some perspective.
"It's about having realistic goals — keep my day job, tour as much as I can without losing my house," says Jima. "I've seen bands take risks in their personal lives for fame. It's more important to build a body of work."
Milne concurs. "When we started, we were gonna make it, open for Pavement, quit our jobs, but that's not a reality. We've made it so we don't have to destroy our personal lives to be in a band," he says.
Everyone in the band agrees it's easier to "be mellow," as Jima says. In other words, it's better to yo-yo up and down I-5 a few times a year, playing to dedicated fans, than expend the massive resources needed to launch a national tour. "All the fans you had before died of old age by the time you played Chicago again," says Jima.
While not what you normally hear from fresh-faced bands just starting out, his practical attitude is the opposite of cynicism. Imagine what would happen if a band like the Purrs were motivated purely by money, fame, or some other measure of success. They would have given up long ago, instead of releasing six albums of smart, infectious songs. Their longevity is a testament to the fact that they love what they do, and that right there is a much purer form of success.
And they're not giving up any time soon. Says Jima: "I want to do this forever."

The Purrs play with Mirror Mirror and Dead Serious Lovers • Sat, June 18th at 10 pm • Mootsy's • $5 • 21 • 838-1570