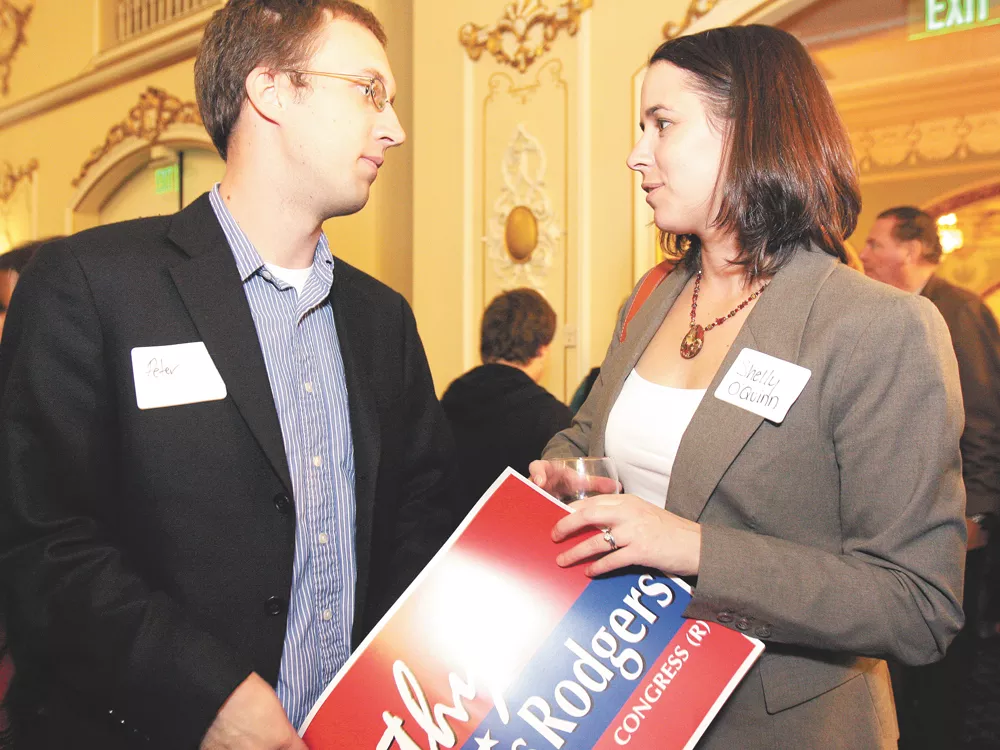 At Pig Out in the Park last month, the Spokane Democrats' booth came stacked with campaign literature from nearly every state, local and national candidate, except one: Daryl Romeyn.
In an interview last week, Romeyn says that he doesn't have campaign materials. "I haven't quite gotten to it yet," Romeyn says. "Same reason I don't have a cell phone."
It's a metaphor for the state of the race: As a former weatherman, Romeyn may have more name recognition than his opponent, Republican Shelly O'Quinn, but so far he's the clear underdog in both votes and money. State and local Republicans have poured resources and coordination into helping their Spokane County commissioner candidates, but local Democratic groups have mostly stayed away from heavy involvement in the races.
Meanwhile, O'Quinn has raised more than $62,000, while Romeyn has raised barely more than a tenth of that. "To be honest with you, that's the one part of politics I find distasteful," Romeyn says about the money. "I'll get the job done without it. We've got a great message."
Romeyn leans sideways as he talks, raising his voice excitedly, gesticulating broadly as he outlines his ideas. While his opponent speaks in mostly general terms, Romeyn hones in on a few specific ideas. He suggests the county fund a small research apple orchard with Washington State University. He believes local machine shops should be producing tools for the military.
On one hand, he says Spokane County needs to focus more on tourism, but he's vowed to not raise taxes. Instead, he wants to slash funding for the chamber of commerce and economic development group, Greater Spokane Incorporated. He says he'd reduce the county's $225,000 expenditure to what the city of Spokane pays (approximately $60,000) and put some of the money into debt relief and public safety.
"I want an accounting of what they're doing," Romeyn says. "When they go on these lobbying trips to Seattle, are they staying at the Hilton or Quality Inn?"
But according to GSI, the group has paid for itself with new tax revenue. The new businesses GSI recruited added, on average, nearly $500,000 in new tax revenue for the county for each of the past three years.
O'Quinn says that the only reason Romeyn is attacking GSI is because she's the organization's director of education and workforce.
"There's not a lot of hot-topic issues right now at the county," O'Quinn says. "So I think he's making up issues."
Instead of spending money on GSI, Romeyn wants to increase tourism by encouraging billionaires in China to visit Spokane. He believes reopening the visitor's center in Gateway Park near the state line would spur drivers on I-90 to stop by and learn about Spokane.
"If we want to create jobs, I'm not sure investing in a dog park is the way to do it," O'Quinn counters.
But O'Quinn speaks more broadly about creating jobs. She talks about "creating a business-friendly county environment," using efficiency programs like Lean Six Sigma.
Citing the way the county swiftly moved to change height restrictions to make way for a major Caterpillar plant in the West Plains, O'Quinn wants to spot speed-bumps to creating or expanding businesses, and then figure out how to remove them. The permitting process could stand to be faster, she says, suggesting that Spokane County and nearby cities could create a one-stop shop for permits.
"Every single day we take to make a decision is a day that company is not creating a job," O'Quinn says. "I have yet to find a business owner who says the county is efficient."