For months, Donald Trump has sucked up all the air in the political universe. Trump's publicity, good and bad, has left little oxygen for candidates in local races. The sad result is that when little attention is given to the down-ballot races, odds favor incumbents. The status quo rules.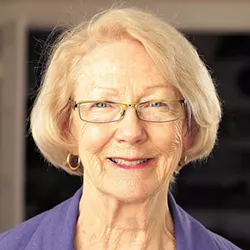 Here in North Idaho, Democratic legislative candidates are challenging the status quo and calling for changes in the way business is done in Boise. Change is in the air, and neither party has a monopoly on it.
Highly respected school board member Tom Hearn is running for the Idaho House of Representatives in Coeur d'Alene's Legislative District 4. Hearn's opponent is Paul Amador, a relative newcomer. Former businesswoman and teacher Kristi Milan opposes incumbent senator Mary Souza in the District 4 Senate race.
Idaho Legislative District 2 is centered in Dalton and Hayden Lake, then sprawls up, down and around to include the smaller communities of Spirit Lake, Twin Lakes, Athol, Bayview, Hauser, Harrison, Rose Lake and Medimont. In this district, Democrat Kathy Kahn is running to replace Vito Barbieri in the Idaho House of Representatives, while Richard Kohles, the pro-kindness candidate, is running to unseat incumbent Eric Redman.
All four of these Democratic candidates argue that our state should provide stronger support for public schools. They agree that Idaho should finally accept federal Medicaid expansion dollars, assuring medical coverage for the 78,000 unfortunate Idahoans who fall into the dreaded Medigap.
All four Democratic candidates strongly oppose the Republican effort to put Idaho's federal lands under state control, arguing that the state can't afford the cost of managing the Forest Service and BLM lands. They also fear that the state would sell off precious hunting and fishing grounds and shut out the public.
Their Republican opponents cannot call for additional funds for public schools, advocate for accepting federal dollars to expand Medicaid, or oppose turning federal lands over to the state without incurring the wrath of their Republican colleagues.
The Republican caucuses in both the Idaho Senate and House are directly responsible for keeping Idaho on the bottom rung of state spending for public schools and the shortsighted absence of public preschools in the state.
Idaho voters will also face a ballot issue: Proposed Constitutional Amendment HJR 5 would take away the Governor's power to veto any legislative action dealing with approval or rejection of an administrative rule.
In a strongly worded message to Idahoans, Attorney General Lawrence Wasden has urged Idaho voters to "Vote NO! on HJR 5." Wasden, in his role as chief lawyer for the state, criticized the Legislature's sending back to the voters a measure those voters rejected only two years ago. Wasden states that the action "reflects Legislative contempt for the will of the voters."
Attorney General Wasden tells us this amendment dangerously threatens the balance of power among the three divisions of state government, not only limiting the Governor's power to veto Legislative actions, but also stripping the Supreme Court of its authority to evaluate the separation of powers. He also says it is not necessary.
In short, our elected in-house lawyer advises Idaho voters to nip this power grab by the legislature in the bud. So I agree: Vote NO! on HJR 5.
Also important to look for is the contested Supreme Court race. Lawyers Robyn Brody and Curt McKenzie led the pack in the primary for the position vacated by retiring Supreme Court Justice Jim Jones. Brody received almost 4,000 more votes than McKenzie, but not the 50 percent that would have secured the job. Hence, the runoff.
According to her website, Brody has a general law practice in Rupert in central Idaho's Magic Valley, "focusing on helping people and small businesses." She received the Idaho State Bar Association Professionalism Award in 2014.
McKenzie has served in the Idaho Senate for seven terms and chairs the Senate State Affairs Committee. He is endorsed by the National Rifle Association — in fact, he was a champion of the bill that permits guns to be carried on college campuses. McKenzie is also endorsed by Idaho Chooses Life for his 100 percent pro-life voting record.
McKenzie has successfully climbed the partisan ladder and is now seeking a job that requires total nonpartisan objectivity. How will he manage that? I don't have a dog in this race, but his endorsements come from organizations that do.
Brody has been endorsed by the Idaho Statesman for her objectivity and independence. As a woman, she would represent a step toward gender balance. She also would bring the perspective of a private practitioner dealing with clients with everyday lives.
Robyn Brody's campaign slogan is "from the trench to the bench." A wise electorate will choose to send her there. ♦