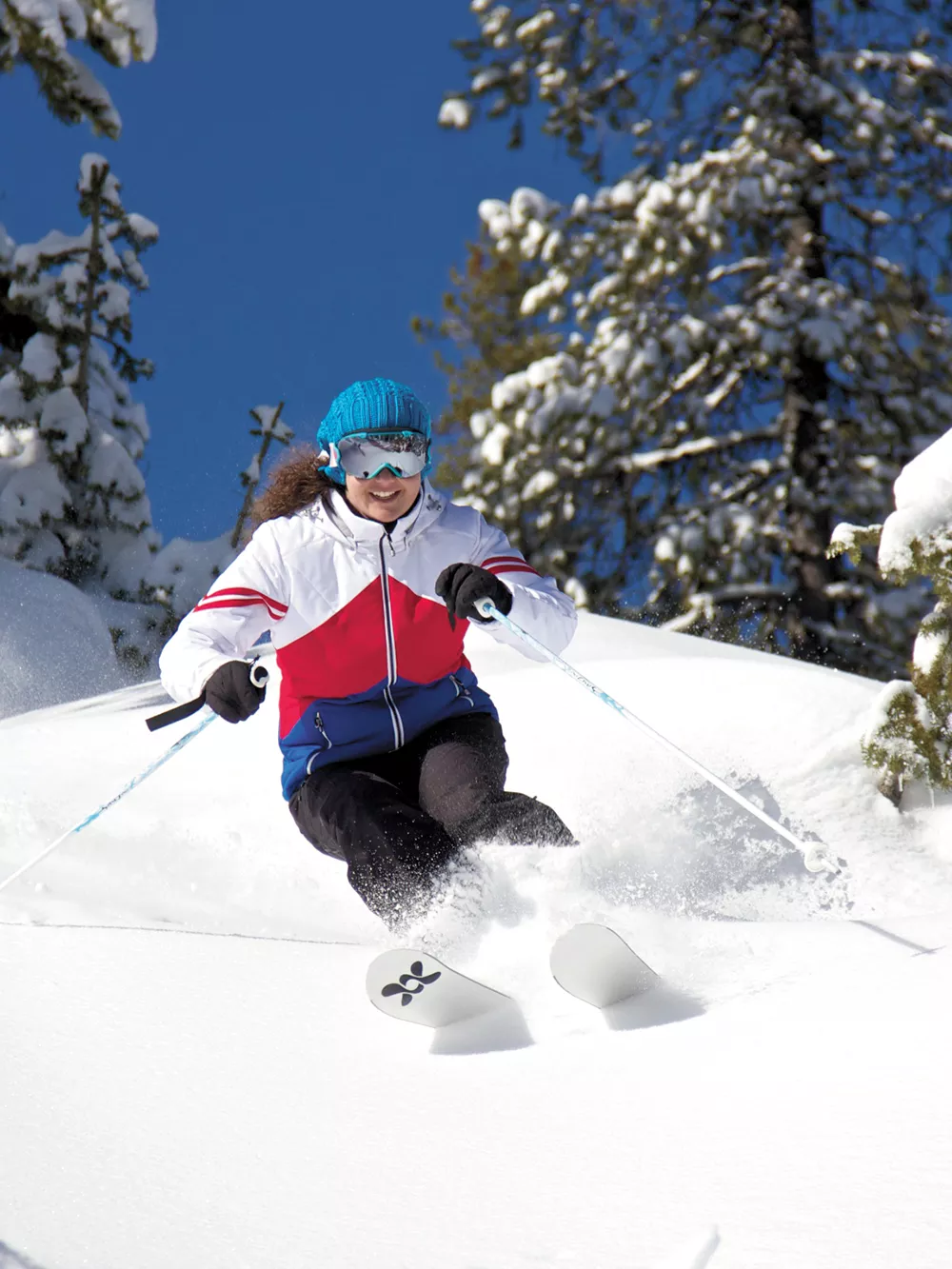 What's New
Most of the improvements you'll find at Lookout Pass can be seen in the terrain parks. "We've moved the location of the Huckleberry Jam Park and worked on building features geared for beginners and intermediates," says Christopher "Cash" Barrett, marketing and snow sports director. Instead of focusing on the big dogs, they're working on the concept of progression, getting those wanting to try terrain park-style riding properly trained.
There'a another exciting addition to the team at Lookout Pass: "We have attained a PSIA (Professional Ski Instructors of America) Demo Team member, and have added a cross-country/Nordic skiing program," Barrett says. With cross-country trails accessible right from the base area, this is an exciting addition to Lookout's already well-rounded learning programs. "Our new team member won't be here until the end of December, as they are a part of the Demo team and are currently training at Copper Mountain in Colorado," Barrett says. "We have also added a NEXT level telemark program (in addition to a NEXT level alpine program). All of our coaches are 100 percent certified for the discipline they specialize in. This is one of the few places in the entire country with that designation."
Upgrades have been made to the Ski School and Rental Shop to ensure an easier flow of participants and customers, especially for those new to Lookout Pass and skiing/snowboarding. Another small change? The Downhill Divas program has been moved to Fridays.
In addition to the terrain park and dedication to the improvement of learning programs, Barrett also reports that the Lookout Pass website has continually been upgraded over the past several months, making for easier navigation and integration. There's a downloadable trail map for smartphones, with QR code assistance. "We continue to receive plenty of quality snow (400 inches annually on average) and will continue with our quality grooming," says Barrett.
Making the Most of It
Barrett says the best deal is the EZ Ski & Ride 1-2-3 program: "Boards, boots, skis, poles, ticket and lesson for three different days for 100 bucks. And at the end of it, you get a free season pass to Lookout Pass for the remainder of the season."
Taking a lesson is the best way to make the most of any mountain. Even if you're an experienced skier or boarder, having an instructor can benefit you — you'll be shown secret stashes and fun tree lines, which could take you days or weeks to find if you were searching for them without local knowledge.
Special Deals
The wide variety and amount of learning options available at Lookout Pass, as well as the affordable pricing, is what sets it apart from other regional mountains. For more than 75 years, the most unique option has introduced more than 60,000 kids to the worlds of skiing and riding. The Lookout Pass Free Ski School is just that: free, with skiing and riding lessons for kids (ages 6-17). Equipment is not included, though the Rental Shop has everything you'll need to get going.
Lift tickets
Adult: full day $36 midweek / $39 weekends & holidays / half day $31 midweek / half day $34 weekend & holiday
Junior (7-17): full day $26 midweek / $28 weekend & holiday / half day $22 midweek / half day $24 weekend & holiday
College/Military: full day $34 midweek / $37 weekend & holiday / half day $29 midweek / half day $32 weekend & holiday
Seniors (62+): full day $26 midweek / $28 weekend & holiday / half day $22 midweek / $24 half day weekend & holiday
Boomer Fridays (40+): $26, not valid Dec. 27 & Jan. 3