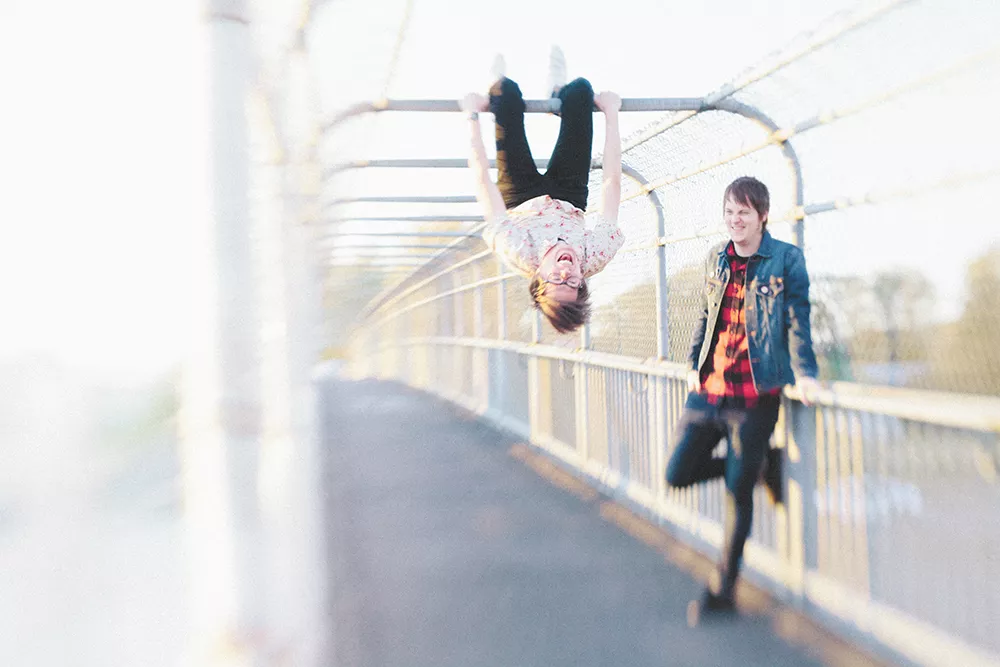 Jordan Satterfield, the front man of Spokane's indie rock act Loomer, is a surprising — and, for some of us, depressing — reminder of just how many years exist between the present and the glorious 1990s.
"Built to Spill, Dinosaur Jr. — those were my lullabies," says the 24-year-old Satterfield, whose stepfather introduced him to those bands. "I was poisoned to love this stuff from the get-go."
So it's almost second nature that the songs he's crafted for Loomer are gritty and distorted at the core, but nevertheless are carried by pop melodies. The songs are '90s short and '90s angsty, too, and both Satterfield and the band's bassist, Josh Morrisey, are well aware of it, even if they didn't experience much of that decade.
"I hear a lot of people say that we're revivalists, and I'm fine if that's how we come off," says Satterfield.
Next to Satterfield in a booth at D. Lish, his favorite Spokane burger joint, Morrisey takes a break from his quadruple cheeseburger, a monstrosity that the rail-thin dude manages to nearly demolish over the next half-hour.
"There's a lot of other bands doing revivalist things like folk or '80s synth stuff, but there's not a huge amount of people going back to the '90s. It's too new to be classic and too new to be contemporary. It's in a weird limbo," says Morrisey.
"I like how you put that," says Satterfield.
"Well, thanks," Morrisey replies.
The pair have been playing with drummer Tony Kuchar for the past year, but he recently moved to Tucson, Arizona, to take a job in the video game industry. Kuchar is flying up for the Volume festival show, but they'll likely have to find a more permanent replacement in the near future. Satterfield and Morrisey aren't worried about that, mostly because since the two began playing in bands around Spokane, they've operated as a pair. They first crossed paths when they were in a class together at Eastern Washington University, but didn't really become friends until after they graduated in 2012.
"I sat in the front [of the class] because that's the kind of guy I am, and Jordan sat in the back with his earbuds in, listening to black metal. And I was like, 'That f---ing guy," jokes Morrisey.
When they started playing music, it was a Frank Black cover project called Catholic Guilt, and then they were both in a one-off Black Flag tribute act. As their other collaborators went by the wayside, they stuck together to form Loomer, named after a song by My Bloody Valentine, a band Satterfield loves, but whose influence doesn't seep into his songwriting.
They wrote and recorded an EP and began playing shows, which was daunting at first for Satterfield, who has struggled with performance anxiety and was still figuring out how to be a lead singer. Now they already have another EP of fast-paced, melodic and pleasantly unpolished cuts that bring to mind another of Satterfield's beloved bands, Guided By Voices. That record, expected to drop soon, marks a band that has decided to take itself a little more seriously while still having a good time. And there have been more good times than bad for the band, especially at their live show, where Satterfield feels he's come into his own.
"There's something very therapeutic and medicinal about going up in front of a crowd of drunk people and just screaming all your insecurities at them," he says, acknowledging that this is perhaps the most '90s-rock thing he could say about his music. "You're just screaming out all that bottled-up self-deprecation." ♦
Loomer plays Volume Fri, May 29, at 10:30 pm at the Big Dipper • 171 W. Washington • All-ages