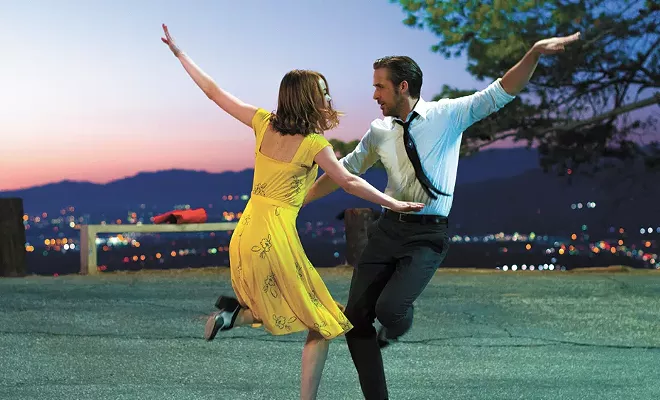 For some reason, musicals dissolve the suspension of disbelief for the majority of moviegoers. The general public is totally on board with a perennially rebooting film franchise about a teenager who gets bitten by a spider, puts on tight pants, and shoots sticky goo out of his palms, but the thought of people spontaneously bursting into song and dance routines is a deal-breaker. So right away, La La Land is not for everyone: It's unabashedly a musical, and it pays tribute to the long and vibrant history of Hollywood musicals.
Additionally, just to winnow the audience down even more, it's a movie about the joy of movies — there go another 100,000 potential viewers — and it's a romance about two beautiful young bohemians who are passionate about bringing good art into the world. So now there are probably about two of you left reading this. But I'll tell you this: You two are absolutely going to love this movie. La La Land is a love letter to musical nerds and hopeless romantics and people who like to get nostalgic about their earliest, most passionate relationships.
Just two movies into his young career, writer/director Damien Chazelle is fast becoming the best actor's director in the business. With the jazz-teacher psychological thriller Whiplash, he coaxed devastating performances out of the lead duo of J.K. Simmons and Miles Teller. Now with La La Land, he takes Emma Stone and Ryan Gosling's already-palpable chemistry — they helped elevate Crazy Stupid Love from a square domestic comedy into a surprisingly watchable film — into something elemental. When jazz pianist Sebastian (Gosling) and aspiring actress Mia (Stone) first see each other, their attraction is more than magnetic — it can bend time and space. The leads help the musical construction make sense; these two are so head-over-heels for each other that of course everything stops for a song-and-dance number now and again.
Every frame of La La Land aspires to woo the audience. Chazelle employs a vivid rainbow of colors, from Mia and her roommates heading out to party in a spray of primary-color cocktail dresses to the large, bright murals painted seemingly all over Los Angeles. (Permit me a deep film-nerd analogy for a moment: What Todd Haynes's Far from Heaven did to revive interest in Douglas Sirk, La La Land should do for French director Jacques Demy.) The sun doesn't just set in La La Land — it lights the sky into a sherbet-pink pageant. The two leads dance all over town, from waltzes to tap routines to a kind of vaudeville pas de deux, and for a while everything is charming and there's absolutely no conflict at all. It's kind of like falling in love.
But like how stage hypnosis only works on the compliant, if you're not willing to be seduced by La La Land, it's very likely the film will do less than nothing for you. If you go into the movie not sure about musicals, or not in the mood for an earnest romance, or not eager to be entertained, you'll likely come away cold, or even annoyed. Even the hardest of cynics should appreciate Stone's indelible performance. (Gosling is very good, but you've seen this kind of tense physical comedy from him before; Stone, simply, is playing on another level.) Chazelle makes some daring storytelling leaps — especially in the third act — which could alienate a large portion of the audience. But that's OK. As eager as La La Land is to please, you get the sense that it's not intended for a wide audience. Instead, it's meant for a handful of souls — artists, romantics — and those people will love it with all their hearts. ♦