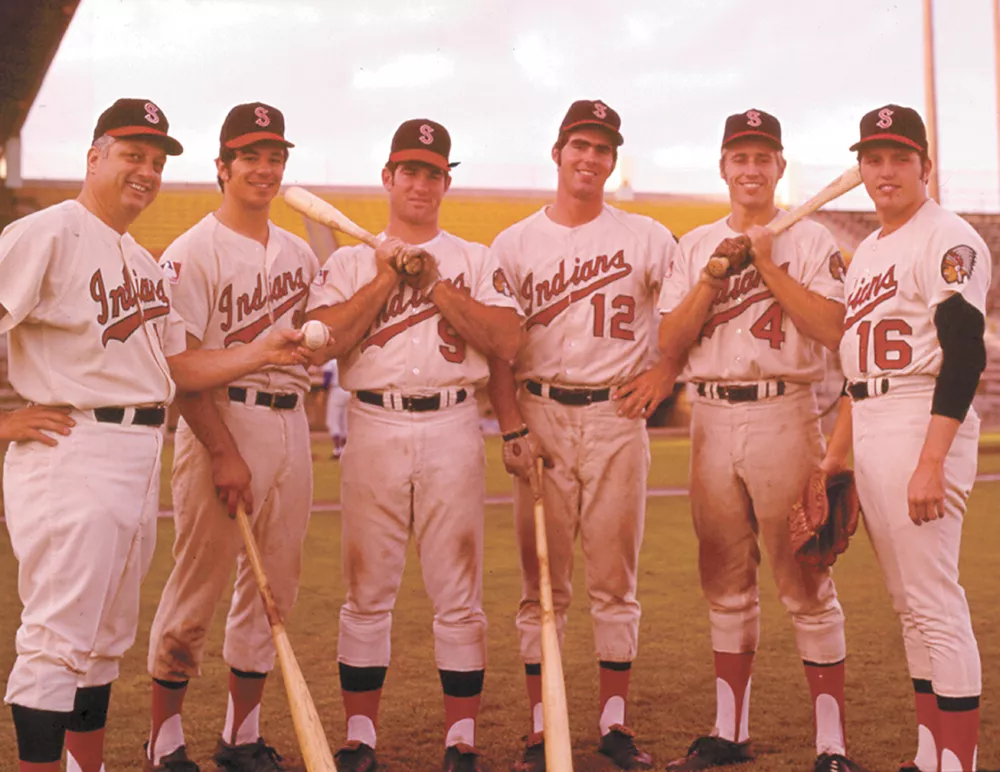 Indians baseball has played a major role in my life since childhood and — calendars be damned — the start of another season always signals the official start of summer in the Stalwick household.
Count me among the many local baby boomers who tremble at visions of our 76 Union or Darigold baseball cards of the early 1960s Indians. Mike Goliat, Lib Julian, Bob Giallombardo: Boys, you are not forgotten, although all of my cards eventually suffered a gruesome death when I attached them to my bicycle spokes with clothespins. That clicking sound was really cool, ya know.
I remember my late, great father holding my hand as we made our way to our seats through the crowded first-base tunnel at what is now Avista Stadium. Once we reached the end of the tunnel — voila! — I was mesmerized by the panoramic view of that perfectly manicured infield, the vast sea of outfield grass and those brightly painted outfield walls. I can still smell the freshly roasted popcorn, still hear the buzz of the crowd, still see my heroes going about their work on that gem of a diamond.
Dad took me to my first Indians game — the first one I was old enough to remember, anyway — in 1958. That season marked the onset of Spokane's baseball glory days, a 14-year run as a Class AAA farm club of the Los Angeles Dodgers.
Name a Dodgers star from the 1960s or '70s — Maury Wills, Steve Garvey, Willie Davis, Tommy Davis, Frank Howard, Ron Cey, Bill Buckner, Davey Lopes, Bill Russell — and chances are he first played for the Indians in the Pacific Coast League. Many other familiar names from that era made brief stops in Spokane (Hall of Fame pitchers Hoyt Wilhelm and Don Sutton); or managed here (Tommy Lasorda, another Hall of Famer); or returned to Spokane year after year in dogged but ultimately failed pursuit of fame and fortune (Jim Barbieri, Bart Shirley, Nate Oliver, Tommy Hutton, Johnny Werhas, Howie Reed).
The Dodgers helped revive baseball in Spokane after fading attendance cost the city its Northwest (formerly Western International) League franchise following the 1956 season. Two years later, baseball returned to Spokane bigger and better than ever when the PCL's Los Angeles Angels moved here due to the Dodgers' westward flight from Brooklyn.
The arrival of Triple-A baseball — the best of the best in the minor leagues — instantly transformed Spokane into a true-blue Dodgers town. The atmosphere was electric whenever the parent club came to Spokane to play an exhibition game against the Indians. I once came this close to touching the golden left arm of Sandy Koufax (aka The Greatest Pitcher Ever) and the Dodgers provided the city with two of the better teams in minor league history.
Lasorda's 1970 club finished 94-52 and featured dangerous hitters like Garvey, Buckner, Russell, Hutton, Bobby Valentine and Tom Paciorek, plus pitching standouts such as Jerry Stephenson, Mike Strahler and Charlie Hough.
Some observers maintain that baseball in Spokane has never been quite the same since the Dodgers transferred their PCL franchise to Albuquerque, New Mexico, in 1972. After a pit stop in the Northwest League that year, Spokane landed another PCL franchise via Portland. That operation moved to Las Vegas in 1983, and the Indians have played in the Northwest League ever since.
Fans were slow to embrace short-season Class A ball, but large crowds have long since become the norm at Avista Stadium. The ballpark, hastily constructed for the original PCL Indians in '58, looks good as new after undergoing more facelifts than Joan Rivers.
Many fans find a 38-game Northwest League home schedule that starts in June a welcome alternative to 70-some PCL home dates starting in chilly April. Far more PCL alums make it to the majors than Northwest League players, but Spokane's NWL clubs have produced such big leaguers as Ian Kinsler, Zack Greinke, Carlos Beltran, Sandy Alomar, Joey Cora, Chris Davis, Neftali Feliz and Mark Ellis.
More than half a century after taking in my first Indians game, I still tingle a bit when I make my first trek of the summer to that grand old ballpark on Havana Street. These are the hallowed grounds where I collected a gazillion autographs, bonded with my father, celebrated my wedding and taught my daughters the nuances of the game. Tried to teach them, anyway. Cheyanne and Shanna always seemed more interested in chasing boys around the concessions stands than learning about the value of a well-timed squeeze bunt.
Their loss, right?
Full disclosure: I named one of our cats after Willie Davis, and I named myself after Howie Reed when I was 7. I was never a big fan of my given name, so I simply decided one summer day that I henceforth would go by Howie. This didn't go over well with my mom. Eventually, she got used to it. Sorta.
Alas, my dear mother never fully understood my love for baseball in general, and the Indians in particular. Her loss, right? ♦
The Spokane Indians begin a five-game home series against the Boise Hawks on Sat, July 4 at 6:30 pm. Tickets at spokaneindiansbaseball.com