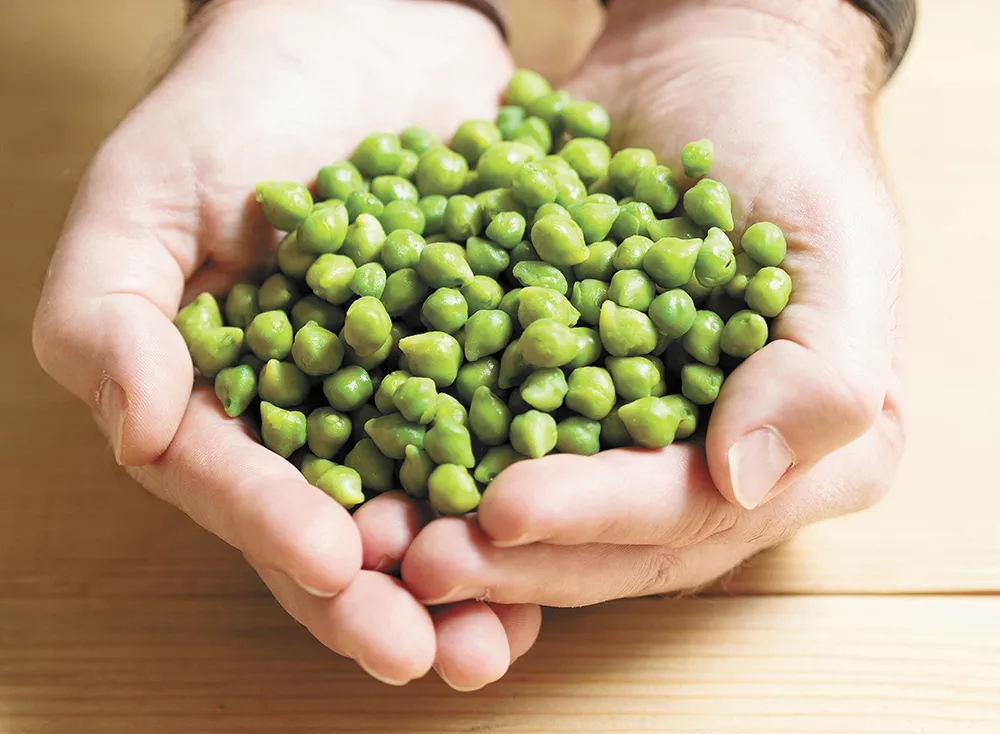 Every season, restaurateurs, chefs and foodies tout the latest and greatest additions to the ever-expanding culinary lexicon of our great nation. Each region encourages trends that spread throughout the states, uniting us via curiosity and appetite. But aside from the continuing dominance of kale, vegetables rarely make the top trends lists.
Fresh Nature Foods is striving to shake up the status quo and offer some healthful and innovative competition in the form of green garbanzo beans. The company works with farmers who have been farming the Palouse for almost 100 years and cultivating garbanzo beans for more than 30.
It wasn't until the early 2000s that inspiration struck in the form of a younger version of a familiar legume. Green garbanzos are neither a new seed nor a new plant, but simply harvested early — 45 days early, to be precise — while they are still tender and fresh. Blonde garbanzos, the variety we purchase dried to reconstitute or canned in water, are left to dry on the vine, then harvested.
Green and blonde garbanzos vary in taste and nutritional profile, but green garbanzos are just as versatile in cooking: use them to replace blonde garbanzos in hummus and soups or steamed as an alternative to edamame. Sautéed, green garbanzos make a great base for fish or chicken or a simple, quick vegetarian dish. Green garbanzos are more nutrient-filled and harvested before the natural sugars turn to starch, giving them an agreeable density that doesn't get mushy or lose texture.
"Green garbanzos are sweeter, with a buttery nuttiness. They are not nearly as bean-like as the blonde," says Aaron Sweatt, Pacific Northwest key account manager for Fresh Nature Foods.
Green garbanzos are an excellent source of folic acid and high in iron, but additional aspects of the powerhouse legume also will appeal to consumers.
"Our green garbanzos boost immunity, are 100 percent natural, non-GMO, local, gluten free and allergen free. Soybeans are popular, but there are becoming more and more soy allergies. Consumers are looking for a similar product that is allergen free," explains Sweatt.
Garbanzo plants are as beneficial to the earth as they are to humans.
"The garbanzo plant naturally produces nitrogen and puts it back into the soil. It is a fantastic rotation crop and totally sustainable. Our biggest thing is to nurture the land we've been able to farm for years," he says.
Our corner of the Northwest, where Washington, Idaho and Oregon meet, happens to be one of the best regions to grow garbanzos. Though some areas of the U.S. have green garbanzos fresh in the pod for purchase, the short growing season here — three weeks long — has inspired further innovation by Fresh Nature Foods. The young legumes are picked, shelled, washed, blanched and flash-frozen before they are packaged, saving consumers valuable time and providing green garbanzos year-round.
Local chefs have been very open to the taste, versatility and wholesomeness of the green garbanzo. The Flying Goat and Downriver Grill feature green garbanzos regularly on summer menus. The green garbanzo veggie cake, similar to falafel, is featured on the Dockside menu at the Coeur d'Alene Resort in their Best Sandwich in Town.
"The Coeur d'Alene [Resort] uses them regularly and has for years in green garbanzo hummus. They've been a huge supporter of us over the years," says Sweatt.
Chefs aren't the only ones who see the benefits of supporting a local, sustainable crop.
"Another big push we are working on is featuring green garbanzos in the public school system and the universities, too. By federal law, schools have to serve one-half cup of legumes a week. It's not very often that a new vegetable item comes along. This adds variety," continues Sweatt. "District 81 and Mead are doing a pilot program right now until the end of the year. Gonzaga, Whitworth and possibly Spokane Community College are going to try implementing green garbanzos into student dining in the fall."
Green garbanzos will be harvested locally in late July, so look for them at farmers markets. Although no local groceries currently carry green garbanzos, Fresh Nature Foods hopes to have prepared foods or flash-frozen retail packs available locally by September. ♦