Upon hearing about the Paris attacks, my heart raced through a painful series of blows. First I seized on the horror of the destruction of innocent life. Then I was hit by how this particular tragedy would be treated differently by Westerners than the many equally despicable killings of people in other countries. Now we are forced to confront the disturbing reality of some people blindly confusing the victims of terrorism with the perpetrators. In this season of Thanksgiving and helping our neighbors after the windstorm, let's challenge ourselves to extend our generosity to all people in need so we can overcome the violence that is besieging our global community.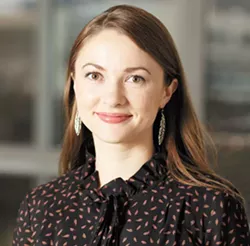 While some fearfully call for the wholesale rejection of Muslim refugees from our country, my thoughts turn to people like my Syrian friend who runs a small business here in Spokane. He has worked hard for years to support his local family and send some resources home to relatives whose lives are in danger. "All of this, it is for them," he told me with tears in his eyes when we first met. "Here, you must try my baklava, it is the best," he insisted, changing the subject to a lighter topic. This man who brims with hospitality and concern went out of his way for my family when we were in need of some social support. Why is it so easy for our fellow Americans to forget the humanity of Syrian refugees in our common struggle against terror?
In uncertain times, our compassion is tested. While some open their arms to joyously welcome those in need, others react by slamming their emotional garage doors shut. Some have hurtfully used certain groups of people, namely veterans, the homeless and white women, as arguments against offering Syrian refugees the basic protections they deserve. How can they be so convinced there isn't enough to go around, as if addressing the dire needs of refugees will necessarily deny others? It often turns out that these doubters have experienced scarcity and a painful lack of caring in their own lives that profoundly shapes the way they see the world.
For those prone to alarmism, the facts only seem to assault their sensibilities rather than reassure them. Refugees go through the most rigorous screening process of anyone entering America, so resettlement programs are actually the last channel terrorists would attempt to use in gaining access to our country. The majority of people seeking asylum are women and children who are suffering from one of the worst humanitarian crises in the world today. We can be proud that Gov. Jay Inslee has stood up to welcome these refugees in need. Hopefully the rest of our nation's decision makers will soon recognize the folly of their fear and change course.
Over our dinner tables, our most precious sanctum of family and security, I invite you to stand ready with empathy and compassion for both those in need and those who would deny them. ♦
Mariah McKay is a fourth-generation daughter of Spokane and a community organizer campaigning for racial, social and economic justice. She currently serves as a public health advocate.