In a world of Trumpism, we must love each other and ourselves. There is literally nothing else that will change the future of our country more than those simple acts. When someone wrote words of hatred on the walls of a preschool in our city, the staff and community came together and prayed for the individual with such hate in their heart.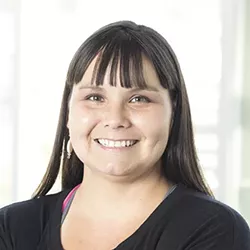 Last week, the Salish School of Spokane, a language immersion school and preschool, was the most recent target in a stream of hate throughout our community since Trump's election. The first attack was against the Martin Luther King, Jr. Family Outreach Center — another preschool — in November, where perpetrators tagged the N-word next to the playground.
Our community showed up and stood firm against acts of such hatred. I saw the pain and tears it caused grown men to shed. I saw it strengthen the resolve of Freda Gandy, the center's executive director, into an unstoppable force to continue to create the kind of loving and supportive environment that the children of our community deserve. There was no doubt that such an act of hate did nothing but increase our love for each other.
There have been other acts of hate — including anti-Semitic rhetoric at the Community Building that houses the Spokane NAACP, the Peace and Justice Action League of Spokane and the Center for Justice. Similar hateful rhetoric was posted at the Spokane County Democratic offices not long before that. Each time, our community has come together to stand against such bullying.
Elders and cultural leaders showed up to rally at the Salish School, along with hundreds of others. As they always have, the elders shared their language in prayer, and in solidarity with the rest of the community. Most important, they shared forgiveness and love with not only the person responsible, but also the idea behind the hateful language.
But as one speaker pointed out, our community can keep coming together against this hate, but it's not enough if we don't do something about it every day. Showing up on a Saturday to rally is great. Feeling bad about what happened and donating to any of these organizations is also very helpful. But really, those things are easy. What we really need is for people to challenge the racism and ideals ingrained in our systems and in our everyday life.
The stark reality is that we need white people to step up to eradicate the systems of oppression that started with the genocide of millions of Native Americans and slavery of Africans, and still continue today in our justice system, our education system, even our real estate system. All of us must actively end systemic racism.
So the question is, what will it take for each of you to realize that the system gives you privileges denied people with a different skin tone or ethnic background? What will it take for you to realize that the system can and will change if you help?
I ask these questions because the words spray-painted on the walls of two of our preschools hurt. The intentions behind the words hurt. But what hurts more is the systemic racism that has been allowed to thrive for more than 500 years.
Don't get me wrong: This is disheartening, but it is not paralyzing. If there is anything to be learned about the history of our country, it's that communities of color have a way of surviving, then thriving. And that's what we will do. And while we do it, we will show that love wins against everything. Loving each other is more powerful than any hatred. Now, if only you would believe us. ♦
Tara Dowd, an enrolled Inupiaq Eskimo, owns a diversity consulting business and is an advocate for systemic equity.