"I
t's the first night — we gotta set it off!"
So proclaimed Tom Eddy, frontman of the Dip, on Saturday night when the Seattle soul outfit became the first headliners to take the stage at the Lucky You Lounge. The new 320-capacity Browne's Addition venue, the latest venture from Bartlett owners Caleb and Karli Ingersoll, was completely full, with long lines out the front door and at both of the establishment's bars at the start of the evening.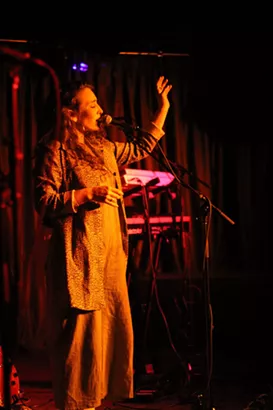 The sound system was apparently still being set up just moments before the first notes were played, but everything seemed to go as smoothly as the R&B on the stage.
Portland singer-songwriter Moorea Masa kicked the night off with her signature smooth, socially conscious jams, and she has one of those voices that stops you short. Performing with a pared down formation of her regular seven-piece backing band, the Mood, Masa encouraged the sold-out crowd to stretch their muscles before the Dip came out and got everyone dancing.
"We don't want anybody to get hurt," she said.
And dance, they did. The Dip is a big band — two guitars, bass, drums, trumpet, alto and bass saxophones — with big energy, but they fit the lounge's expansive stage, and considering just how many moving parts they require, the sound mix was clear and uncluttered.
Lucky You's downstairs bar, meanwhile, could become one of my regular Browne's hangouts. With its low ceiling, disco balls and
Cheers
-meets-Catacombs atmosphere, it's a cozy little alcove. Draft beer wasn't available as of Saturday night, but the rest of the bar was well-stocked. The small stage in the corner of the room will host a series of free concerts through the month — Ohmme on May 16, Downtown Boys May 17 and Sego on May 25.
The Lucky You main stage already has an impressive lineup of rock 'n' roll lifers in place: Grunge icons Mudhoney are hitting town this weekend on May 11 (the show is sold out, but you might be able to find some fan tickets floating around), with Built to Spill on Jun 21 and Son Volt on Oct. 19. The official grand opening party is going to be a three-day affair — June 13 through 15 — and will feature the Cave Singers, Deep Sea Diver and Super Sparkle.
See a full lineup and purchase tickets
here
.
Oh, and we'd be remiss if we didn't mention the Lucky You is one of the new venues participating in the
Inlander
's own Volume Music Festival, which goes down on May 31 and June 1; get your two-day passes
here
.