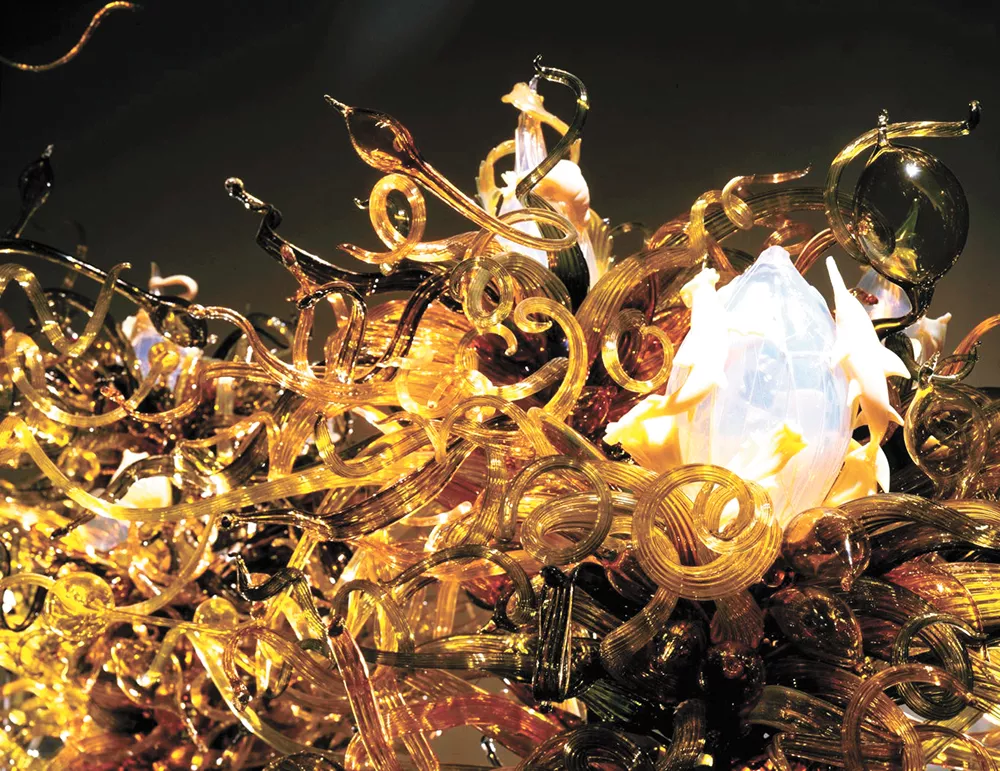 There's something about glass that intrigues us. That glimmer of blue or green glass sticking out of the sand and made smooth by the sea. The old bottle whose walls are thick with immobilized bubbles. The kaleidoscope of colors emanating from magnificent stained glass windows.
Beyond its utility — a cup, a windowpane, a light fixture — and in the hands of true artists, glass can be dazzling to behold. And that, say organizers of the Northwest Museum of Arts & Culture's new glass exhibit, is precisely the point. Luminous showcases 33 local and international exemplars in glassworking who will collectively amaze audiences with the versatility of this ancient artform dating back more than 4,000 years. The MAC partnered with Portland-based glass collector George Stroemple and Tacoma's Museum of Glass, which loaned 40 works for the four-month exhibition. Featured are several works from Dale Chihuly, the glassworld's equivalent of a mega-star known for elevating and promoting the art of glassblowing and glassworking, including co-founding the Pilchuck Glass School in 1971.
One piece, the Laguna Murano Chandelier, is a 250-pound chandelier embodying a sense of floating sea creatures and undulating waves. The chandelier consists of five pieces — two hanging and three on steel armatures — each comprised of ridiculously fragile, luminous, individually blown glass elements.
The Laguna chandelier was the result of a 1996 collaboration with Lino Tagliapietra, aka "the maestro," and the late Pino Signoretto, both from Italy, where Chihuly was finalizing an internationally acclaimed exhibition entitled Chihuly Over Venice. Some consider it Chihuly's finest work, which is saying a lot as the artist has been working in glass since 1968.
Chihuly has brought glass to the forefront in the Northwest and beyond, says Katie Creyts, associate professor of sculpture at Whitworth University, who teaches three levels of glassworking classes. That's just one reason the MAC's glass exhibition is a big deal, she says.
"[Glass] artists are true pioneers of craft," says Creyts. "Glass is challenging to work with, finicky and expensive!"
Working with glass requires passion and a vision, says Creyts, who has studied at such places as the Studio at the Corning Museum of Glass in New York and the Pilchuk Glass School.
"Artists learn about the material and their voice through exploring what the material can do," says Creyts, who is also excited about a Whitworth exhibit, Currently, featuring glass artist Nathan Sandberg and running through March 22 at the school's Bryan Oliver Gallery. Glass, says Creyts, also has unique properties like translucency and optics. "It can be formed in many ways from furnace work, kilncasting, lamp working, fusing, etc."
Another fascinating aspect of glasswork is the range of possible colors, Creyts says. Some of Chihuly's Macchia series, for example, reflect the artist's experimentations with 300 different colored rods he has in his "hotshop," the Seattle-based studio where Chihuly continues to conjure his creations.
The MAC exhibition allows audience members to experience the full spectrum of what can be done with glass, from the radiant segmented geometric forms of Midwestern-based artist Jiyong Lee to the ghost-like clear and frosted-glass assemblages of Ingalena Klenell to the mixed works of Elin Christopherson. Also included are regional artists, including Joe Fedderson of the Confederated Tribes of the Colville Reservation and Preston Singletary, a Seattle-based artist best-known for incorporating motifs from his Tlingit heritage into works combining traditional glassblowing and sandcarving techniques. ♦
Luminous • Feb. 23-June 23; open Tue-Sun, 10 am-5 pm; third Thursday 10 am-8 pm • $12/adults, $8/seniors and college students with ID, $5/ages 6-17 (MAC members and ages 5 and under free) • Northwest Museum of Arts & Culture • 2316 W. First • northwestmuseum.org • 456-3931