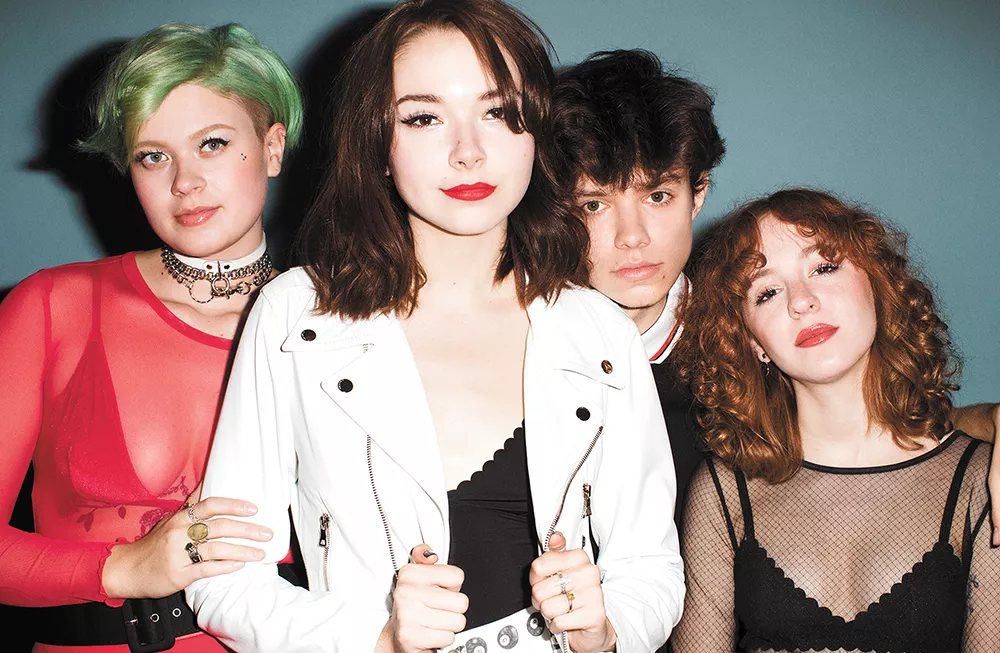 As frontwoman of the punk-rock band the Regrettes, Lydia Night doesn't like planning ahead. She usually packs her clothes the night before leaving for a tour, isn't big on rehearsal and disdains canned stage moves and banter.
A frequent concertgoer herself, she values authenticity from performers.
"I hate when I can tell whoever in the band is speaking has totally planned out what they're going to say," she says. "When you don't plan anything and you are in the moment, you are a much easier target. You feel much more vulnerable, because anything can happen at any second."
The Regrettes are coming to the Bartlett on Thursday, March 22. Expect a zero-shits-given stage demeanor from the four-piece, which is rounded out by Genessa Gariano on guitar, Sage Nicole on bass and drummer Maxx Morando. Their sound is firmly rooted in modern rock, but branches out with a doo-wop vibe recalling classic acts such as the Temptations and Buddy Holly.
For an example, check out the band's recently released single, "Come Through." It's a pop-punk banger about a flaky boyfriend that starts with a bouncy bassline and builds up to a massive chorus. Night sings, "You don't come through / Like you say you do / Now I don't need you to / 'Cause I don't need you."
Talking to the Inlander from her home in Los Angeles, Night, 17, says she appreciates the element of risk as a performer — the sense that everything could fall apart (but probably won't). Unlike many touring bands, the Regrettes don't play along to a metronome or any prerecorded sounds.
"I understand why certain artists do it," Night says. "The Kills use a lot of programmed instruments during their performances, and they do it in a way that still feels authentic — I still feel like I'm watching somebody make music, and it doesn't feel like a cop-out. I really think there's a right way to do it. For us, we don't have like 30 tracks or any weird sounds that we need to recreate live, and I really like having it where you see everything that you're hearing."
To get in the right mindset before shows, Night isolates herself from the rest of the band, puts on headphones, and thinks about female performers she admires, such as Beyonce and Karen O of the Yeah Yeah Yeahs.
"I'll tell myself I'm a bad bitch," she says, and then gets together with the band for a huddle before greeting the crowd.
"When an artist gets up on stage, they're obviously the center of attention," she says. "Everyone in that room mostly has their focus on them, and that can be scary. For me personally, to perform well, I can't be in my head and be thinking about that. I can't be thinking, 'Oh my God, all these people are watching me.' I think the best performances are when the artist is completely out of their head; they're just in the moment."
That's why Night was totally unprepared for what happened last October at the Growlers Six, a music festival in Southern California. In the middle of the Regrettes' set, a reportedly intoxicated woman wearing a superhero cape climbed on stage and shoved Night to the ground before being restrained by security. It's taken several months for Night to move past the incident and feel comfortable on stage again.
"When the whole attack thing happened, it was so shocking and it took me a while to get over it," she says. "It freaks you out. It's like, 'Oh, shit, maybe I need to have my guard up more when I play shows.' But I know that doesn't feel right to me, and it was such a rare, crazy thing."
True to the spirit of punk rock, Night likes music that's raw and real. That means being ready for anything — but definitely not planning for it. ♦
The Regrettes with Mt. Eddy • Thur, March 22, at 8 pm • $10 • All ages • The Bartlett • 228 W. Sprague • thebartlettspokane.com • 747-2174