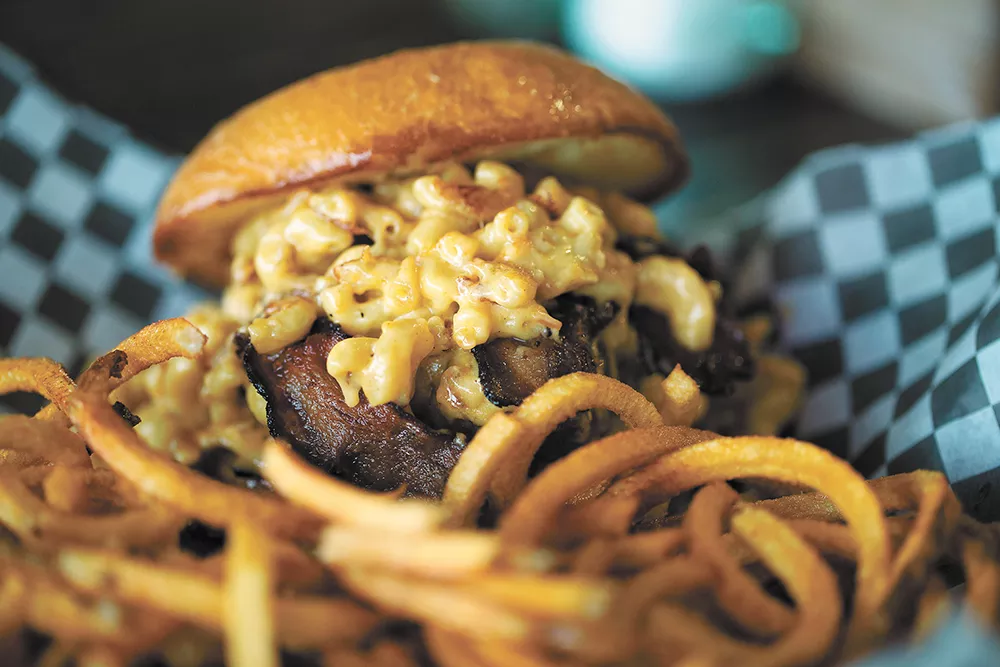 You probably know some natural athletes, or natural artists — people who just have a knack for a certain talent with seemingly little training required.
Nick Bokarica just might be one of those types when it comes to the art of crafting craveable macaroni and cheese.
"I have zero culinary training. I never worked in the food industry as even a dishwasher or busser or cook," admits the man behind the new Mac Daddy's Pub & Grill, and co-founder of the Mac Daddy's food truck. "I just always had a kind of passion for food, cooking on my own. I kind of raised myself since I was a teenager, so I always had to come up with my own meals.
"Pretty much all the recipes I do now I've been doing for years," he continues. "We have these big family dinners for Thanksgiving and I would always make mac and cheese, and they just always loved it. So I kind of took that and really worked on different recipes."
You can now find those recipes dotting the menu of the new pub that Bokarica opened in North Spokane in late November. The spacious former home of the Unforgiven Lounge is now a bright, roomy bar and restaurant with a massive patio out front, several TVs and an overall sporty vibe that Bokarica says is a reflection of his personality, and the culmination of a dream he had to take items from Mac Daddy's food truck and his Shameless Sausage hot dog carts and give them a brick-and-mortar home where people could gather for a game and some grub.
"I put a lot of my own personal background into the space," Bokarica says of the spot he landed after exploring options in Browne's Addition and the former Tonicx bar spot on Ash Street.
"I'm a huge sports fan and I have baseball bats on the wall, turf on the floor. I collected baseball cards since I was 5 years old, so I have baseball cards and football cards plastered all over the bar top, on the bar back, on the counters. I just wanted certain things that are different, that you can't find anywhere else."
That idea extends to the menu. While fans of the Mac Daddy's food truck and the Shameless Sausage cart will find their favorites on the menu of the pub and grill, Bokarica has added new flavors to the old standards, as well as appetizers and a full slate of hand-pressed burgers like the Mac Daddy Burger ($12), a 1/3-pound, hand-pressed burger topped with jalapeno bacon, chipotle mayo, house-made bacon-cheese sauce and a scoop of Mac Daddy's Bacon mac and cheese.
Bokarica stresses that the kitchen tries to do everything by hand when possible. The Crispy Boneless Wings ($12) are hand-breaded, and the curly fries are hand-cut and served with either a scoop of bacon mac and cheese or the house cheese sauce ($9). In addition to the familiar, you can get a more-than-generous serving of the Pizza Mac (pepperoni, olive, marinara mozzarella, parmesan) or Spicy Mac (jalapenos, hot sauce, bacon mac and cheese) for $12, and it would be daunting to try and eat an order in one sitting. For people looking for lighter fare, there are several salads available, too.
The bar serves primarily local beers — Young Buck Brewing even made the pub a signature IPA — as well as standards like Blue Moon and Coors Light, and as the new year continues Bokarica is going to add more specials like pulled pork and lobster mac-and-cheese dishes.
As the weather warms and he's able to start using the patio outside, the vision Bokarica had for his first brick-and-mortar restaurant will come to life. He envisions customers enjoying the farmers market that sets up in the strip mall's massive parking lot, and he plans a food truck festival in May.
"We just ran across this spot on Craigslist, and I came up and looked at it and I just had a vision and saw it had a lot of potential," Bokarica says. "I think it's a great location. I think there's a lot of opportunity, a ton of potential up here." ♦
Mac Daddy's Pub & Grill • Open Mon-Thu noon-midnight, Fri noon-2 am, Sat 11 am-2 am and Sun 11 am-10 pm • 415 W. Hastings • facebook.com/macdaddyspubandgrill • 270-7069