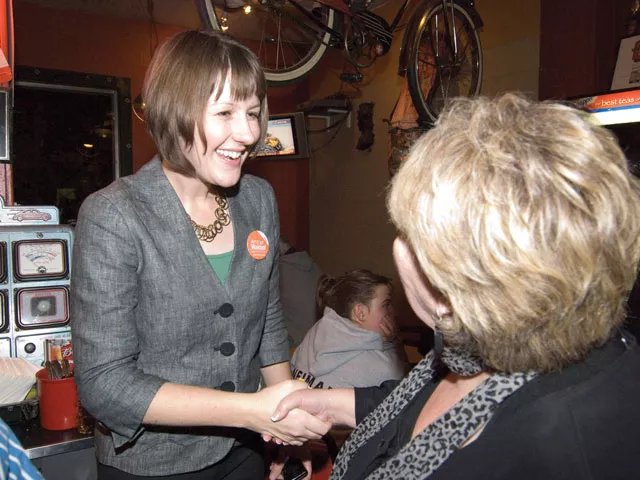 As long as Spokane's been a city, to campaign for the Spokane City Council has been a nonpartisan affair, separate from the rancor that poisons national politics.
Until now. "You need party backing," says Mike Allen, who lost his bid to remain on the council last week. Allen had no party support, despite fl irting with both Democrats and Republicans. His opponent, Jon Snyder, had the backing of the county's Democratic Party. "A moderate or centrist is going to have a really hard time getting on the council again," Allen says. "Campaigns will get bigger and noisier."
This year, each of three candidates elected to City Council had strong party backing. When it comes to money, the three sat on top as the races' most successful fund-raisers.
Nancy McLaughlin, a Republican, raised $40,000 and won every voting precinct in her northwest Spokane district. Amber Waldref, a Democrat in northeast Spokane, also raised $40,000 and lost just one precinct. Snyder raised $50,000 and received almost 1,500 more votes than Allen.
"There's the weird conception that they just hand you the keys to the fund-raising machine and say, 'Go to town.' It's not that way," Snyder says about what winning a party's endorsement can do for a candidate. He says he "took issue" with Allen's suggesting that parties decide council races.
"What won this was a really energized, grassroots campaign," he says. "[The Democratic Party's] support was great, but we really did so much more outside that."
Both Republican and Democratic leaders say this was the fi rst council race in which their respective parties entered the fray with such an investment of money, volunteers and other resources.
"It was very important for us to get progressive candidates on the council," says Amy Biviano, chair of the county Democrats. "We looked at who was on the council and some recent decisions and we thought, 'We just have to get involved.'" Before the election, county GOP spokesman Curt Fackler said his party had begun donating money to candidates — also a fi rst.
"We're looking at it as these people have infl uence in their positions. The City Council people can affect me more than a member of Congress can," Fackler said.
But John Waite, a failed candidate in McLaughlin's district who ran on a fi scally conservative and socially liberal platform, says the system is broken: Having parties involved in a nonpartisan race kills independent candidates.
"The idea that these races are nonpartisan is just ridiculous," he says. Despite his aversion to party labels, 1.7 w he asked for the Democrats' support. He didn't succeed in getting it: "The leadership said, 'If he's not willing to call himself a Democrat, we won't support him.'" Waite fully supports Snyder and Waldref, but is critical of how their campaigns were fueled. Both candidates received large donations from Sharon Smith, vice chair in the state's Democratic Party, and her partner, Don Barbieri, who ran as a Democrat against Congresswoman Cathy McMorris Rodgers in 2004.
"Jon and Amber's races were absolutely driven by the Democratic Party," Waite says. "I think Jon's a great guy and will be a great representative, but to say he wasn't helped by the parties is just silly."
Spokane County Commissioner Todd Mielke, a Republican in a partisan position, says parties and money don't always win races, but the support helps.
"Networks get people elected. The question is: What network was it — the candidate's or the party's? … How much money did you get from the party or people connected with the party? How many volunteers came by way of the party?" Mielke points to McLaughlin's involvement in the religious community and in her neighborhood, as well as her role as a precinct officer for the Republican Party, as examples of McLaughlin's ability to work with networks. McLaughlin received $1,000 from Cindy Zapotocky, one of her largest donations. Zapotocky is chair of the Spokane County Republican Party.
"Nancy has a lot of network support. Those tentacles, and I mean no offense, reach far," Mielke says.
Which is Snyder's argument. He tapped all of his networks — he even won the endorsement of his high school history teacher. One just happened to be the Dems.
"I know we attracted some Republicans in this campaign [and] I know Nancy would not have had the margin she did without Democratic support," he says. What it really boils down to, Snyder says, is a candidate's personality.
"That margin up there is a result of working as hard as [McLaughlin] has," Snyder says. "Some of those party things melt away when you work on [municipal issues such as] street repair."
But Allen — who says he feels a bit unmoored after losing the election and is unsure if he'll ever seek office again — says council positions are, basically, already partisan.
"Now, you have six Democrats and one Republican up there," he says.
"Those people have declared."