49° North
Chewelah, Washington • ski49n.com
1,850 vertical feet • 82 runs
The critical ingredients for any epic powder day are snow and terrain, and 49 Degrees North has plenty of both. With average annual snowfall of just over 300 inches and 2,325 skiable acres, this is the kind of mountain where breathless, quad-burning riding is the norm. Chewelah and Angel peaks promise countless hours of gently treed steeps, and the ridges and lower flanks of 49 Degrees North give mellower skiers and snowboarders a chance to challenge themselves or simply cruise. Start the day with coffee and a cinnamon roll at Cy's Cafe, then finish it with a beer or two at the popular Boomtown Bar and Grill, and you'll have enough to rave about to survive the next off-season.
Anthony Lakes
North Powder, Oregon • anthonylakes.com
900 vertical feet • 21 runs
Skiing isn't just about sprawling runs and huge vert. It's about rounding out your day with new opportunity. That's exactly what riders can expect to find at Anthony Lakes. Yes, there's ample terrain for beginners, intermediates and experts alike, but you'll also find more than 18 miles of breathtaking Nordic trails, cat skiing access to another 2,000 acres of bowls and glades, and the option to bunk for a night in Anthony Lakes' Gunsight Yurt or Hoffer Yurt, located in the resort's Nordic area. If you and your friends really want to capitalize on the area's powder offerings, there's even the option to rent the entire mountain for a day for $4,000.
Apex Mountain Resort
Penticton, B.C. • apexresort.com
2,000 vertical feet • 73 runs
Apex is an apt name for this hidden Canadian treasure, tucked away in the Okanagan region just three and a half hours northwest of Spokane. Visitors can cash in on B.C.'s champagne powder any number of ways, from gentle groomers to thrilling double blacks. The Billy Goat Hut perched on the summit of Beaconsfield Mountain makes midday refueling easy, and those seeking an evening of romance or family fun can take a spin through the pines on Apex Village's Adventure Skating Loop, a half-mile of sparkling, Zamboni-maintained ice perfect for after-dinner skating.
Big Sky
Big Sky, Montana • bigskyresort.com
4,350 vertical feet • 300 runs
Big Sky has long been a major destination for skiing in the Northern Rockies, but the resort's purchase five years ago of neighboring Moonlight Basin took things to a whole new level. A single pass ensures access to every slope off Lone Peak's 11,166-foot summit, meaning even the most expert riders will find a challenge lurking at the end of every chairlift or tram ride. And with two craft breweries operating in the nearby town of Big Sky, there's always an après party to be had.
Big White Ski Resort
Kelowna, B.C. • bigwhite.com
2,550 vertical feet • 118 runs
Situated above a quaint Canadian-style ski village, Big White boasts a dizzying array of beginner, intermediate and expert terrain including 1,525 acres of ungroomed alpine and gladed skiing. The resort also offers the largest night skiing area in western Canada, and its longest run is a thigh-screaming 4.5 miles. Crews spent the 2018 off-season clearing more of the glades Big White has become known for, as well as replacing the resort's old triple chair with a new fixed-grip quad. When the sun goes down, consider taking a horse-drawn sleigh ride through the woods for a private gourmet dinner in a cozy cabin.
Blacktail
Lakeside, Montana • blacktailmountain.com
1,440 vertical feet • 24 runs
Blacktail is one of those overlooked gems in Pacific Northwest skiing. But when the powder falls, it should be close to the top of anyone's to-ride list. The area offers a stunning view of western Montana's Flathead Lake, and an abundance of terrain — both open and treed — that'll have intermediate and expert riders salivating. Blacktail is also one of those charming, rare ski destinations where the parking lot and lodge are perched at the summit.
Bluewood
Dayton, Washington • bluewood.com
1,125 vertical feet • 24 runs
Entering the 2018-19 season, Bluewood has made it easier for new skiers and snowboarders to enjoy winter. The resort's platter lift was replaced this summer with two new conveyor lifts, increasing the hourly number of riders that can be moved along the beginner area. And as those newbies progress, they'll be able to join the legions of veterans shredding the steeps off Bluewood's summit or swimming through powder in the trees off Vintner's Ridge.
Bridger Bowl
Bozeman, Montana • bridgerbowl.com
2,700 vertical feet • 75 runs
Known for the iconic ridgeline towering above the resort, Bridger Bowl offers some of the most challenging and technical terrain for thrill-seeking skiers and snowboarders in Montana — and an average snowfall of 350 inches to boot. Riders in the uppermost bowls and chutes here are required to carry avalanche transceivers, but below these hanging powder fields lie plenty of gentle greens and blues for those eager to just carve big mountain turns. Either way, muscles will be throbbing, making a stop in at the Jim Bridger Lodge — or the more family-oriented Saddle Peak Lodge — a welcome breather before the next plunge.
Brundage Mountain Resort
McCall, Idaho • brundage.com
1,921 vertical feet • 46 runs
Skiers and snowboarders crave fresh snow, and this year Brundage has made it easier to get the scoop on conditions with its new mountain app, which includes webcams, weather reports and real-time snowfall data. The info should help riders plan in advance whether to hit Brundage's open frontside blues, lap the backside Lakeview Bowl or head straight for the resort's 420 acres of lift-served backcountry. If a change of pace is in order, consider snagging a pair of snowshoes at the rental shop and venturing out along Brundage's snowshoe loop.
Crystal Mountain
Crystal Mountain, Washington • crystalmountainresort.com
3,100 vertical feet • 57 runs
Sprawled across 2,600 acres of prime Cascade Range terrain, Crystal Mountain's network of named trails and lift-accessed backcountry cater to every level of rider seeking adventure in the Pacific Northwest. From the top of the resort's Mount Rainier Gondola, visitors can take in a stunning view of the nearby Mount Rainier National Park before shredding down the largest ski resort in Washington state. Crystal is located less than two hours southeast of Seattle and houses a village full of restaurants, cafes and the popular Bullwheel Bar. The resort was purchased this fall by the Alterra Mountain Company, owner of other iconic ski destinations including Steamboat, Mammoth and Tremblant.
Discovery
Anaconda, Montana • skidiscovery.com
2,388 vertical feet • 67 runs
Don't let the mom-and-pop vibe fool you. Tucked away along western Montana's Pintler Scenic Loop, Discovery contains some truly gnarly terrain. Drop off the backside of Rumsey Mountain into one of Disco's two bowls and you'll find a powder-laden palace of steep chutes and tree runs. If groomed cruisers are more your style, try Berkeley on the frontside or the 1.5-mile-long Winning Ridge off the Granite Chair. At the end of the day, swing through the nearby town of Philipsburg for a slice of après-life at Philipsburg Brewing and be sure to say hey to the brewery's official canine mascot, Bruce.
Fairmont
Fairmont, B.C. • fairmonthotsprings.com
1,000 vertical feet • 13 runs
Carved out among the pines below Fairmont Ridge, Fairmont packs a diverse mix of beginner, intermediate and advanced terrain into a modest, family-friendly footprint. The resort's terrain park offers features for freestyle riders at a variety of skill levels, and the Outlaw Alley Tube Park gives non-skiers ample opportunity for their own slopeside thrills. Best of all, Fairmont Hot Springs is just five minutes away, promising a relaxing end-of-day dip for all those winter-wearied muscles.
Fernie Alpine Resort
Fernie, B.C. • skifernie.com
3,550 vertical feet • 142 runs plus 5 alpine bowls
Fernie has something of a storied reputation among skiers and snowboarders throughout the Pacific Northwest, thanks in no small part to the amount of snowfall it receives — as much as 30 feet on average each season. The resort stretches across five alpine bowls, and daring riders can brave the steep fall-lines off 7,000-foot-high Polar Peak. Multiple bars and restaurants await those with a built-up thirst or hunger in the village, but don't forget to take advantage of Fernie's night skiing opportunities, or to try your hand at fat biking along the resort's network of groomed cross-country trails.
Kicking Horse
Golden, B.C. • kickinghorseresort.com
4,314 vertical feet • 120-plus runs
Combine B.C.'s legendary champagne powder with more than 85 big mountain chutes and the fifth largest vertical drop in North America and you start to get an idea what draws people throughout the region to Kicking Horse. Located two and a half road hours west of Calgary, Kicking Horse is upping its game even further this season with a 660-acre expansion that includes 200 more vertical feet and expert-only terrain featured in last year's Freeride World Tour. Don't be intimidated, though. The resort's lower runs still promise plenty of wintertime excitement for those who prefer a less steep-and-deep ride.
Kimberley Alpine Resort
Kimberley, B.C. • skikimberley.com
2,465 vertical feet • 80 runs
Parceled into four distinct sections, the slopes at Kimberley offer a unique experience at every turn. Wide-open groomers on the resort's NorthStar Mountain await eager rippers young, old and anywhere in between. Treed alleys and glades along Tamarack Ridge and Black Forest extend a welcome challenge to those more advanced riders, and Kimberley's rail park gives every family's resident freestyler a chance to perfect their skills. If that's not enough, night-skiing opportunities, cross-country ski trails and backcountry tours are on hand to help round out any winter weekend.
Lake Louise
Lake Louise, Alberta • skilouise.com
3,250 vertical feet • 145 runs
One of the crown jewels of Canadian skiing, Lake Louise is an ideal mixture of low-angle groomers and steep powder fields. From the long, lazy corduroy runs off the resort's Larch Express to the shreddable chutes along Mount Whitehorn's backside, there's a set of turns to fit the skill of any skier or snowboarder. For an even more unforgettable experience, be sure to check the dates for Lake Louise's torchlight dinner and ski — a chance for après-dining with live music at the Whitehorn Lodge followed by a torchlight descent on freshly groomed snow and additional entertainment at the base area's Sitzmark Lounge.
Lookout Pass Ski Area
Mullan, Idaho • skilookout.com
1,150 vertical feet • 34 runs
Lookout Pass lies along the Idaho/Montana border just off Interstate 90. Here you'll find a beginner-friendly frontside and plenty of steeps and glades for the more advanced members of your party. The Loft Pub, located on the second floor of the main lodge, is a perfect spot to while away a few hours over beers, and on warmer days the lodge deck offers a great vantage for slopeside spectating, particularly during Lookout's end-of-season spring fling. This season will be the first that Lookout Pass is open seven days a week.
Lost Trail Powder Mountain
Sula, Montana • losttrail.com
1,800 vertical feet • 60 runs
After any big snowstorm, skiers and snowboarders throughout western Montana and east-central Idaho flock to Lost Trail in droves. Why? Because the fresh powder turns last not just for hours but for days. The area's Idaho side contains a variety of groomers and open, ungroomed steeps. Most powder hounds, however, will post up on Lost Trail's Saddle Mountain lift all day, lapping Hollywood Bowl or panting through face-shot after face-shot in the out-of-bounds glades with only a brief break at the nearby yurt for chili and a side of pita.
Loup Loup Ski Bowl
Okanogan, Washington • skitheloup.com
1,240 vertical feet • 10 runs
Last season, the nonprofit-operated Loup Loup Ski Bowl became the first winter sports destination in the western U.S. to add luge sledding to its retinue of activities. Accessible by a one-way snowcat ride through the heart of Washington's Cascade Mountains, the 12 kilometers of Bear Mountain Luge trails allow even the most ardent skiers and snowboarders to experience winter from a new perspective. If upright riding is a must, Loup Loup has you covered with its quaint web of greens and blacks meandering off the top of Little Buck Mountain.
Mission Ridge
Wenatchee, Washington • missionridge.com
2,250 vertical feet • 36 runs
Nestled below the impressive ridgeline for which it's named, the Mission Ridge Ski & Snowboard Resort holds a staggering variety of terrain, from snow-laden cliffs and powder-choked bowls to groomed cruisers and the Bomber Bowl terrain park. A piece of the wing from the B-24 bomber Liberator, mounted slopeside above Bomber Chutes, pays homage to the plane's 1944 crash in this very basin and the death of its six crewmen. Mission Ridge has several on-mountain dining options, and the town of Wenatchee just 12 miles away gives skiers and snowboarders the option of après drinks at one of two local breweries.
Mount Bachelor
Bend, Oregon • mtbachelor.com
3,365 vertical feet • 101 runs
Mount Bachelor's named run count doesn't quite do the mountain justice. A full third of the resort lies above the treeline, meaning anyone dropping off the 9,065-foot summit has a seemingly endless snowfield to shred. Below, long blue groomers make for plenty of lazy cruiser turns. Average snowfall here is in excess of 450 inches each season, so you'll likely be shredding well into the spring. As if that's not enough, visitors can also try their hand at sled dog riding under the tutelage of Iditarod racer Rachael Scdoris.
Mount Baker
Glacier, Washington • mtbaker.us
1,500 vertical feet • 32 runs
The first word that springs to mind when looking at Mount Baker is "extreme." Rocky crags and steep chutes abound here, affording experts the opportunity to test their wintertime mettle. Adding to those possibilities is Mount Baker's staggering annual snowfall — an average of more than 55 feet. But there's ample terrain, too, for beginners and intermediates on the mountain's lower reaches and Shuksan flank. Two separate base areas boast three lodges as well, translating to plenty of dining options for anyone needing to rest up before the next electrifying descent.
Mount Baldy
Oliver, B.C. • skibaldy.com
1,300 vertical feet • 35 runs
Even Mount Baldy regulars will find a few new surprises waiting for them this season. Crews spent the off-season clearing deadfall along several runs and cutting eight new microchutes off the resort's Eagle Chair. The lodge's Baldy Bar got a complete facelift too. But some things never change, and at Mount Baldy, skiers and snowboarders will still find an affordable, friendly environment with the same awe-inspiring view of B.C.'s snow-blanketed Okanagan countryside.
Mount Hood Meadows
Parkdale, Oregon • skihood.com
2,777 vertical feet • 85 runs
Located roughly 90 minutes east of Portland, Mount Hood Meadows wears its status as one of Oregon's largest ski resorts on its sleeve. A spider's web of beginner, advanced and freestyle terrain covers the slopes above the main lodge, and gated access to the Clark and Heather canyons opens up a host of glades and gullies for expert riders. The resort's Super Bowl hangs at the top of it all, tempting the most tenacious backcountry skiers and snowboarders. For those looking to enhance their skills this season, Mount Hood Meadows offers a variety of youth and adult clinics and camps tailored to both steeps and freestyling.
Mount Hood Skibowl
Government Camp, Oregon • skibowl.com
1,500 vertical feet • 65 runs
Spread across the faces of Skibowl Peak, Tom Dick Peak and nearby Multorpor Mountain, Mount Hood Skibowl offers a well-rounded, 960-acre riding experience with plenty of cat tracks and gentle open slopes for those still getting the hang of their chosen winter sport. More advanced members of the family will find an abundance of steep hanging powder runs off the resort's upper peaks. The historic mid-mountain warming hut is exactly the sort of cozy, rustic resting spot a day on the snow calls for, and with 34 runs open to night skiing, a trip here only ends when you want it to.
Mount Norquay
Banff, Alberta • banffnorquay.com
1,650 vertical feet • 60 runs
If tradition is what you're looking for this season, Mount Norquay is steeped in it. The resort has served as a wintertime playground since 1926, and continues to offer skiers and snowboarders 190 acres of fast pitches and long, winding groomers. The Cliffhouse Bistro, perched boldly at the top of the resort's North American lift, welcomes diners with a stunning panoramic view of the surrounding mountains. And with the town of Banff situated just a few miles away, it's a surprise Mount Norquay is still called the "best kept secret of the Canadian Rockies."
Mt. Spokane Ski & Snowboard Park
Mead, Washington • mtspokane.com
2,000 vertical feet • 52 runs
Located just 28 miles northeast of downtown Spokane, Mount Spokane offers local skiers and snowboarders a shot at big-mountain-caliber riding right in their own backyard. The mountain's frontside boasts an ample number of bowls and narrow steeps for advanced shredders, as well as mellower pitches for beginners. Three separate terrain parks will keep jumpers and jibbers busy throughout the weekend, and mixed-skill family units can enjoy more opportunities to stick together this season on Mount Spokane's new backside expansion, which features an array of blues and wider blacks.
Nakiska
Kananaskis, Alberta • skinakiska.com
2,412 vertical feet • 79 runs
Nakiska, situated just a 45-minute hop from Calgary, prides itself on grooming, and the resort's network of lengthy kid-friendly blues certainly makes that something to boast about. But farther up the slopes, experts will find more than enough terrain to sate their hunger too. Intermediate-level riders looking to up their tree-skiing game would do well to check out Nakiska's Monster Glades, as the cat track snaking through the area makes bailing out easy if you feel in over your head. And if you to get a taste for skier- or boarder-cross racing, Nakiska has a publicly accessible course close to the base village.
Panorama Mountain
Panorama, B.C. • panoramaresort.com
4,265 vertical feet • 129 runs
Panorama's Taynton Bowl should be reason enough to check out this Canadian offering, nestled in the Purcell Mountains. The bowl lies below the Goldie Plateau and contains more chutes, cliffs and hanging powder fields than most expert riders could dream of. The frontside of Panorama Mountain's summit offers even more of the same, gradually leveling out into a blanket of forested groomers and a village packed with bars, restaurants and a skating rink. Taynton Bowl still not daring enough? Try booking a tandem paragliding tour off the top of the mountain for the view of a lifetime.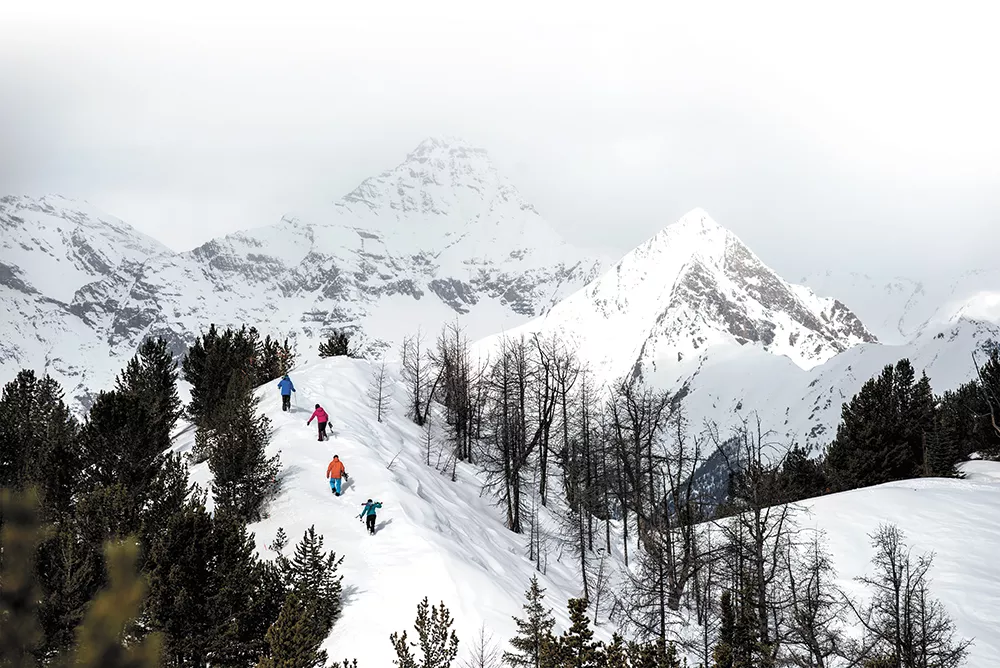 Phoenix
Grand Forks, B.C. • skiphoenix.com
800 vertical feet • 18 runs
Phoenix bills itself as the "best little mountain in B.C." Little it may be, but Phoenix still has something to offer everyone. Glades, cruisers, open steeps — the area proves that sometimes, all you need to have fun in the winter is a T-bar and a cozy lodge. And Phoenix's remote location, just a few miles over the Canadian border, makes it an ideal getaway for skiers and snowboarders looking to trade in long lift-lines and crowded villages for a chance to lose themselves among friendly locals.
Red Mountain
Rossland, B.C. • redresort.com
2,919 vertical feet • 110 runs
Named for the most modest of its three lift-accessed peaks, Red Mountain is a must-ride stop along B.C.'s famed "Powder Highway." The resort receives an average of 300 inches of champagne powder each season, and sprawls across a rich mixture of beginner, intermediate and expert terrain. Three more adjacent peaks including Mount Roberts, home of the Canadian Open Freeride Championship, are accessible by snowcat tour or backcountry skinning. Cross-country skiers will find an abundance of trails at the Black Jack Ski Club just two minutes up the highway from Red Mountain, and can even glide by night along a 1.5-mile lighted trail.
Revelstoke Mountain
Revelstoke, B.C. • revelstokemountainresort.com
5,620 vertical feet • 69 runs
Another prime stop on the Powder Highway, Revelstoke blankets the slopes below B.C.'s imposing Mount Mackenzie and lays claim to the biggest lift-served vertical in North America. Here, bolder skiers and snowboarders can drop off the aptly named Vertigo Ridge into one of a number of powder-laden chutes while their intermediate-level brethren carve down a tangle of rolling greens and blues. At the end of the day, a pint of craft beer or signature cocktail awaits at Revelstoke's popular Mackenzie Common Tavern in the village plaza.
Schweitzer Mountain Resort
Sandpoint, Idaho • schweitzer.com
2,400 vertical feet • 92 runs
Lying just an hour and half drive from Spokane, Schweitzer Mountain has become a mainstay of Pacific Northwest winters. The resort receives an average of 300 inches of snow per season and is jam-packed with opportunity, from scores of glades and narrow chutes to Outback Bowl's copious groomers and the frontside's signature Stomping Grounds terrain park. Families can enjoy twilight skiing together until 7 p.m. off the Basin Express quad before closing out the day at the movie theater in the village's Selkirk Lodge.
Silver Mountain
Kellogg, Idaho • silvermt.com
2,200 vertical feet • 78 runs
With five new runs cut off two different lifts this year, Silver Mountain is giving winter sports enthusiasts even more reason to hop off Interstate 90 in Kellogg for a weekend. The resort's dizzying array of intermediate and expert terrain stretches across 1,600 acres below Kellogg and Wardner peaks. Be sure to schedule a trip to coincide with one of Silver's two night-skiing dates this season (Jan. 12 and March 9), and top off the experience by riding the resort's indoor surf wave located in the waterpark at the base of the gondola.
Silver Star Mountain
Vernon, B.C. • skisilverstar.com
2,500 vertical feet • 132 runs
Silver Star's cozy, multicolored village screams winter wonderland. So too do the resort's tapestry of slopes. Rolling pitches and steep gullies cover the area around Vance Creek's summit, and the backside is a complex of challenging double-black terrain. The addition this year of Silver Star's new gondola will make summit access faster and more efficient for riders of all skill levels. Visitors will find thriving nightlife at Silver Star, too, including several bars, a bowling alley and events like the resort's annual wintertime comedy tour.
Sitzmark Ski Area
Havillah, Washington • skisitzmark.org
650 vertical feet • 10 runs
Nestled just a few miles south of the Canadian border, Sitzmark keeps the long tradition of modest mom-and-pop skiing alive and well. A big lift line here is still in the single digits, but off the summit skiers and snowboarders will have plenty to rave about with a mix of narrow, treed runs and one gloriously wide-open face. When the powder's dry and the sun is shining, Sitzmark is one of those places that breeds big smiles and tired legs.
Snoqualmie Pass

Snoqualmie Pass, Washington • summitatsnoqualmie.com
2,280 vertical feet • 114 runs
Just an hour away from the bustling city of Seattle, Snoqualmie is a sprawling maze of cliffs and faces and broad easy riding. Winter tends to favor the resort with an astounding 428 inches of average annual snowfall, and Snoqualmie splits itself into four distinct sections, making it simpler for visitors to tailor the day to their particular skill set. The slopes are packed with cafes and restaurants, but no après-ski experience at Snoqualmie would be complete without a stop into Whiskey Pete's.
Snowbowl Ski
Missoula, Montana • montanasnowbowl.com
2,600 vertical feet • 42 runs
Snowbowl has a reputation around western Montana that's reflected in the mountain's official slogan: "The Whole Point of Winter." Locals know that after a storm, this is the spot to go sniffing about for powder. Whether you're diving into Snowbowl's expansive central bowl or lapping the glades on the upper mountain's LaVelle Creek chair, there's no shortage of stashes to go around. When those muscles have had enough, head into the base area's bar to refuel with a wood-fired pizza and one of the Snowbowl's locally renowned Blood Mary's.
Stevens Pass
Skykomish, Washington • stevenspass.com
1,800 vertical feet • 52 runs
Perched in the Cascade Mountains roughly two hours northwest of Seattle, Stevens Pass combines just about every type of terrain skiers and snowboarders could hope for, with an average annual snowfall of 460 inches thrown in. The resort's frontside is a broad belt of treed meadows, bowls and snaking cruisers, while backside opens up on a vast expert face interrupted here and there with tantalizing pine groves. The nearby town of Leavenworth, about half an hour away from the base area, boasts a sizable selection of pubs, bistros and the landmark Gingerbread Factory, which serves beer and wine in addition to sweets.
Sun Valley Resort
Ketchum, Idaho • sunvalley.com
3,400 vertical feet • 100 runs
In 1941, the slopes of Sun Valley played backdrop to the silver screen musical Sun Valley Serenade. The intervening decades have seen the resort crop up again and again in movies of a less musical, more ski-centric nature, and there's good reason for all that attention. Sun Valley's runs cover more than 2,000 acres and include everything from long and winding blues to famous mogul-speckled exhibition. All this towers above a village that's lively in its own right, from live music, to the 1930s-era Opera House.
Sunshine Village
Banff, Alberta • skibanff.com
3,520 vertical feet • 138 runs
The scope of Sunshine Village's operation is enough to stagger any skier or snowboarder. The resort encompases 3,300 acres across three separate mountain peaks in the heart of the Canadian Rockies. But size means opportunity. Hardcore shredders will find plenty of it on the steep-and-treeless upper portion of Goat's Eye Mountain. Mellower riders will find it too, from challenging pitch off the summit of Lookout Mountain to the easy-going runs closer to the village's Old Sunshine Lodge. Sunshine Village is home to the only heated chairlift in Canada, and with the town of Banff just 10 miles away, there are plenty of places nearby to stay warm all weekend long.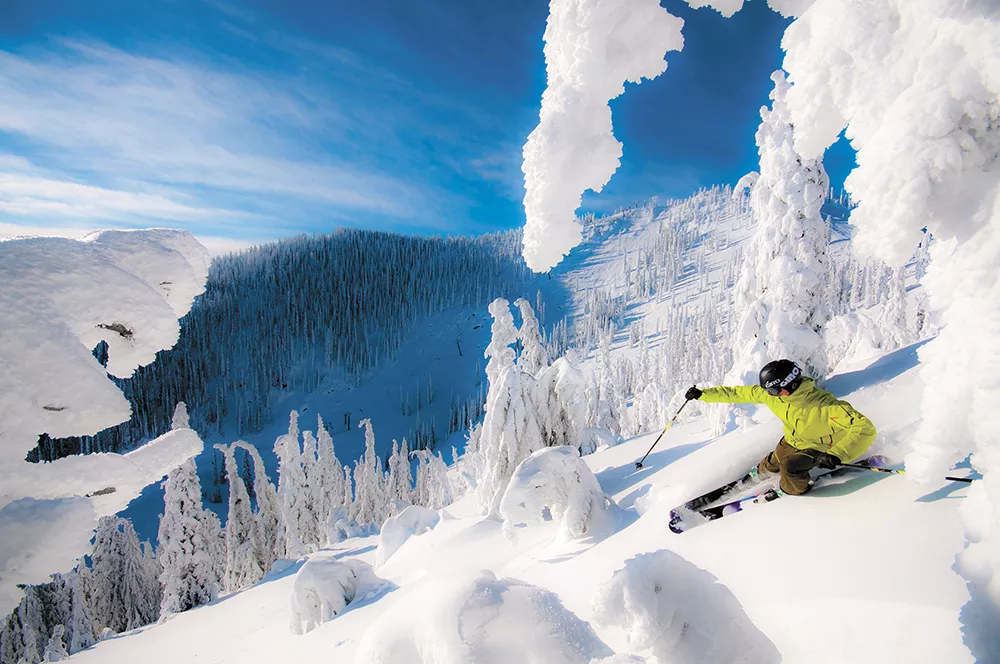 Tamarack
Tamarack, Idaho • tamarackidaho.com
2,800 vertical feet • 45 runs
Tucked along the northern shore of Idaho's Lake Cascade, Tamarack's summit vistas are matched only by the wealth of winter terrain that lies below. The resort's boundaries contain a myriad of cornices, glades and leg-pumping groomers. Beyond, yet readily accessible from the top of Tamarack's Summit Express, are a host of backcountry bowls and ridges. The whole of this 1,020-acre paradise gets hammered by an annual average of 300 inches of snow, but Tamarack promises more than powder, as a night of fine dining at the resort's new Parisian-style Fern & Feather restaurant will attest.
Timberline
Timberline Lodge, Oregon • timberlinelodge.com
3,690 vertical feet • 41 runs
Whether or not you knew it, odds are you've seen Timberline's iconic alpine lodge before. It was used as the exterior of the fictional Overlook Hotel in Stanley Kubrick's classic horror adaptation of The Shining. But ski buffs have been flocking here far longer than movie ones, drawn by the surrounding web of treed trails and the hanging powder fields above. Much of the mountain's middle is devoted to freestyle terrain, and later in the season when Timberline's uppermost Palmer lift starts turning, thrill-seeking advanced riders get the opportunity to shred the south face of Oregon's Mount Hood.
Turner Mountain
Libby, Montana • skiturner.com
2,110 vertical feet • 22 runs
Turner lies within northwest Montana's Kootenai National Forest and offers nearly 1,000 acres of primo riding for less than $40 a day. Yet it often slips by unnoticed in the Pacific Northwest, a baffling oversight, considering Ski Magazine once proclaimed it some of the best lift-assisted powder skiing in the country. The lone 1.5-mile-long lift gives riders access to all manner of bowls, glades and ridge runs, and those wanting the slopes to themselves can actually rent the whole mountain on non-operating days. Most inspiring of all, Turner is owned by a community nonprofit, meaning this gem is kept alive through the sweat and passion of locals.
Whistler/ Blackcomb
Whistler, B.C. • whistlerblackcomb.com
5,280 vertical feet • 200+ runs
Whistler/Blackcomb has become one of the most storied big mountain destinations in the region due in no small part to the extreme challenge the upper slopes of both peaks present for veteran riders. The resort stretches across a staggering 8,171 skiable acres and has increasingly served as a leaping-off point for backcountry skiing and snowboarding enthusiasts. But with that amount of terrain, there's untold tracts of gentle groomers and winding cat tracks as well. This year marks the debut of the resort's new Blackcomb Gondola as well, which replaces the former Solar Coaster and Wizard Express lifts with a single ride up Blackcomb.
White Pass
Naches, Washington • skiwhitepass.com
2,050 vertical feet • 45 runs
White Pass is situated on the edge of Mt. Rainier National Park about a dozen miles south of Crystal Mountain and contains just over 1,400 acres of glades, steeps and cruisers. The resort's runs predominantly favor intermediate riders, but advanced skiers and snowboarders will be more than content shredding the trees in White Pass's West Ridge area or hot-dogging down the expert pitches below the Great White Express chair. White Pass also maintains more than 11 miles of nearby Nordic skiing trails, and it's all only a short hop away from Yakima's bustling craft beer scene.
Whitefish Mountain Resort
Whitefish, Montana •skiwhitefish.com
2,353 vertical feet • 105 runs
After the past few seasons, skiers and snowboarders have more reason than ever to put Whitefish on their to-ride lists. Four years ago the resort opened its new Flowerpoint lift, enhancing what was already a powder-rich backside experience. This season will mark the second year of the relocated East Rim chair, creating the ability to lap some of the mountain's finest expert terrain. Easy-going riders have plenty of options across Whitefish's 3,000 acres as well, and a pint on the village's rowdy Bierstube deck is a great way to round out the day.
Whitewater Ski Resort
Nelson, B.C. • skiwhitewater.com
2,044 vertical feet • 82 runs
From its intermediate-friendly Glory Ridge to the trees and hanging powder bowls off its main summit, Whitewater welcomes the ski and snowboarding hordes with 1,184 acres of powder-blanketed opportunity. The resort averages 40 feet of snow per season, and lies just a little more than three hours north of Spokane by car. Here, visitors can enjoy not only a rich winter sports experience but a host of fine dining and entertainment options, whether in Whitewater's base village or the quaint nearby town of Nelson.♦