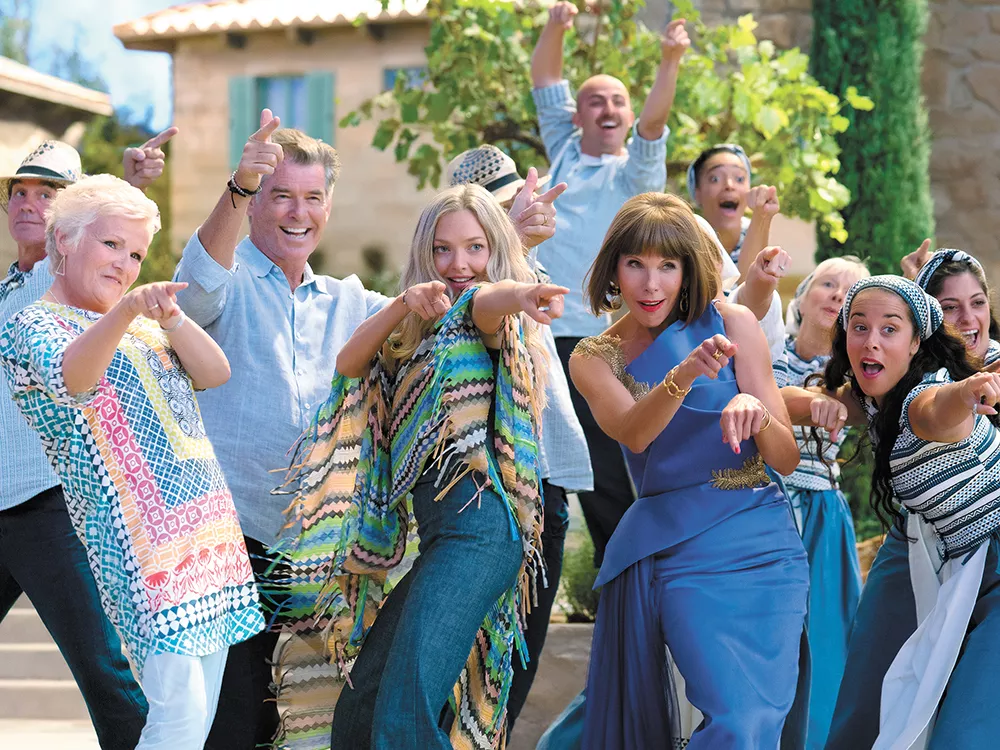 Mamma Mia! Here We Go Again — rarely has a title been more apropos.
It is, of course, a follow-up to the 2008 film musical, itself a big-screen version of the Broadway show that plundered the ABBA songbook to unbelievable success. This sequel is more of the same, but now they're using the tunes they didn't include last time, and even a few they did. And why not? Are you really going to complain about hearing "Dancing Queen" again?
The first Mamma Mia opened with a young woman named Sophie (Amanda Seyfried) discovering that her single mother Donna (Meryl Streep), a rock star-turned-hotel manager, had back-to-back-to-back flings with Colin Firth, Pierce Brosnan and Stellan Skarsgard, any of whom could be her father.
It's been a decade since, and the sequel returns us to the cerulean-tinted Greek isle of the original. Donna has died (she came down with a bad case of scheduling conflict), and Sophie has renovated that old hotel in her mother's honor. Everyone returns for the grand opening, and while that's going on, we get flashbacks to 1979, when 20-something Donna (Lily James) first meets each of her three suitors, visits the island where she'd spend the rest of her life, and learns she's pregnant with Sophie.
The plot really doesn't matter, though, as it never does in jukebox musicals. It's all about the set pieces, and they're equal parts inspired and nutty this time around. There's the version of "Waterloo" set in a French restaurant where the maitre'd is dressed like Napoleon, and that "Dancing Queen" reprise, in which Firth and Skarsgard recreate a famous moment from Titanic and gyrate amongst a traffic jam of extras.
Can they dance? Can they jive? Does it really matter?
And this is all before Cher, playing the Streep character's mother (despite being just three years her senior in real life), steps off a helicopter in rhinestone-encrusted platforms and sings "Fernando" with Andy Garcia. Don't ask.
At the center of it all are those great ABBA tunes, which remain bulletproof after all these years, even when someone as tone deaf as Pierce Brosnan is warbling along to them. The first Mamma Mia checked off every huge ABBA hit, so Here We Go Again pulls out some less recognized classics — "Knowing Me, Knowing You," "One of Us," "The Name of the Game" and "My Love, My Life," all lustrous pop gems — and a handful of tracks (like "Andante, Andante" and "Angel Eyes") that nobody was really clamoring to hear.
Director Phyllida Lloyd has been replaced this time by Ol Parker, and his approach is more elastic, more stylized and more (dare I say) cinematic. Just look at the film's first musical number, a lively take on "When I Kissed the Teacher," and pay attention to how nimble the camera is, how playful the colors are, how well the editing enhances the song. It's a big improvement to the stiff visual style of its predecessor.
There's a spectrum of absurdity, and Mamma Mia! Here We Go Again occupies all of it. And yet the movie is also in on its own joke, and it allows you to laugh with it and at it simultaneously. It knows exactly what it is, and it is unabashedly itself: gangly, dorky and sometimes embarrassing.
Is it much more than A-list actors performing ABBA karaoke? Arguably, no. But like any above-average karaoke performer, it's so good-natured and so aware of its own limitations that you're won over, even if you really don't want to be. You can either go into the theater with your arms crossed, or you can submit to its admittedly chintzy charms. ♦