R
ichard Sovenski
, a Hayden, Idaho, man who was arrested days after yelling racial slurs and profanities at a group of teenagers while they were getting ice cream at a Coeur d'Alene McDonald's, was
found guilty
of committing misdemeanor battery but
not
of felony malicious harassment — a hate crime.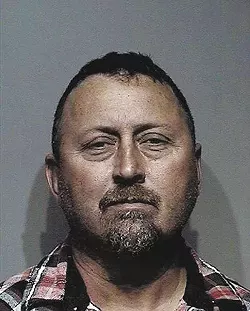 Last summer, the
Inlander reported
on the circumstances leading to Sovenski's arrest. On Jul. 12, a group of high schoolers with a Spokane
youth group from Immanuel Church
in West Central Spokane traveled to Coeur d'Alene to hear a guest preacher. Afterwards, the group, led by the church's former youth community director, Jose Ceniceros, took them to a local McDonald's for ice cream.
According to Ceniceros, as the group was leaving, Sovenski, 52, started yelling racial slurs and profanity at them. (A woman who was standing near Sovenski later told police that the kids were "being rude, dancing and running around causing a disturbance," a notion that Ceniceros disputes.) As they neared the door to leave, Sovenski punched Ceniceros and threw him to the ground. Once they were outside, Ceniceros took out his phone and began filming.
The recording, which was shared with the
Inlander
, shows Sovenski yelling the following at Ceniceros and the youth group: "Why don't you get a f—kin' job," and "I will f—k you up in a f—kin' heartbeat you f—kin' little faggot. Oh you f—k you, you f—kin' half breed."
As Sovenski and another man walk back towards the restaurant, Sovenski shouts: "Get the f—k out of Idaho ... F—k you, you f—kin' half breeds."
CdA McDonald's hate crime from Mitch Ryals on Vimeo.
The jury verdict absolving Sovenski of a felony hate crime was delivered on Dec. 20.
According to
KHQ,
during closing arguments in the case on Dec. 19, Sovenski's attorney that he simply lost his cool that night and wasn't intending to commit a hate crime. In response, the county prosecutor slammed the defense's "excuses" as unacceptable.
"I am disappointed and angry that this is what happened with all the evidence presented," Ceniceros tells the Inlander in response to the jury's verdict. "All the evidence is there. He should have been convicted of a hate crime."

"I don't understand what happened," he adds.