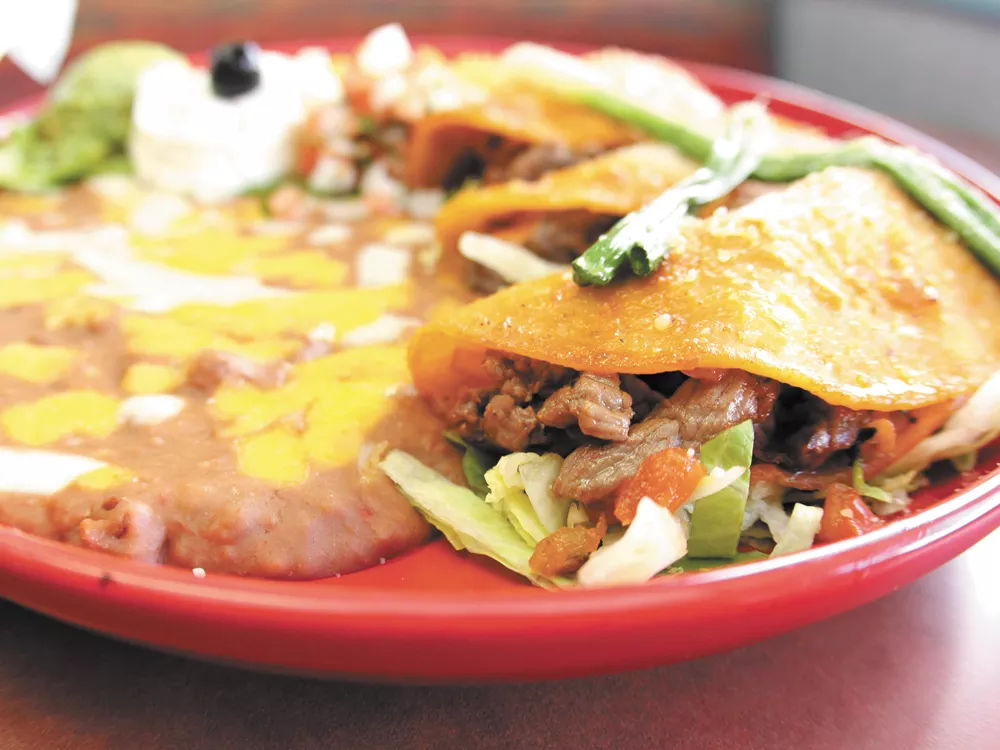 South of the border, in southern Mexico, you will find the Palenque ruins: classical Mayan architecture replete with light, elegant galleries that depart from the heavy architecture found in previous structures. West of Spokane, near downtown Cheney, you will find the newest locally owned Palenque restaurant location, which immediately became the largest Mexican eatery in the college town. Ask to sit outside and you will be led through a spacious bar area that opens onto a bright patio full of tables topped with red and green umbrellas.
The service here is fast and efficient, making this a good lunch choice if you are between classes at Eastern Washington University. Lunch specials like arroz con pollo or cheese enchiladas ($6.95 -$7.95) are best sellers but the hearty tacos more than hold their own against more elaborate dishes like the pollo en mole ($11.95). Palenque's enchiladas, burritos and tacos are generously stuffed with tender, shredded chicken or beef. Large portions of rice and beans are prepared with canola rather than lard. Vegetarian options include spinach-stuffed enchiladas, among other items.
Palenque's dishes are flavorful, filling and thankfully lacking the grease common to some Mexican cuisine. My dining companions and I had anticipated spicier fare, but owner Chuy Ceresero, a restaurateur since 1994, enthusiastically explained that spicy Mexican food is a myth. Habenero and jalapeno are only two varieties of the many peppers and spices available in Latin America. Since spicy salsa arrives with thin, freshly fried chips, those who enjoy heat might want to keep it on the table as a condiment.
Open since early April, Ceresero envisions an establishment that welcomes locals and students alike. The large booths are suited for studying or quiet conversations. If you are in an ironic mood, you can sit on the patio with a margarita and a dish of fried ice cream while watching the SUVs and hatchbacks line up for gut bombs at the Taco Bell drive-thru across the street. If not, you can face the green hills behind the strip mall, sip tequila and imagine ancient ruins.

Palenque Mexican Restaurant • 20 Simpson Parkway, Cheney • Sun-Thu 11 am-9 pm, Fri.-Sat 11 am-10 pm (bar opens next month with extended hours Fri-Sat 11 am-2 am) • 235-9010