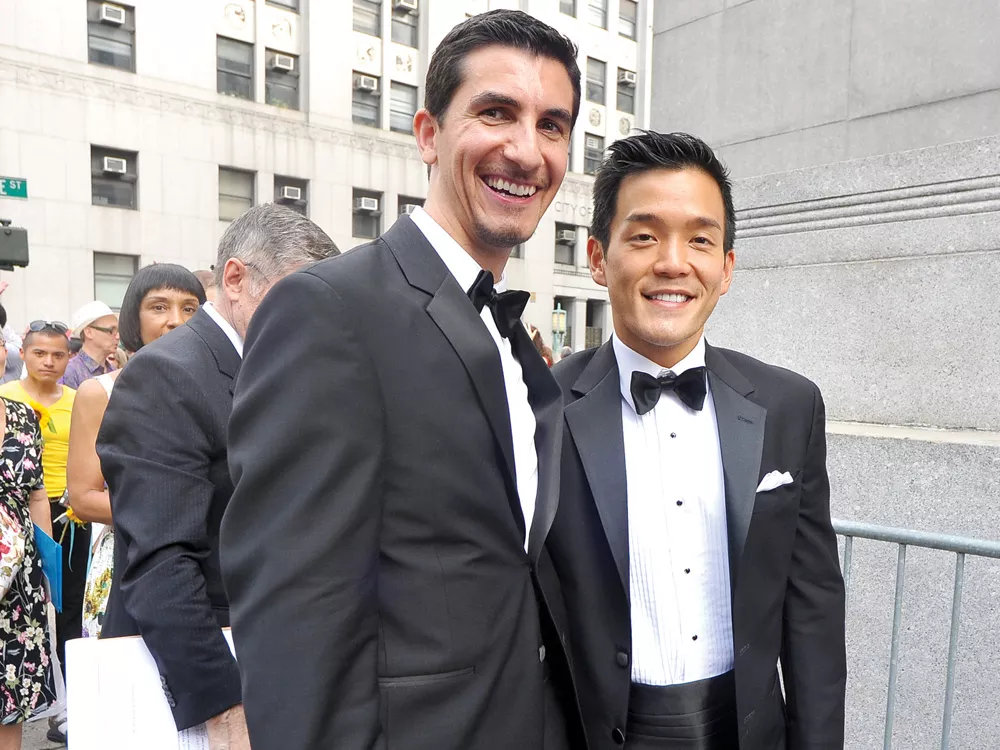 Washington state Sen. Ed Murray, a Seattle Democrat, has been in the same relationship with the same person for 20 years, and still they're not married. But not because they don't want to be. His would-be spouse is Michael Shiosak, a native of Spokane, and, in Washington state, men can't marry. As one of five gay legislators, Murray may have the political power to change all that — and he's closer than ever.
Last week, Gov. Christine Gregoire announced her support for gay marriage — a big change from her stance on the issue in the last few years.
"The issue of marriage, to me, is a religious issue," she said in 2008, according to the Seattle Times. "I don't believe the state should be engaged in telling the churches what they can and cannot do."
Yet now, she's ready to make Washington the seventh state to recognize gay marriage.
"It is time. It is the right thing to do," Gregoire said at a recent press conference. "And I will introduce the bill to make it happen."
Now, it's up to the Legislature.


State Sen. Murray is blunt about the bill's chances: In the Senate, he doesn't think the votes are there. In 2009, a bill making domestic partnerships legally equivalent to marriage easily passed both houses. Since then, however, Democrats like Spokane's Sen. Chris Marr and Rep. John Driscoll lost elections.
Murray needs the support of 25 of the 50 senators — with Democratic Lt. Governor Brad Owen breaking the tie vote — but there are only 27 Democrats in the Senate. Two of those Democrats, he guarantees, won't support same-sex marriage.
"This bill will not pass unless there's a bipartisan vote," Murray says. Gregoire isn't the only one to change her mind recently. In 2008, presidential candidate Barack Obama said he believed marriage is "between a man and a woman." Since then, the president has said his views are "evolving." In May 2011, for the first time in polling history, a majority of Americans supported same-sex marriage in a Gallup poll.
Support among 18-34-year-olds jumped 16 points — to 70 percent — in a single year.
"The culture changed," Murray says, referencing TV shows Will and Grace and Ellen. "People began to understand who gay and lesbian people were. People [used to] view them as promiscuous sex addicts and perverts."
While a few legislators veer away from their party platform on gay marriage — state Sen. Steve Litzow, R-Mercer Island, supports gay marriage — none are from the Spokane area.
Spokane Democratic Reps. Andy Billig and Timm Ormsby, and Senate Majority Leader Lisa Brown support gay marriage.
"For me, it's always been an equality thing and a social-justice issue," says Brown.
Local Republicans legislators, however, oppose passing it in the Legislature.
State Rep. Matt Shea, founder of an organization whose overriding goal is "protecting families," outlined his opposition in a statement after Gregoire's press conference. With unemployment so high, he criticized focusing on this issue. He says domestic partners already have the same rights as married couples — rights he tried to prevent and subsequently helped lead the campaign to try to repeal.
"Well, I think the big question is, 'What is marriage itself?'" says state Sen. Mike Padden, who represents Spokane Valley. "It's generally been understood as a man and woman grounded in their nature … and capable of having offspring, capable of being a father and mother."
It is "supremely poor" timing to consider gay marriage now, says state Rep. Kevin Parker, who represents Spokane. He's worried that introducing same-sex marriage will inflame partisan division, just when legislators need to unite to fill the yawning budget gap. And rhetoric can get heated. State Rep. John Ahern has previously been quoted as calling a "gay act" an "abomination." While noting they aren't identical, Gregoire's compared the current "everything but marriage" law — which she previously signed — to the Jim Crow laws that restricted the rights of blacks in the South.
Parker voted against the expansion of domestic-partnership rights in 2009, and he plans to vote against same-sex marriage. Both he and Baumgartner believe the question should be decided by voters, not legislators.
"Fundamentally, my issue is the same as Gregoire's back in '08," Parker says. "I'm very uncomfortable with the state telling the church what to do."
Murray says the new law wouldn't require churches to marry gay couples or recognize their marriages, but the controversy remains.
Gregoire — like Murray — is Catholic. The governor has struggled with the question of gay marriage for seven years. At the conference, she repeatedly called that struggle her "journey."
"It has been a battle for me, with my religion," she said. Gregoire's short speech took three months to write. Churches can discriminate, she said in her speech. The state can't.