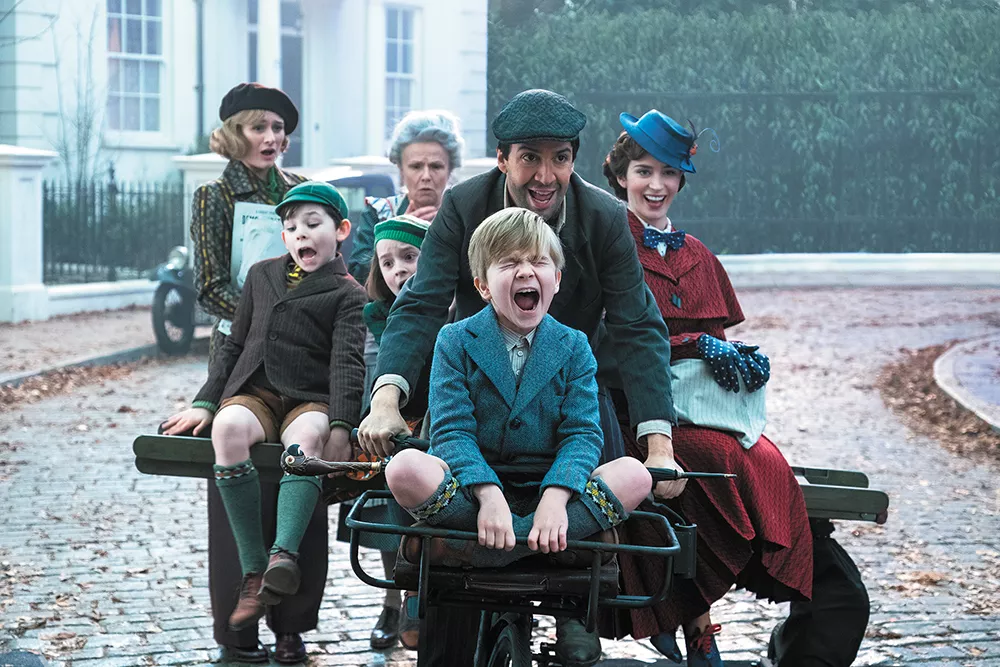 When Walt Disney himself spearheaded the production of Mary Poppins in 1964, he had to devote substantial time and energy to convincing P.L. Travers, author of the Mary Poppins series of books, to grant him the movie rights to her creation. There was no such effort involved in the creation of Mary Poppins Returns, which was authorized by Travers' estate at the behest of the Disney corporate monolith, and which laboriously replicates the original movie's sense of whimsy and wonder (as well as its general structure and message).
Set in the 1930s, two decades after the previous movie, Returns features Emily Blunt taking over for Julie Andrews as the magical nanny, who comes back to London's Cherry Tree Lane to once again help the Banks children, Jane and Michael. Except those children are now all grown up, and Michael (Ben Whishaw) has three children of his own.
Although Michael and Jane (Emily Mortimer) are not the humorless scolds that their father was, they've lost sight of their playfulness and joy in the face of the death of Michael's wife and the impending foreclosure of their family home. Michael has given up his dreams of being an artist in favor of working for his father's old employer, the Fidelity Fiduciary Bank.
Enter Mary Poppins, not having aged a day, who arrives to take care of Michael's children Annabel (Pixie Davies), John (Nathanael Saleh) and Georgie (Joel Dawson). The older Annabel and John are eminently practical, often handling responsibilities that get forgotten by their scatterbrained father, while Georgie is rambunctious and imaginative, more in the mold of young Jane and Michael. Soon they're all swept up in Mary Poppins' magic, traveling to fantasy worlds and traversing the city with lamplighter Jack (Lin-Manuel Miranda), who takes the place of Dick Van Dyke's chimney sweep Bert.
Jack filling in for Bert is just one of many ways that Returns consciously echoes the previous movie. Once again, the bureaucratic bank is the enemy, especially in the form of oily chief executive William Weatherall Wilkins (Colin Firth), and Michael needs to learn to focus on his family over his career. Mary Poppins takes the children into an animated wonderland inside one of their mother's treasured keepsakes, and she later takes them to visit one of her eccentric relatives (a cousin played by Meryl Streep), in a detour that could easily be removed entirely.
Also like the original movie, Returns is way too long, especially in the meandering animated segment. Director Rob Marshall (Chicago, Into the Woods) and his team painstakingly recreate, and in some cases re-enact, elements of the beloved classic, but Returns has a sense of forced nostalgia, often more cloying than charming. The superfluous sequence featuring Streep at her most mannered, sporting a ridiculous accent and her typically lackluster singing voice, is the most egregious example of the movie's candy-coated excess.
Even when the first Mary Poppins was tedious, it at least delivered a series of instantly memorable songs, something that songwriters Marc Shaiman and Scott Wittman fail to match this time around, despite sometimes explicitly referencing the earlier songs by Robert and Richard Sherman. Miranda takes his cues from Van Dyke and hams it up as Jack, while Whishaw and Mortimer mostly fade into the background as the ineffectual Banks adults.
Stepping into one of cinema's most iconic roles, Blunt makes Mary Poppins her own, giving the character a sterner, more sardonic edge, in keeping with Travers' initial characterization. She takes an impossible task and makes it look easy, which is exactly what Mary Poppins is best at, and which nearly everyone else involved in this movie fails to do. ♦