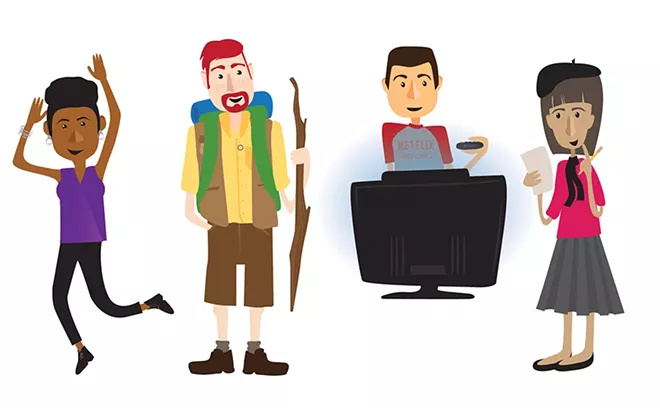 For many people, indulging in a little higher consciousness for years came in taking a few tokes off a joint at a concert or munching a brownie at a friend's potluck. There was little questioning exactly what kind of cannabis was being enjoyed, it was simply a matter of "Will this get me stoned?"
In Washington state's brave new world of legal recreational pot, casual users are suddenly faced with a world of often-confusing choices in names, potencies and strains when they visit their favorite shop. Thankfully, friendly budtenders and websites like Leafly exist to help guide you to the perfect bud for your preferred mental destination.
I hit a few of Spokane's shops to ask for cannabis strains that would be ideal for four different activities, and got the lowdown on getting efficiently high from some of our local professionals. I asked them to suggest a strain for tokers who want to go hiking, veg out in front of the TV, get creative by writing some poetry, or dance the night away at a concert or club. Here are some useful tips:
... for going hiking
Evan Woolley from Simply Cannabis (827 E. Francis) suggests Chemdawg, a 50/50 hybrid of indica and sativa that he says "is enough of a kick in the face that you're stoned, but you still have some get-up-and-go to keep hiking." Rashae Williams from Cannabis & Glass (605 E. Francis) recommends the 100 percent sativa strain Grapefruit for enjoying a cruise up a trail. "The buds are so crystallized, they're beautiful," she says.
... for watching TV
Bradley Johnson, budtender at Royal's Cannabis (7115 N. Division) says go straight to Royal Kush, an indica-leaning hybrid he says is "super heavy, and tastes delicious. It motivates you to do nothing but hang on your couch." Sounds perfect for bingeing something on Netflix. Williams suggests the 100 percent indica strain The Hog; its two most prevalent traits (called up on Williams' handy iPad) are "relaxed" and "sleepy."
... for writing some poetry
Woolley recommends Cinex, a strong sativa strain grown by many producers (and also spelled Cynex at times) that he says has a "really good head high. It gets your head spinning." Williams says a Banana Kush would be perfect since the hybrid strain allows users to "feel the sativa and indica effects separately" during the time you're stoned. "It sparks the creativity." Johnson says old favorite Pineapple Express is a good strain for getting creative. The sativa-leaning hybrid, he says, "opens up the pathways to let the creative side of the world flow through you." ♦
... for dancing all night
For Woolley, it's Orange Crush, a sativa-dominant hybrid that "gives you a body high, but you're still able to do stuff." Johnson suggests Blue Dream as a perfect social strain that is good for groups of friends to enjoy together, capable of satisfying both everyday smokers and dabblers. "That's for everybody, the standardized go-to high," Johnson says. "Everybody will be able to handle the high. Everybody likes the Blue Dream." ♦