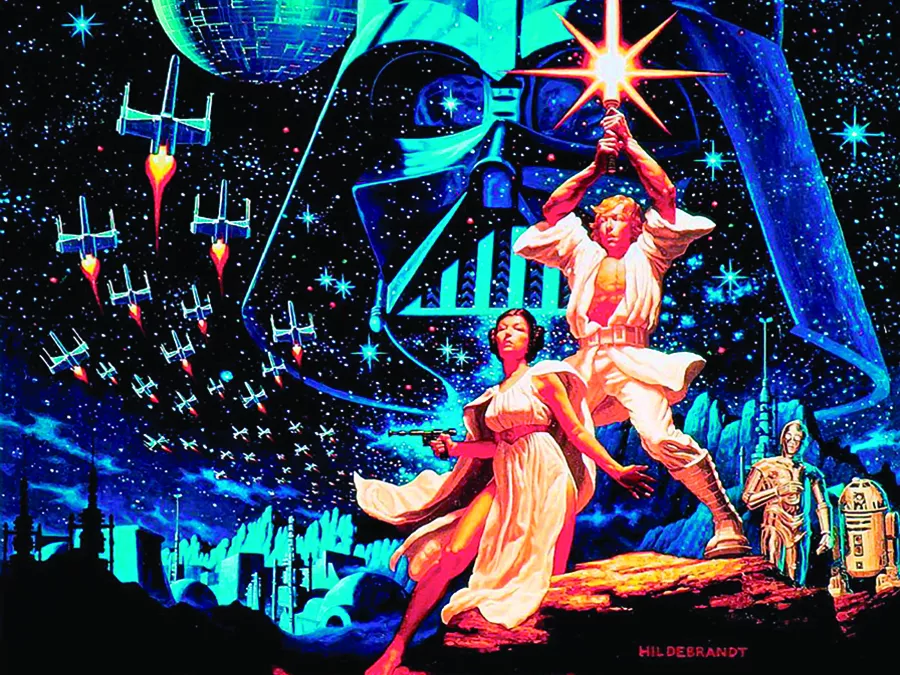 Star Wars is so absolute, the films have a "Wookipedia." Microsoft Word's spell checker recognizes "Darth Vader."
And as of last year, the franchise has yielded what is quite possibly the best spin-off product, ever (next to the Yoda Halloween costume for dogs). Star Wars — in concert!
Just by listening to the score, one can mentally pinpoint the sagacious gaze emulating from Yoda's glassy, half-mast eyes, the ominous appearance of Darth Vader and his red-cloaked cronies, the seedy Mos Eisley Cantina, where fleshy-colored aliens play wacky-looking instruments, or the fussy C-3PO laconically shuffling over desert sand dunes, waving his shiny golden arms and worriedly scolding R2-D2 for being such a rogue droid.
It's all part of a method called "leitmotif," a musical technique that links melody with specific characters or scenes, and it's what gives the music of the Star Wars such distinct, narrative tangibility.
"It's so much more than seeing a Star Wars film, because it's the setting and the context in which we present it," says Spencer Churchill, one of the show's producers. "You're basically watching a live scoring session. We can't have mistakes where we can stop and do it over again."
Churchill's gotta have nerves like a steel bridge. When he talks about "setting," he's referring to an 86-piece orchestra, a 60-piece choir, a specially edited movie montage playing on a three-story-tall, hi-def LED "super-screen," and sensory effects like smoke, flames and a laser light show — all of which all have to be synchronized live.
"Nobody's doing film like this," he says, of the colossal marriage of film and music together in a real-time scenario. "It almost creates a live aspect of the film itself."
And he's right. This is bigger than Carrie Underwood. It's dripping with enough multimedia to stun a camel. And it takes 14 semi-trucks to get the gear far, far around the country.
The films' original composer, John Williams, assembled the compendium of themes for the montage. The man's got so many awards, he's running out of hats to hang up.
But who's John Williams, you say? Why, he's the musical powerhouse behind Hollywood legends like Jaws, Indiana Jones, Jurassic Park, Home Alone, Minority Report, Harry Potter and Hook — to name a tiny sample. Yeah, you know him.
The production's been formatted into 16 chronological chapters, with Anthony Daniels, that likeable English guy who plays C-3PO in all six films (and the only actor to make it through episodes I-VI), introducing each one.
Churchill says the casual and passive fans, some of whom have no clue who the hell Boba Fett is or why Luke Skywalker almost became bantha fodder in Episode IV, seem to exit with gained appreciation and increased comprehension of the saga's overarching plotline.
"The feedback we get from them is that they now understand better the story behind it," he says.
A traveling lobby exhibit will feature costumes, props, storyboards, models and original hand-written sheet music by John Williams, all of it pulled from the magical lair of George Lucas's Skywalker Ranch for the world to ogle at.
The items range from a full-scale Chewbacca suit, to the carbonite frieze of Han Solo, to old-school blasters, to one of Queen Padme Amidala's ornate three-piece costumes.
Ultimately, this is a glorious revival — nay —unleashing of the celebrated artistry and cinema phenomena so many generations still nostalgically identify with.
"This is a ubiquitous brand, and it's more than a brand — it really is a part of the culture. It is everywhere," says Churchill. "It's not about the Star Wars geeks. It's about people who love the films, love filmmaking, love the music."
Star Wars: In Concert at Spokane Arena on Saturday, June 19, at 2 pm and 7 pm. Tickets: $35-$65. Visit ticketswest.com or call (800) 325-SEAT.