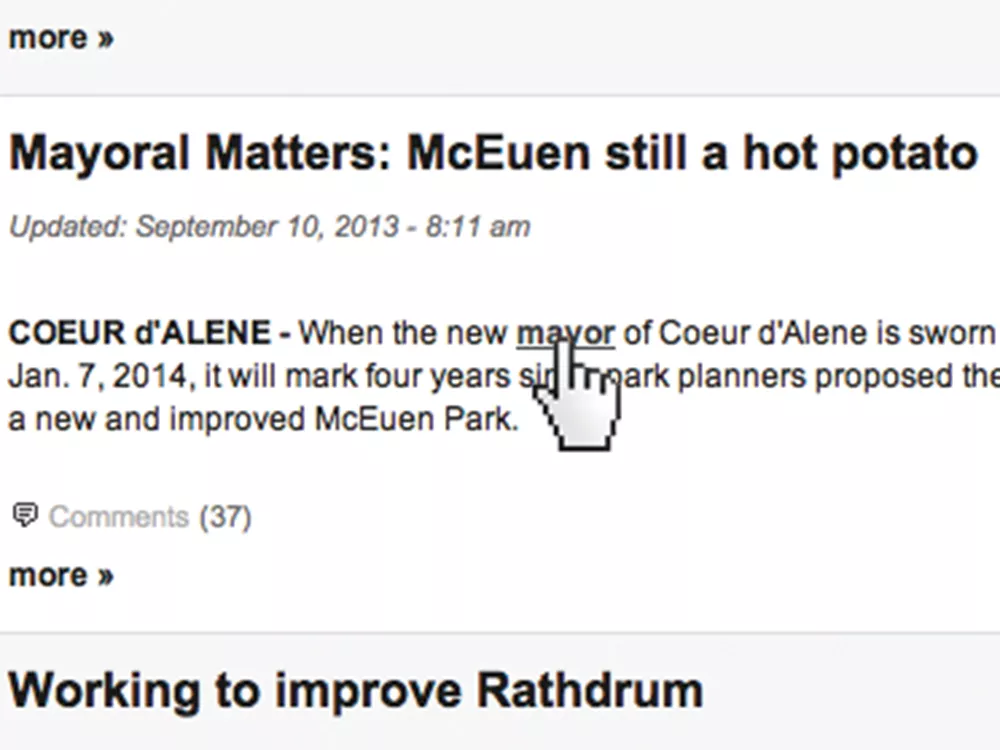 Coeur d'Alene businessman Steve Widmyer isn't mayor. Not yet. But for now, in the Coeur d'Alene Press, he owns the word.
"Coeur d'Alene, meet your next mayor," begins a Press editorial previewing its mayoral coverage. Like every mention of the "mayor" since the first week of September, the word is underlined and highlighted in blue. But click on the link, and it doesn't lead to mayoral candidate profiles, the City Hall website, or previous Press articles.
Instead it links directly to Widmyer's campaign site.
The context doesn't matter. Stories mentioning Coeur d'Alene mayor Sandi Bloem, New York mayor Michael Bloomberg, mayors in Rathdrum and Post Falls — all had the word "mayor" linked to Widmyer's site. So did a story about the Sept. 11 memorial, and one about a St. Maries mayoral candidate whose 18-year-old daughter was murdered. Even in letters to the editor critical of Widmyer, "mayor" linked to his site.
As media outlets continue to search for how to make websites profitable, the development of "in-text advertising" has worried some media critics.
"That's crazy. That's very confusing," says Kelly McBride, a faculty member at the Poynter Institute, a nonprofit school for journalism, after hearing about the Press' in-text ad practices. "It wouldn't be confusing if the Coeur d'Alene Press had given up on the idea of independence, and was clearly and transparently going to be taking sides. But if they want to embrace the notion of independence, then that form of advertising compromises the audience's perception they are independent."
While some sites identify ad-purchased links with a different color or by double underlining them, those in the Press are indistinguishable from a conventional hyperlink. And the Press specifically promotes its use for political contexts, advertising "Political 'HOT' Link Word/Phrases" for $80 a week on its website.
Earlier this year, the Press' in-text links came under fire when it linked Coeur d'Alene school board member Brent Regan's name to the website of Balance North Idaho, the PAC that endorsed his opponent. McBride calls the notion of selling a person's name to a group supportive of his opponent "completely deceptive" and "inexcusable."
Regan says he called up Press managing editor Mike Patrick to tell him he thought the use of his name was unethical and illegal.
"You've got to ask yourself, 'Is this journalism or are you just prostituting yourself to make a buck?'" Regan says. Ultimately, he says Patrick agreed to stop letting groups buy the names of politicians they haven't endorsed.
Patrick did not respond to repeated requests for comment. But Adam Graves, co-founder of Range NW, the marketing firm working on Widmyer's campaign, is unapologetic. The practice, he says, began during last year's recall campaign, where it was employed by Mary Souza, one of Widmyer's mayoral opponents. He says it's not only cost-effective, it works.
"My guess is the Inlander and Spokesman will follow suit once your bosses see the revenue potential," Graves writes in an email. "Unethical would be advising our clients to spend their money hitting people who do not vote. We are simply using technology to better use marketing dollars."