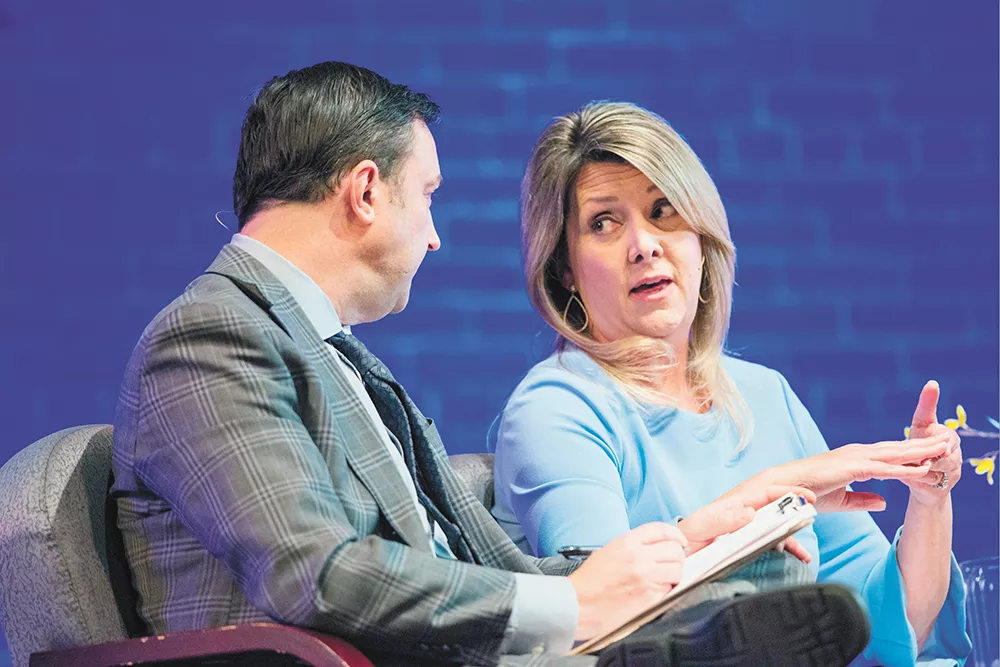 It wasn't just that mayoral candidate Nadine Woodward was a fan of "Seattle is Dying," the gritty KOMO-TV documentary that claimed that Seattle's "compassion" got "twisted" into a "sickening reality" of homeless camps, syringe-strewn streets and mentally ill people suffering on street corners. Or the fact that she linked to the video on Twitter with the hashtag #WakeUpSpokane.
Woodward actually went so far as to call up the reporter who produced it.
"I said, 'You have to come to Spokane and see what's happening here,'" Woodward recounted during a July appearance at a local Rotary Club, according to an audio recording shared by the liberal activist group Fuse Washington. "I said, 'We have so many people in encampments along the river, along the Centennial Trail, shooting up in the library' — which by the way I exposed and was vilified for that."
That picture of Spokane couldn't be starker from the bipartisan optimism on display in 2016. At the time, conservative Mayor David Condon stood with liberal Council President Ben Stuckart and the director of Catholic Charities to tout their "Housing First" strategy aimed at getting vulnerable citizens off the street and into homes.
"New, more permanent housing has opened recently and more is set to come online later this year," Condon announced.
But since the 24/7 shelter model collapsed last year, arguments over the city's homelessness strategy have become increasingly polarized, especially as the race to replace Condon comes to a head.
Stuckart now attacks Condon's record from the left, arguing that the mayor's recent management decisions have stood in the way of progress and sabotaged their shared homelessness strategy.
"The reason we don't have shelter right now is that the mayor is failing," Stuckart said at a mayoral debate last week. "And that's why I'm running for mayor."
By contrast, Woodward brandishes the mayor's endorsement, praises his budget discipline and avoids attacking Condon by name. Yet, as Woodward argues there has been an exponential explosion of homelessness and crime downtown, she blames many of the policies Condon himself once championed.
"People want change," Woodward said at a debate last week. "They're tired of the status quo."
'THE CITY HAS TURNED LIBERAL'
Even with name recognition built over nearly three decades as a local TV anchor, it's not easy for a conservative to run for citywide office in Spokane.
"I know full well that someone who was right-of-center is going to have a hard race in the city election for mayor," Woodward told the Rotary Club. "[Congresswoman] Cathy McMorris Rodgers lost the city in her last election by 17 points. ... The city has turned liberal."
And so Woodward, she explained to the Rotary Club, has tried to keep party politics out of the mayoral race. Condon, despite being McMorris Rodgers' former deputy chief of staff, tried to do the same thing when he ran with "nonpartisan" on his campaign signs in 2011. After all, Woodward argues, filling potholes isn't really a Democratic or Republican thing.
Still, ideology can influence a host of other issues that mayors have to deal with, including social services, taxes, police, accountability, environmental policy and immigration enforcement. Consider the debate about Border Patrol's warrantless immigration sweeps inside the city-owned Intermodal Center, the downtown hub for Amtrak trains and Greyhound buses.
Stuckart, a liberal, passed an ordinance last year banning Border Patrol from conducting raids without warrants inside the city facility. And Condon, a conservative, refused to implement the ordinance, arguing that it was contrary to federal law. But in his statement, Condon noted that the dozens of people who showed up with "heartfelt testimony" about their experiences with immigration enforcement at the Intermodal Center had "very real concerns."
By contrast, Woodward's enthusiasm for Border Patrol was unequivocal when she spoke to the Rotary Club. She praised the "incredible service" they were doing at the Intermodal Center, citing "the arrests they're making with the illegals and especially in the drug trade."
And when local TV stations — including her former employer, KXLY — asked her about her comments, she accused reporters of trying to distract voters and called the media "pathetic."
For this article, the Inlander asked Nadine Woodward multiple times for a sit-down interview over the course of a week. As she has frequently done during the campaign, Woodward refused to talk, with her campaign manager saying, "Her schedule is packed as she gets out to talk to voters." At the Rotary Club, Woodward said she considered herself to be running against not just the unions, but a columnist at the Spokesman-Review and a journalist at the Inlander.
Nevertheless, Stuckart says Woodward is further right not just of himself, but Condon: "The things that have come out of her mouth that make my jaw drop would never have come out of David's mouth."
Another recording, also shared by Fuse, features a liberal activist pretending to be a Trump supporter named Bill Wilson. He attended a Woodward campaign event in July and tried to push her to be more open about her political beliefs.
Woodward argues that political affiliation is irrelevant to the job, but she also drops some pretty big hints.
"I think their 100 percent sustainable energy ordinance is a joke," Woodward says to "Wilson" about the City Council's climate-change policy. She also points to her support for the Border Patrol at the Intermodal Center.
"So how am I lining up?" Woodward says. "What do I sound like?"
Finally, she gets a little more explicit.
"I did not vote for Hillary Clinton. Is that good enough?" Woodward says, chuckling.
Stuckart doesn't try to hide the fact that he's on the left. He's a Democrat. He brags about Gov. Jay Inslee's endorsement.
"I believe if we don't do something about climate change, we're kind of going to all die," Stuckart says. "It can't be this warm fluffy, 'We'll incentivize you.'"
Stuckart says he supports the controversial idea of safe injection sites — where addicts can inject illegal drugs under medical supervision — though he says that's something for the health district, not the Mayor's Office, to debate.
And where Condon did everything he could to avoid raising taxes, Stuckart says he wants to give voters a chance to vote on a tax measure to create a "housing trust fund" to help build more affordable housing.
"One went to the voters in the 1990s, and it failed, but it's time to bring that back," Stuckart says.
And that's one of Condon's biggest complaints about Stuckart.
"I worry that with the leadership of Ben Stuckart, the city will go down a path of not holding ourselves accountable to the taxpayers' dollars," Condon told KHQ when discussing his endorsement of Woodward.
Stuckart argues he's actually more fiscally conservative than the mayor, holding the line against spending one-time dollars on ongoing expenses. He notes that the city's chief financial officer, Gavin Cooley, has endorsed him.
Cooley considers himself progressive, but also says the last two mayors he's "really felt have been effective are two Republican mayors." He declines to weigh in on the who's-more-prudent debate, but he does say that Stuckart provided "excellent leadership" in sticking to the city's budget principles.
"They're both moderates," Cooley says of Stuckart and Condon. "I don't think either one of them want to be viewed that way, but they're both moderates."
Woodward, for her part, not only hopes to beat Stuckart, but also says she wants to chip away at the 6-1 liberal majority on the council.
"Our mayor has had to play defense with this City Council," Woodward tells the Rotary Club. "I want to be a mayor who can act offensively and get things done."
TWO PATHS HOME
To Jonathan Mallahan, Condon's former Neighborhood Services Director, Condon and Stuckart deserve immense credit for reducing the most serious cases of chronic homelessness.
"Mayor Condon took a very practical and humanistic approach — to say the right thing to do with the people who are suffering in the city aligns with the financially responsible thing to do," Mallahan says. Today, Mallahan works for Catholic Charities.
Condon and Stuckart both supported the move to the 24/7 shelter system, but both came to believe that it was a mistake to try to cram so many homeless people in a single shelter, the House of Charity. Both have subsequently pushed for a broader network of smaller shelters.
Asked recently by the Inlander if there was any major initiative on homelessness that the City Council prevented him from pursuing, Condon says he couldn't think of any off the top of his head.
Still, in the last year, Condon and Stuckart have clashed on the details. Condon blames some of the recent problems with "vagrancy" downtown on the council's decision last year to temporarily suspend the city's sit-lie law — prohibiting people from sitting on downtown sidewalks during the day — until new warming centers opened.
Stuckart, meanwhile, points to the administration's repeated blown deadlines to find a new location for a city-owned shelter after the city stopped funding Catholic Charities' 24/7 shelter last year. (On Monday night, the City Council approved a lease for a 24/7 warming center that Stuckart hopes will become a permanent shelter.)
Last month, when the council briefly tabled a resolution to pick the Salvation Army to run a shelter, Condon slammed the council for a "disregard for the urgency that is needed to secure a shelter operator for our vulnerable citizens."
But Woodward? Woodward's complaint is the opposite. She accuses Stuckart of having too much urgency, writing in the Spokesman-Review that an "impulsive push for a city-owned shelter" would "simply establish another unnecessary and expensive bureaucracy that will become a long-term burden."
The city shouldn't buy a new low-barrier 24/7 shelter, she has argued. She wants cops to crack down harder on homeless addicts who break the law and force them into treatment. She praises high-barrier shelters that require drug tests as offering "accountability" while condemning low-barrier shelters that accept everyone as simply "warehousing the homeless."
She suggests that Spokane should maybe consider banning homeless people from the public library until the library gets a handle on how to handle drug addicts.
"Yeah, I want more officers, yeah. But not at the cost of higher taxes."

tweet this
"We have become a city that just enables," Woodward often says.
Woodward critiques the Housing First model, "funded by the federal government and Catholic Charities," arguing that offering housing to chronically homeless people without strings will just attract more homeless people to Spokane.
Housing First isn't some far-left liberal scheme. It was a George W. Bush program, a part of the president's platform of "compassionate conservatism" that became a bipartisan consensus. The whole idea, backed by reams of research, is that giving a homeless person a place to live is far cheaper and more effective than trying to fix all their underlying issues first.
But Woodward laments the concentration of Housing First units downtown.
"That just creates a Skid Row as far as I'm concerned, and it's happening right off the biggest entrance into our city off of I-90," Woodward tells the Rotary Club.
In recent months, Condon has grown more skeptical on Housing First — "I think what often happens on federal policy is the pendulum swung too far," he says — but he still celebrates the "2,667 people who have exited from homelessness to permanent housing."
Either way, both Condon and Stuckart still believe that opening a new shelter is necessary. Without enough shelter space, Stuckart and Condon argue, the city legally can't enforce its sit-lie restrictions and homeless camping ordinances.
In other words, want to crack down on vagrancy? First, you need to offer those vagrants shelter. Otherwise, Stuckart says, public camping will flourish.
TAXES > COPS > SHELTERS
Stuckart hasn't painted the climate downtown with the same dark colors Woodward uses. But Woodward's claim that Stuckart says "nothing to see here, move along" in regard to downtown is false.
In December 2018, months before Woodward announced her own candidacy, Stuckart wrote a resolution outlining a litany of problems, including mental health issues driving police responses downtown, the capacity of the Spokane Police Department and neighborhoods suffering from "chronic nuisance homes, retail theft, unauthorized camps, and drug houses."
The resolution put an initiative on the February ballot asking voters to approve a property tax hike in order to add 20 new police officers and save 30 firefighter jobs. Condon fought against it, bristling at raising taxes.
Nearly two-thirds of the voters supported the resolution. Woodward voted against it.
"Yeah, I want more officers, yeah," Woodward said last week. "But not at the cost of higher taxes."
Woodward, who has the Police Guild's endorsement, insists those officers could have been paid for without raising taxes — and she says she'd be able to add dozens more. She says there's enough fat in Condon and Stuckart's budget that finding enough to cut is as simple as handing her a pen. But over the course of her campaign, she repeatedly refused to identify anything specific to trim.
But then last week, pressed by Stuckart at a debate, Woodward suggested cutting the money that Condon and Stuckart intended to use to buy and operate a homeless shelter.
Cooley, the city's chief financial officer, believes the city could have found money to pay for the extra cops without a tax hike, but says the Condon administration would never consider diverting homeless shelter dollars.
"I don't think that's ever been on the table, period," he says.
Still, as firm as Woodard and Stuckart's views sound now, a lot can change.
In September, Woodward sent out a statement criticizing Stuckart for a 2017 comment in which he'd suggested that private groups, if they wanted to, could build a tent city, before backtracking and clarifying his thinking.
"When I take office, I will make informed decisions based on evidence and community discussion," Woodward said in the statement, "and I will not make reactive and impulsive choices that change every couple of months."
But a month later, Woodward stood up at a debate and floated a brand new idea, one that she later said she got from talking to a local nonprofit.
"One idea that I've seen other cities do, and that is, like, a tent city that is temporary during inclement weather," Woodward began. ♦
PREVIOUS COVERAGE
Visit Inlander.com/Election2019 to see everything our reporters and commentators have written about this year's elections. Among the recent headlines: