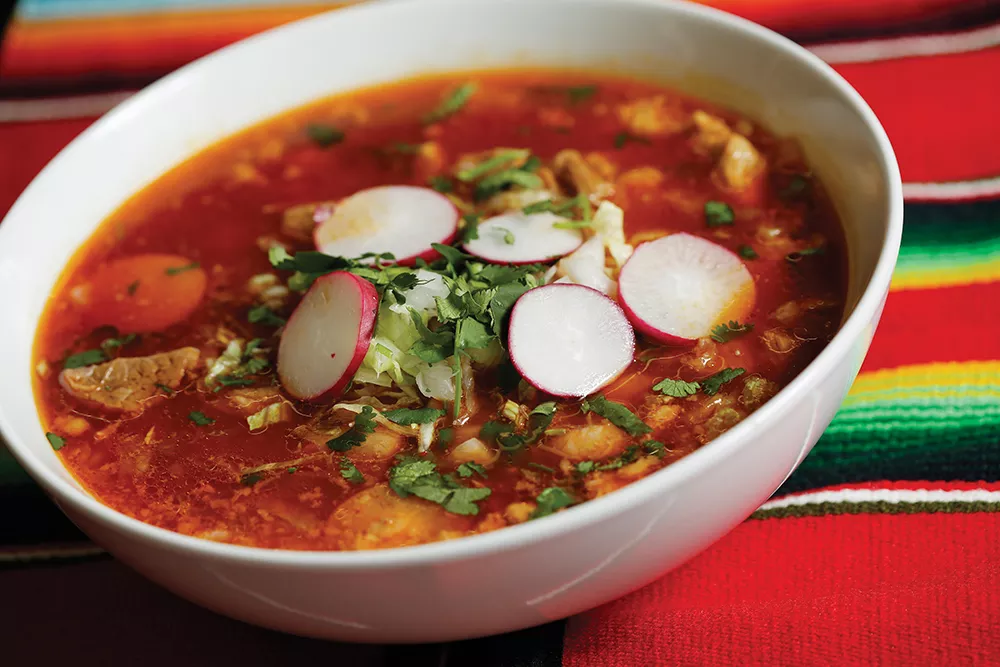 Mayra De Leon has a sign on her desk inside De Leon Foods' Francis Avenue store: #GIRLBOSS. Her children gave it to her, says Mayra, who is president of the steadily expanding De Leon Foods group and was recently named the Latina/Latino Business Leader of the Year by the Eastern Washington-based Latino Hope Foundation. Yet she'd rather be elsewhere than behind the desk, she says: at the register ringing orders and speaking with customers or zipping around the store making sure shelves are stocked with the myriad of grocery items for not only Mexican cuisine, but also Nicaraguan, Puerto Rican and other Latin American cultures. But where Mayra really wants to be is in the kitchen.
"To be in the kitchen is one of my passions," says De Leon, who runs De Leon's two grocery outlets, two taco bars and soon-to-be third location with husband Sergio De Leon, who leads their other business: Northwest Freight Handlers.
Launched in 1995, Northwest Freight Handlers provided Mayra's first batch of taste testers when she started sharing the traditional Mexican food she cooked at home for her family with their employees, who clamored for more. It wasn't much of a stretch to turn their warehouse and other business experience into an outlet for Mexican grocery goods, including their signature tortillas and their growing fresh food businesses and restaurants.
In 2005, the De Leons opened their first store on Francis Avenue, followed 10 years later by a second store in Spokane Valley. Their tortilla-making apparatus is capable of turning out 9,600 tortillas per hour and they can be found throughout the northwest, including the Davenport hotels and Wild Sage. And both De Leon Foods locations as well as the two taco bars — northside on Division and on 57th Avenue on the South Hill — feature foods developed and overseen by Mayra and assorted kitchen managers.
The menu includes individual "street" tacos, burritos and quesadillas, as well as full entrees — fajitas, carne asada, flautas and chile relleno. They also do tamales, both sweet and savory, especially during the holidays, when Mayra figures they made around 10,000 of the traditional masa-wrapped treats.
On weekends, two additional dishes are available: menudo, the so-called hangover cure including tripe that's cooked until tender, and pozole, a rich soup that reflects regional affiliations.
Mayra's recipes come from both her family and Sergio's family, who operate Tortilleria y Tienda de Leon in Portland and which has been recognized by celebrity chefs Aaron Sanchez and Rachel Ray.
Mayra uses her mother's recipe for pozole roja or red pozole (also spelled posole), which takes its name from the main ingredient: hominy, a type of processed corn. Traditionally, the corn kernels are dried then rehydrated, giving them a chewy texture and puffy appearance and preserved again, either by drying or canning while wet, which is how they are typically sold in grocery stores.
De Leon Foods sells everything necessary to make Mayra's pozole — both dried and canned pozole, as well as the distinct peppers used in the sauce, along with the meat. They also carry a modest amount of fresh produce and meats, ready-to-eat foods, scratch-made baked goods, and all the accouterments to plan your next fiesta. They keep adding to their stock, however, based on customer feedback, which has so far been good, say the couple.
"[Customers] like the smells, they like the piñatas," says Sergio, "they like the scenery."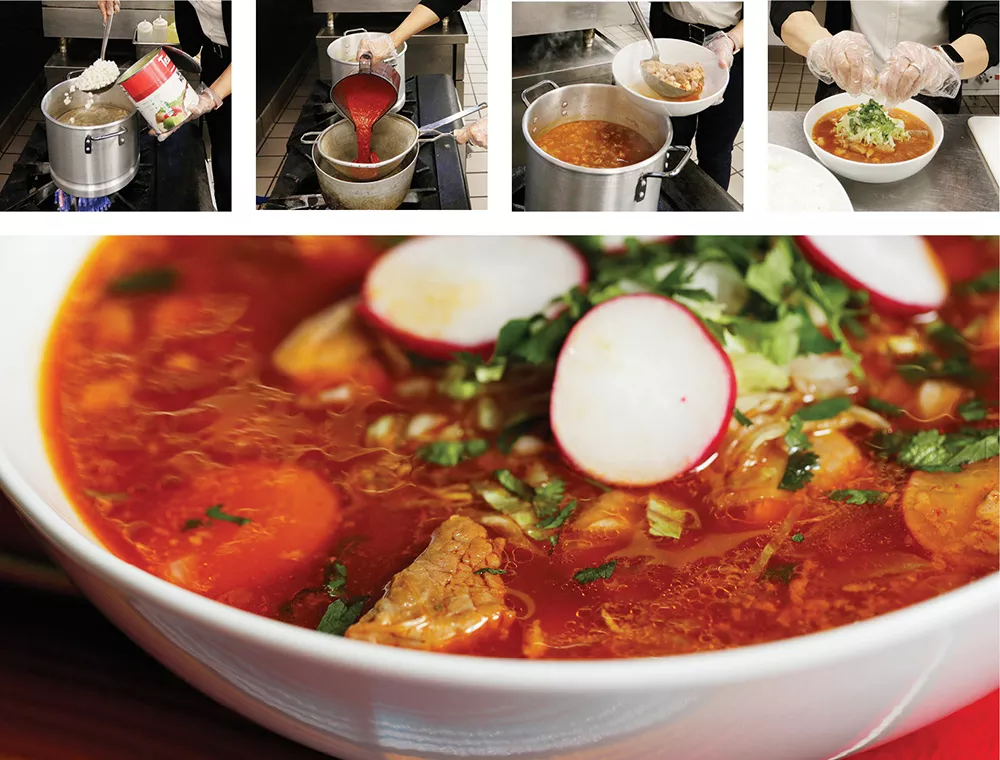 TRY IT YOURSELF
Pozole from Zacatecas, Mexico
Pozole gets its name from the hominy — rehydrated dried corn — that makes it both filling and nutritious. Pork is traditionally used, but chicken can substitute. This recipe easily feeds five to six people and can be scaled up for larger get-togethers. Pozole recipes vary by region; Zacatecas is a state in north-central Mexico.
Ingredients
5 pounds boneless pork shoulder, cut in to 2-inch cubes

1/2 white onion, whole

1-1/4 tablespoons salt

1 head of garlic

3 bay leaves

1/2 tablespoon cumin

2 30-ounce cans hominy

4 tablespoons chicken bouillon (De Leon's uses Knorr)

Pozole sauce (recipe below)

Bring 2 gallons of water to boil. Add the diced pork, onion, garlic, bay leaves and salt and cook for 1-1/2 hours.

Add the white hominy, the sauce (below) and bouillon and return to boiling.

Remove the garlic head and the onion. Stir in sauce, salt to taste and garnish with fresh cilantro, onions and sliced radishes.

Pozole sauce
7 to 8 guajillo peppers (available at De Leon Foods)

1 to 2 arbol peppers (available at De Leon Foods)

1 cloves of garlic

1-1/4 tablespoon salt

1 tablespoon of ground cumin

1 tablespoon canola oil

The peppers are dried and will need to be rehydrated. Cover with water and boil. Save the water!

Put the boiled peppers and the remaining ingredients, except the oil, into a blender. Add the reserved water to make the blender about half full.

Blend until all ingredients are pureed.

Add canola oil to a sauce pan and heat to medium. Cook sauce mixture until it starts to boil.

The sauce is ready to add to the soup.

(SHARED BY MAYRA DE LEON OF DE LEON FOODS)