ON INLANDER.COM
FILM:
It is so smokey and disgusting outside that
we had to change the date for our screening of Grease at our next Suds & Cinema event
. It's now on Sept. 6.
Hopefully
the smoke clears sooner than that.
NATION:
The
New York Times
reports
that more than 1,000 children were abused by priests in Pennsylvania
after a report was released on Tuesday.
IN OTHER NEWS
Smoke ain't a joke
It's here to stay.
The disgusting haze surrounding Spokane (and Seattle for that matter) likely isn't going away next year.
Or the year after. Or the year after that… or… well, you get it. (
Seattle Times
)

Oh my, Omar
If she wins in November,
Ilhan Omar would be the first Muslim woman elected to Congress
. (Vox)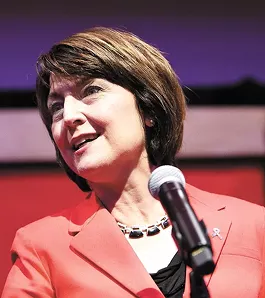 Slow and steady
Cathy McMorris Rodgers' lead keeps growing
over challenger Lisa Brown, the
Spokesman Review
reports. She now leads by almost 7,000 votes in the primary election. The two will face off in November.
May the Trumpiest candidate win

Elections in Minnesota, Wisconsin, Vermont
and
Connecticut last night (once again)
showed that Republican candidates who do not support the president face an uphill battle
. Also interesting, Vermont Democrats nominated the first transgender woman for governor, Christine Hallquist. (
Washington Post
)