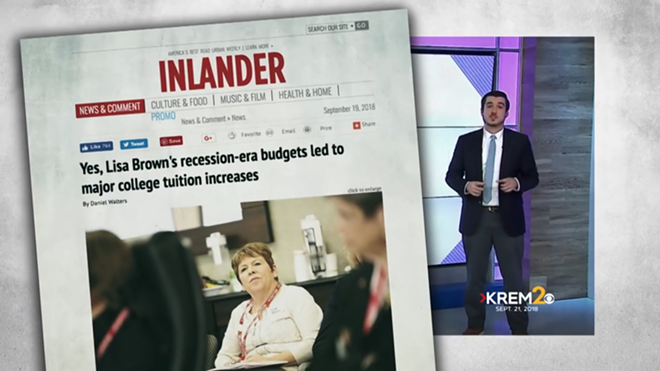 A recent TV ad for U.S. Rep. Cathy McMorris Rodgers showed what appears to be an Inlander article as evidence against her opponent Lisa Brown — without acknowledging that the image had been digitally edited to remove criticism that the congresswoman's attack was, to some degree, "unfair." Ironically, the ad is titled "True."
McMorris Rodgers previously argued in an ad that, as a state lawmaker, Brown voted to hike tuition by 80 percent on Washington state students. In the "True" ad, she said that claim was now supported by KREM and Inlander fact-checkers.
"Lisa Brown says she didn't vote to increase tuition," the announcer in the McMorris Rodgers ad says. "News reports say she did."
One clip in the ad pans over what appears to be the Inlander article, "Yes, Lisa Brown's recession-era budgets led to major college tuition increases."
But the article shown to viewers in the ad had been manipulated to remove criticism of the previous ad and a paragraph noting that "the ad's suggestion that there was one specific bill that Brown voted for that explicitly mandated that tuition would increase 81 percent isn't correct. During the recession, there were a lot of reasons why tuition skyrocketed at both private and public colleges across the nation."
The Associated Press called McMorris Rodgers' claim inaccurate, noting there was no explicit vote for a tuition hike. The Inlander article, however, focused on the larger issue, noting that the budget cuts made by the state Legislature during the recession, as well as Brown's votes to allow state college boards to hike tuition at faster rates, did lead to steep tuition increases. But we also noted that Brown unsuccessfully called for eliminating certain tax loopholes to reduce higher ed cuts.
Also, it's worth pointing out that the higher ed cuts could have been even deeper if it hadn't been for the federal stimulus package — a measure McMorris Rodgers voted against.