I
t's not long after
the initial results come in — showing Democrat Lisa Brown losing by 11 percentage points — that Brown's concession speech begins airing on the big screen in a red-lit Davenport Grand ballroom filled with buoyant Republicans.
One guy in the crowd begins chanting "Turn! Her Off!" to the cadence of "Lock! Her! Up!" but stops when nobody joins in.
In the end, it wasn't even close.
The race between U.S. Rep. Cathy McMorris Rodgers and Lisa Brown wasn't tight. It wasn't neck-and-neck. Lisa Brown wasn't within striking distance. The final result wasn't
remotely bruising
.
A lot of observers, on both sides of the political aisle, had looked at an
early poll
showing McMorris Rodgers leading by only 6 points — when the poll had a 5-point margin of error — and convinced themselves that the race was going to be a nailbiter. An initially close margin in the first dump of primary ballots justified that assumption.
But here's the thing: Polling errors work both ways. A 6 point lead with a 5-point margin of error can turn into a 1-point lead or an 11-point landslide.
The final result in the primary, for those paying attention, was
awful
for Brown. Yes, technically, McMorris Rodgers' led Brown by only 4 percentage points — but when you add in the other conservative candidates in the primary, Brown was lagging 9 points behind, despite all the Democratic enthusiasm.
And if you thought the Republicans who voted for other conservative candidates in the primary wouldn't vote for McMorris Rodgers in the general election, you don't understand Republicans.
During the primary, far-right Republican candidate Jered Bonneau didn't hold back when it came to criticizing McMorris Rodgers. She was corrupt, he said. She was unethical. She had lost touch with her constituents. She didn't care about people.
"I won't endorse Cathy," Bonneau told the
Inlander
before the primary. "I won't endorse either party. I'll probably write myself in."
Here, he's smiling and wearing a Cathy McMorris Rodgers sticker. He's holding a Cathy
McMorris Rodgers sign. He's gathered around the throng of well-wishers after McMorris Rodgers' victory. Not only did he endorse McMorris Rodgers,
he
did so eagerly.
It wasn't that McMorris Rodgers personally persuaded him so much as he despised Lisa Brown.
"Lisa Brown's bad news — the whole socialist agenda, the whole insanity of the left. I can't let that win," Bonneau says. "I've got to give all my support to the red... Gotta support my party, gotta support the red."
Democrats fall in love, the old cliche goes, while Republicans fall in line. But, for many Republicans, it's both. It's not even that they hold their nose to vote for a Republican they despise. It's that they can go from despising a Republican in the primary — to cheerleading for that same Republican in the general election.
In the end, the race wasn't even within the single digits. It's possible it never was.
THE SACRIFICE
Once McMorris Rodgers begins speaking, she doesn't gloat about her victory so much as revel in the joy of it. She talks about how inspiring she finds veterans and small business owners and health care workers. How she wants to fight Alzheimer's. The importance of just being yourself.
She returns to the chorus of her campaign: Her biography. She grew up working on an orchard. She's a working mom. She's a wife. She's a woman. Her ancestors came out here on the Oregon Trail.
She namechecks border security and healthy forests. And she talks about something she's talked about a lot: The importance of unity and civility.
"Lately, it feels like Americans have stopped listening to one another. We have been building divisions instead of bridges," McMorris Rodgers says in her victory speech. "And as a result, trust has been broken on many fronts. My prayer tonight is that we start building bridges, that we start building trust. That this can be the beginning of
healing
."
But "civil," "bridge-building" and "healing" are not the words most people would use to describe McMorris Rodgers' negative attacks during the campaign. And thing is, with a margin so big, it's possible McMorris Rodgers didn't need to sacrifice civility at all.
Maybe all those hard-hitting tactics weren't necessary. Maybe it wasn't necessary for McMorris Rodgers to put out ads accusing her opponent,
deceptively
, of releasing sex offenders in the community. Maybe she didn't need to accuse Lisa Brown of supporting socialist dictators. Maybe her campaign didn't need to digitally alter an
Inlander
article in her ads blaming Brown's budgets for recession-era college tuition hikes. Maybe she didn't need to suggest during a debate that George Soros was secretly behind a dark money group supporting Brown.
Maybe she didn't need to seek the support of Rep. Matt Shea, the far-right Spokane Valley legislator who's now making national news for old sermon notes that call for tactics like
assassination and sabotage
in response to "tyranny."
Maybe, just days before the election, McMorris Rodgers didn't need to cheerfully accept the endorsement of a president who ended up running an anti-immigration ad that even Fox News dropped for being
too racist
.
But she did. And those things, along with her 11-point victory, will be part of her legacy in this election.
"I'm a trust-builder," McMorris Rodgers says in her speech. "A trust-builder."
DID BROWN EVER HAVE A CHANCE?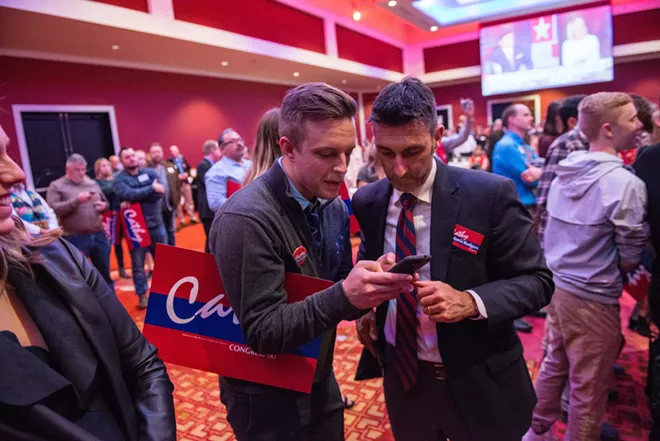 Already, you can see a lot of liberal Spokanites on Facebook speculating about what Lisa Brown could have done better.
Maybe she could have taken clearer positions on Medicare for All, or gun control, or
immigration
. Maybe she could have been more supportive of progressive causes, like the 1631 carbon tax initiative. Maybe she could have been a more exciting candidate. Maybe her attempts to show her moderate side left progressives feeling
lukewarm,
while doing nothing to effectively combat accusations from the right that she was a closet socialist.
Maybe she should have listened to D.C. consultants more or listened to focus groups less. Maybe she needed to invest more in voter registration or more in field teams. Maybe she needed to focus more on health care ads and less time defending herself from McMorris Rodgers' negative ads. Maybe she needed to do better targeting with direct mail.
Or maybe — and this may be the most likely of all — maybe it really is impossible for any candidate to turn Eastern Washington blue.
The
Inlander
asked Spokane City Council President Ben Stuckart,
subject
of last year's
Stranger
profile titled "
Meet the Man Who Could Turn Eastern Washington Blue
." Ultimately, Stuckart dropped out of the 5th Congressional District race before Lisa Brown joined.
Yet Stuckart, who Brown just endorsed for Spokane mayor, doesn't think he could have won this year either.
"Lisa raised millions more than I could have," Stuckart says. "Millions more than I possibly could have, with my network. I think Lisa ran a great race."
It certainly wasn't a matter of getting more progressives to turn out, he says. Turnout was way up. But conservative turnout skyrocketed, too.
Stuckart says he doesn't have any advice for future candidates who want to run in the 5th District. The city of Spokane remains blue. But the rural areas of Eastern Washington — including the suburbs — are as red as ever. It doesn't seem like the conservative Trump enthusiasm has worn off, he says.
After all, Brown accomplished a lot: She raised a ton of money. She got a higher percentage of the vote than any other Democrat who's ever run against McMorris Rodgers. In Spokane County, she did better than Hillary Clinton did in 2016 or Barack Obama did in 2012.
But she wasn't able to match the numbers of Obama's near-victory in Spokane County in 2008 or Patty Murray's win in Spokane County two years ago. And as of Thursday night's vote, there were plenty of voters who were willing to vote for Democrat Maria
Cantwell,
but weren't for Lisa Brown. In Spokane County alone, there were 2,500 voters voting for Cantwell but not Brown.
Cantwell had a lot of advantages, including a weak opponent, a massive fundraising gap, and fewer attack ads to contend with. But it still shows that the ceiling for a Democrat in the 5th Congressional District is higher than what Brown achieved and that pure partisanship wasn't the only reason Brown lagged so far behind McMorris Rodgers.
But Brown isn't at all embarrassed about running a little behind Cantwell — her friend and mentor — especially considering the massive inherent advantages any long-term incumbent has. Instead, Brown feels proud about what she accomplished.
"I've won six elections and I've lost one. ... I knew what the odds were in the beginning," she says. "The odds were always long. On the other hand, what we experienced was
historic
turnout on both sides."
If she were to do it over again, she says, there may have been things she would have done differently: For example, she would have gone on the air with TV ads and started sending out mailers earlier — stopping McMorris Rodgers from poisoning the well early with her negative ads.
But the one thing she wouldn't change? Her issues. It wasn't a ploy, she says. She really did believe that universal health care was a great goal, for example, but that Bernie Sanders' bill was unworkable.
"My positions on issues were not strategic. That was where I really am on those issues," Brown says. "It's always better to say what you actually think on
issues,
because then you don't have to change it down the road."
THE BATTLE AND THE WAR
"This election was tough. It was a battle. I stand before you tonight stronger, better and more convicted in what we are fighting for," McMorris Rodgers says in her victory-night speech. "We are fighting for freedom!"
The crowd begins shouting "Cathy! Cathy! Cathy!"
Indeed, McMorris won this battle. But that same night, her fellow House Republicans lost the war.
Frequent election loser Dino Rossi was defeated in Washington's 8th Congressional District.
Carlos Curbelo, a moderate Hispanic Republican who tried to force House leaders to take a vote on DACA, lost in Florida. U.S. Congressman Pete Sessions,
co-chair
of the House Committee on Rules with McMorris Rodgers, was ousted in Texas. Mia Love, who was once floated as a potential House leadership candidate, couldn't
survive in Utah
.
Even as Republicans picked up Senate seats, at McMorris Rodgers' victory party a few attendees are frustrated with the loss of the House.
"I think it sucks," says Mike Igo, an Odessa-based McMorris Rodgers supporter with a long old-timey prospector beard. "I wanted them to pick up the House too."
He thinks Trump made a tactical error in the last few weeks by focusing so much on immigration instead of the booming economy.
"Trump's shoulda talked more about what he'd done, and not so much the illegals," Igo says. "I think they're gonna have second thoughts about what he
said,
when the election's over."
But in McMorris Rodgers' speech, at least, there's no trace of regret over the night's events. Instead, she reminisces about the time she was called to give the State of the Union response in 2014, the one where she promised that Republicans were the ones with the solutions to "
affordable health care
."
"No, we shouldn't go back to the way things were, but this law is not working," McMorris Rodgers said back then. "Republicans believe health care choices should be yours, not the government's."
But that just underscores McMorris Rodgers' mixed legacy in leadership: Today, Obamacare remains the law of the land. In fact, McMorris Rodgers spent the last phase of the campaign arguing,
dubiously
, that she had been a champion of the defense of one Obamacare's crucial tenets — the pre-existing condition guarantee.
McMorris Rodgers' House Republicans spent eight years in power — the last two with control of every branch. But they haven't funded the wall. They didn't pass comprehensive immigration reform. They didn't successfully pass a bill to protect DACA recipients. This year, in fact, they haven't even been able to successfully pass a Farm Bill.
To be sure, during the Obama years, the House Republicans made for fearsome opposition: They shut down the government in 2014. They successfully pushed back against federal government spending. Yet the House's biggest legislative legacy from the past two years of Republican control is the major tax cut bill — a bill that is anticipated to keep sending the deficit soaring. Few, if any, vulnerable House Republicans based their campaigns on the effectiveness of the tax cuts.
And for all that? Democrats look like they're going to be picking up about
37-40 House seats
, despite the booming economy. It's the best Democratic performance
since Watergate
. In the end, it wasn't even close.
Asked by a TV reporter about the changing landscape in the House, McMorris Rodgers
stresses her ability to be bipartisan
: "I have great relationships. I can work across the aisle," she says, talking about her successes in areas like hydropower and forestry.
But by Thursday, CNN reports that Cathy McMorris Rodgers will not run again for
House conference chair
. Rep. Liz Cheney is running for that spot instead.
So here's my final question: If you were Lisa or Cathy, which would you rather have: A personal victory? Or control of the House for your party?
Would McMorris Rodgers have rather lost on Tuesday night if the House Republicans won? Would Lisa Brown prefer to have been elected if it meant Republicans had maintained control of the House?
When I asked Lisa Brown that question, she doesn't hesitate: She'd rather Democrats have control of the House than for her to be elected personally.
"That's really what motivated me to get into it," Brown says about her race. In fact, Brown believes that she played a small role in the Democrats' victory.
In years past, McMorris Rodgers has been flying all around the country, working to fundraise and stump for her fellow House Republicans.
"I believe she would have been doing the same thing during the campaign if she hadn't had a competitive race," Brown says.
Instead, she was spending money and holding events in her district, fighting Lisa Brown. I intended to ask McMorris Rodgers the same question. I assumed I'd have a chance. During the campaign, McMorris Rodgers has spoken with the
Inlander
for lengthy, challenging in-depth interviews on multiple occasions.
But on election night, neither the
Inlander
nor the
Spokesman-Review
get
their questions answered by McMorris Rodgers.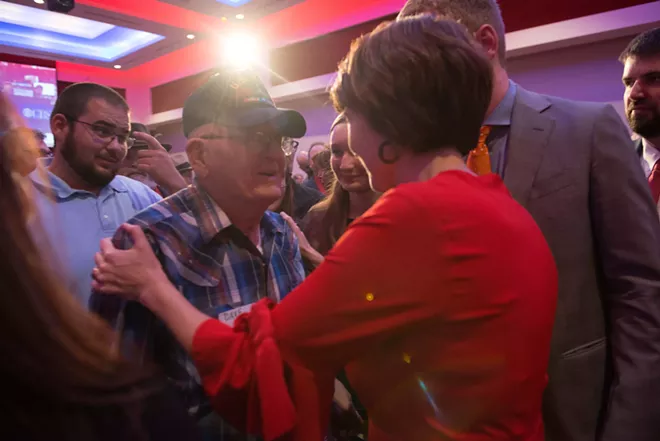 Instead, I wait patiently as a scrum of TV reporters lob mostly softballs at McMorris Rodgers for a few minutes. Then, as the small press conference looks to be ending, I jump in:
"Would you rather have lost and the Republicans keep the House—"
But then, like a Secret Service agent leaping in front of a bullet, McMorris Rodgers' campaign manager, Patrick Bell, shuts me down.
"Sorry that was the last question," Bell says, maneuvering in front of me. "Thanks, Daniel. Thanks, everybody."
At the encouragement of another McMorris Rodgers campaign staffer, I spend the rest of the party trying to catch McMorris Rodgers as she shakes hands and takes selfies with her supporters.
"Do you have a moment for print?" I ask as she walks out of the party. "All the TV guys got to ask questions? Print doesn't get anything?"
Again, Bell shuts me down.
"We did it! We did it! We did it!" McMorris Rodgers cheers as she readies to leave. "56 percent and counting."
I try one last time as McMorris Rodgers stands in the door to the Davenport Grand Hotel, and get the closest thing to an answer.
"We won right
here
tonight in Eastern Washington," she says. "Focus on
tonight,
Daniel."
And then, like that, she's gone.