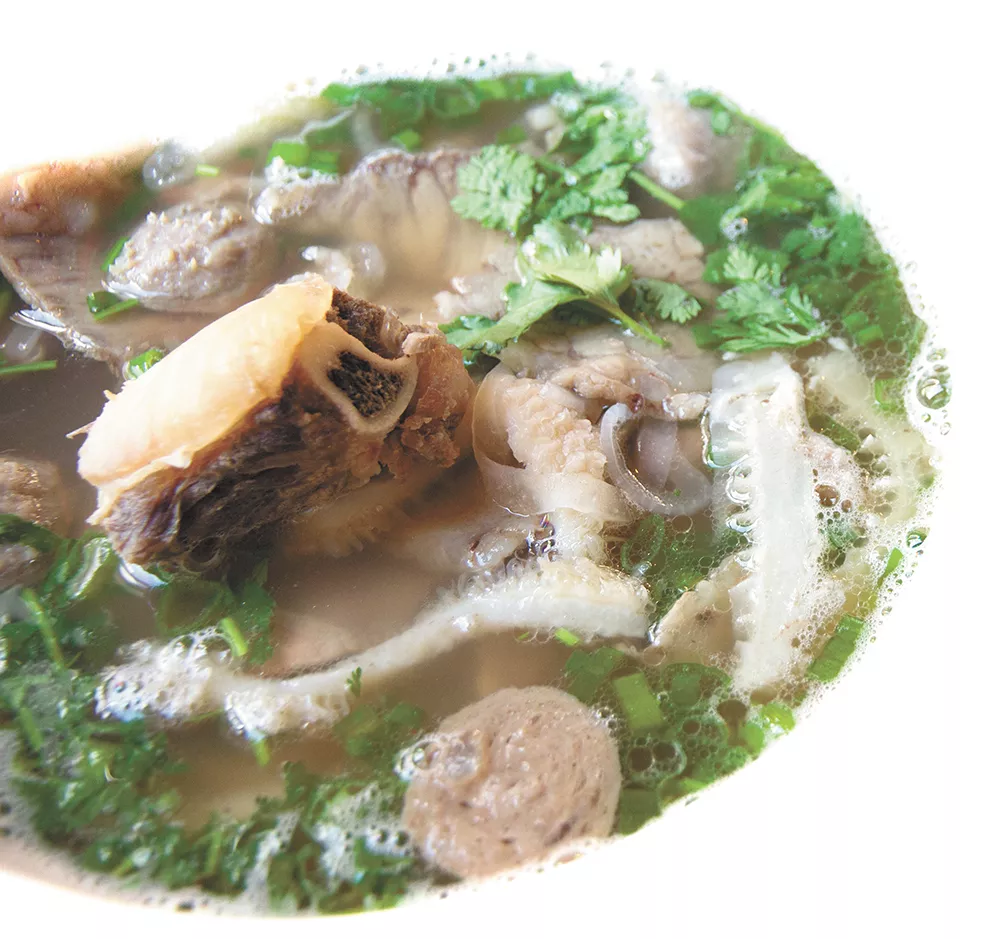 It's hard to argue the perfection of phò. Inexpensive, filling, ritualistic and curative, the Vietnamese noodle soup has found a solid spot in our collective culinary appreciation. Phò originated in North Vietnam and spread to the south and beyond in the late 1970s, carrying with it a legacy of diverse spices and traditions. The basics of phò are simple: plentiful cuts of meat and flat rice noodles bathe in an herbaceous broth with hints of ginger, cinnamon, star anise, clove, fennel and coriander. Plates of aromatics and sauces — which typically include Thai basil, cilantro, bean sprouts, white onion slices, scallions, lime, jalapeno, chili sauce and hoisin — accompany the noodle soup, providing the opportunity to customize each bowl. Fortunately, the Inland Northwest is home to many phò joints, and fans are wholeheartedly embracing the trend.
VIEN DONG
1730 E. Sprague, 536-6073,
viendongspokane.com
Vien Dong has a tried-and-true formula: provide boundless selections of classic Vietnamese favorites with a few original specialties thrown in for good measure. From bún to bánh mì, curried beef to chow mein, the hardest part of dining will be what to choose. Phò options (most are $7) are equally infinite. Chicken and shrimp phò are offered alongside variations of beef phò. Purists will savor phò tái (rare beef) while more adventurous types will rejoice in the menagerie of meat parts in the phò dac biét (rare beef, brisket, beef ball and tendon). Take your time swishing the rare flank back and forth in the luxurious broth while you take in the sights and sounds of satisfied patrons dining around you.
PHO VAN
2909 N. Division, 326-6470
Phò Van has an extensive menu of phò options that include beef, chicken and shrimp, but perhaps the most inspired phò features duck. Star anise and ginger-infused broth accents perfectly roasted chunks of duck that fall off the bone with a gentle nudge from a chopstick. Although traditional rice noodles are an option, thin egg noodles offer a welcome change from the norm. Bok choy adds body to the dish, while fried shallots sprinkled over the top add texture and smokiness.
PHO CITY
112 N. Howard, 747-0223, phocity509.com
With friendly service and unique menu options, Phò City is a welcome addition downtown. Fish sauce wings and grilled pork lettuce wraps are superb, and the bánh mì is impressive. Even with such strong competition, the beef phò ($9) is too good to pass up. Flank, brisket, meatballs and tripe mingle with chewy rice noodles in a rich bone broth, fragrant with the flavors of star anise and ginger. The customary aromatics and sauces accompany the phò, but the standout is the homemade sambal chili paste. Spicy and slightly vinegary, you'll come back for it alone.
PHO THANH & CAFE
2108 N. 4th St., Coeur d'Alene,
208-665-9903
With fans up and down the West Coast, Coeur d'Alene's Phò Thành & Café is one of the most popular and long-serving Vietnamese restaurants in the region. The diverse menu includes rice plates and vermicelli as well as excellent wonton noodle soup. The chicken phò stands out for its complex yet delicate broth, complemented by an assortment of sauces, including homemade chili garlic sauce and fish sauce. Swift service allows plenty of time for lunch or dinner on any schedule.
PHO THINH
12012 E. Sprague, 928-9112
Vegetarians rejoice: Phò Thinh's Vegetable Phò is as filling as it is delicious. Huge chunks of fried tofu mingle with steamed cabbage, celery, carrots and broccoli in a spicy lemongrass broth. Delicate rice noodles are topped with fried shallots to round out the dish. Service is fast and friendly, and the notoriously large portions can easily be divided into two meals.
VINA ASIAN RESTAURANT
2303 N. Ash, 328-2197
In a land of beef cuts and bone broth, Vina Asian Restaurant offers a welcome reprieve from a meat-heavy diet with a delightful Seafood Phò ($6.50/small, $7.75/large). Shrimp, fish balls and squid are highlighted by a clean, light broth flavored with lemongrass and cilantro. Accompaniments to the seafood pho shine: culantro (also known as sawtooth leaf or recao), Thai basil, scallions and white onions accentuate the flavors of the sea. This Northside gem's menu is heavy on soup options, featuring wonton soup as well as traditional egg flower and hot and sour soup. Warm up here at the first freeze. ♦