There are diners who love Christie Sutton's desserts so much they'll call ahead to make sure their favorite treat is available on the day they plan to stop into Europa Restaurant and Bakery in downtown Spokane.
"I don't think there's a night that goes by with a dessert that doesn't have a note on it that says something like, 'Save for Becky at table X,'" says Europa owner Aja Engels.
From slices of rich and creamy, layered chocolate mousse cake to the overwhelming customer favorite, a raspberry white chocolate cheesecake, and plenty of orders for custom cakes and other sweets each week, Europa's longtime pastry chef has established a notable following.
Sutton has been baking for the downtown eatery for nearly two decades, since 1999, just a handful of years after graduating from Spokane Community College's baking program. In the time since, she's developed a reputation as a beloved employee, by both Europa's past and current owners, and is a driving force for returning customers who crave the indulgence of her consistently decadent and visually stunning desserts.
No need to miss out if you're too stuffed for a sweet post-dinner; Europa's servers are well practiced in boxing up any of Sutton's creations to take home for later enjoyment. The waitstaff also ensures you won't pass over dessert by bringing over a display tray of the evening's lineup that's intended to weaken the self-control of even the slightest of sweet tooths.
"I tell her this all the time — the fact that you can make the same dessert taste and look as beautiful every time you make it is just shocking to me," Engels says.
Engels and her husband Jeff have owned Europa for the past five years. The restaurant has been in business since the 1980s and is known locally not only for its desserts out of Sutton's pastry kitchen, but also for its cozy, Old World decor and hearty Italian-inspired menu laden with pasta, pizza, calzones, savory puff pastries and other classic offerings.
Not many locally owned, single location restaurants of similar size have designated, full-time pastry chefs, perhaps preferring to outsource such work to commercial bakeries for financial and staffing reasons, or simply to focus on a few easy-to-prep, in-house sweets that may not be ordered regularly. At Europa, Sutton does plenty more than fulfill sweet tooth cravings. She also bakes all of the restaurant's bread, pizza dough and other pastry items like dinner rolls and croutons. A selection of Sutton's desserts can also be found at Huckleberry's Natural Market on the lower South Hill.
"I believe her being in that position as long as she has, and at the head of the baking longer than any owners, that she provides such a consistency," Engels explains. "You can be a restaurant for this many years, and people can come back and have something they had 15 years ago and it's the same. That makes her invaluable."
Fortunately, for all parties — Europa's owners, Sutton's fans and the pastry chef herself — a foreseeable future inside the flour-dusted kitchen is not uncertain.
"It's my size, my own little corner, and I've taken ownership of the bakery," Sutton says. "I did the big corporate thing at a hotel [Cavanaugh's], and sometimes there are fun things about that, but this is a nice atmosphere."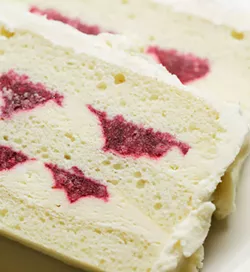 Beyond her signature lineup of desserts offered by the slice each day for dine-in or take-out, along with smaller petit fours, Sutton loves to experiment with new flavor combinations to serve for Europa's special events, like once-monthly wine-pairing dinners and Inlander Restaurant Week (Feb. 22-March 3).
For the wine dinners, Sutton crafts desserts that complement the paired wines' flavor profiles, or the overall region from which wines are being featured.
"I just make, for the most part, what I think sounds good and I'll look up flavors that I like," she explains. "I'll take things that were maybe separate desserts and mix what I like from one with what I like from another."
For this year's Restaurant Week menu, Sutton has crafted a pastel-hued lemon lavender cheesecake topped with a rolled piece of white chocolate, almost resembling a unicorn horn, set atop each slice drizzled with mirror-glaze lemon icing.
"We always aim to have something lemon — it's always popular, and something chocolate and something with ice cream," she says. "I was looking into the mirror glaze because it's very trendy right now, and thought I would give it a try. I try and step up the game for special occasions, to make it more visual, but the flavor is always on point."
For chocolate lovers, Sutton is making a dark chocolate turtle torte, drizzled with caramel sauce and topped with candied pecans (pictured on the front of this week's issue). The third dessert is house-made peanut butter ice cream inside cream puffs and drizzled with chocolate fudge.
If Sutton's three featured desserts this year prove to be popular, customers may see them later on as occasional rotations in the pastry case. In addition, any of Sutton's past creations are fair game for custom orders as whole-size desserts.
Throughout her tenure in Europa's kitchen, Sutton has become many customers' go-to baker for special-order birthday and wedding cakes and other specialty desserts to be shared at holiday tables or other gatherings.
A quick scroll through the restaurant and bakery's Facebook page showcases some of Sutton's past creations, which Engels says are as flavorful as they are pretty to look at.
"I find Christie very unique in her extreme creativity and talent, but then she completely is a hard worker and is very detail oriented," Engels says. "It's hard to find that balance in someone, when they can come up with something no one has ever done and be consistently creative about it for 20 years. She's a big part of not just the production of Europa, but the heart of Europa." ♦