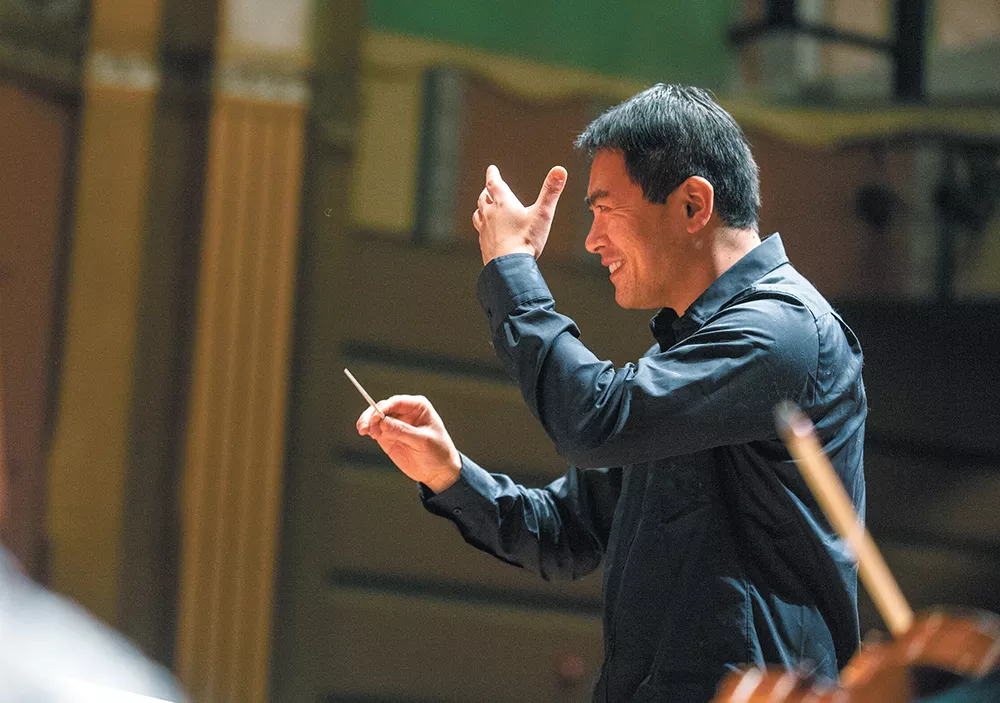 During the 2018-19 Spokane Symphony season, five candidates to take over for Eckart Preu as music director will lead shows at the Martin Woldson Theater at the Fox. As they do, we'll be asking them a few questions to get to know them a little better.
We start with Morihiko Nakahara, the symphony's current resident conductor, who will take the baton for this weekend's program, "The Red Violin."
INLANDER: Mozart or Mahler?
MORIHIKO NAKAHARA: Great question, and a nearly impossible one to answer since they are two of my favorite composers. If I had to choose one, though, I would go with Mozart. It was his music (Piano Concerto No. 22) that first opened my eyes (ears) to classical music. Also, the art of interpreting and performing Mozart's music well is a lifelong process for any musician.
Which orchestral instrument has the most sex appeal?
This might sound like some kind of a sick joke, but viola. It's my wife's primary instrument, and that's how we met nine years ago.
You're holding a priceless, irreplaceable Stradivarius and surrounded by hungry lions. You:
a) Play a selection by, say, Brahms or Sibelius, using mellifluous music to soothe the savage beasts.
b) Play a selection by Schoenberg, using atonality to drive them away.
c) Use the violin's bow to deliver a series of ninja-like knockout moves that stun the lions long enough for you to escape.
d) Stand very still and hope they're just curious violin aficionados in very authentic lion suits.
e) Other: ______________________
B, and if that doesn't scare them away, I'll try C.
Your guiltiest pleasure?
I don't consider myself a serious gamer, but if I don't exercise some discipline I can easily stay up all night playing The Witcher 3, or better yet, my all time favorite Japanese game Nobunaga no Yabou (Nobunaga's Ambition). Since I can't afford to lose too many hours to these games during the season, I usually end up watching Japanese TV online to decompress after rehearsals.
If you weren't involved in music professionally, you'd be doing:
I cannot imagine doing anything else with my life at the moment, since I absolutely love what I do and I feel I can still get much better at it, but I've had secret ambitions to either open a shochu izakaya (Japanese style pub specializing in cuisine and shochu from my hometown of Kagoshima), or work as a MLB (major league baseball) scout in Japan.
Your elevator pitch on why everyone should come see "The Red Violin" concert:
If you have never been to one of our concerts at the Fox or to any orchestra concert, this weekend's program is a perfect gateway concert. Experiencing the dramatic and Romantic sweep of Tchaikovsky's Fifth live is so vivid in comparison to recordings. Tan Dun's music shows the fun and unexpected side of classical music, and Elizabeth Pitcairn's virtuosity with the incredible intrigue of her violin is a must hear/see. ♦
Spokane Symphony: "The Red Violin" • Sat, Oct. 6 at 8 pm and Sun, Oct. 7 at 3 pm • $19-$60 • Martin Woldson Theater at the Fox • 1001 W. Sprague • spokanesymphony.org • 624-1200