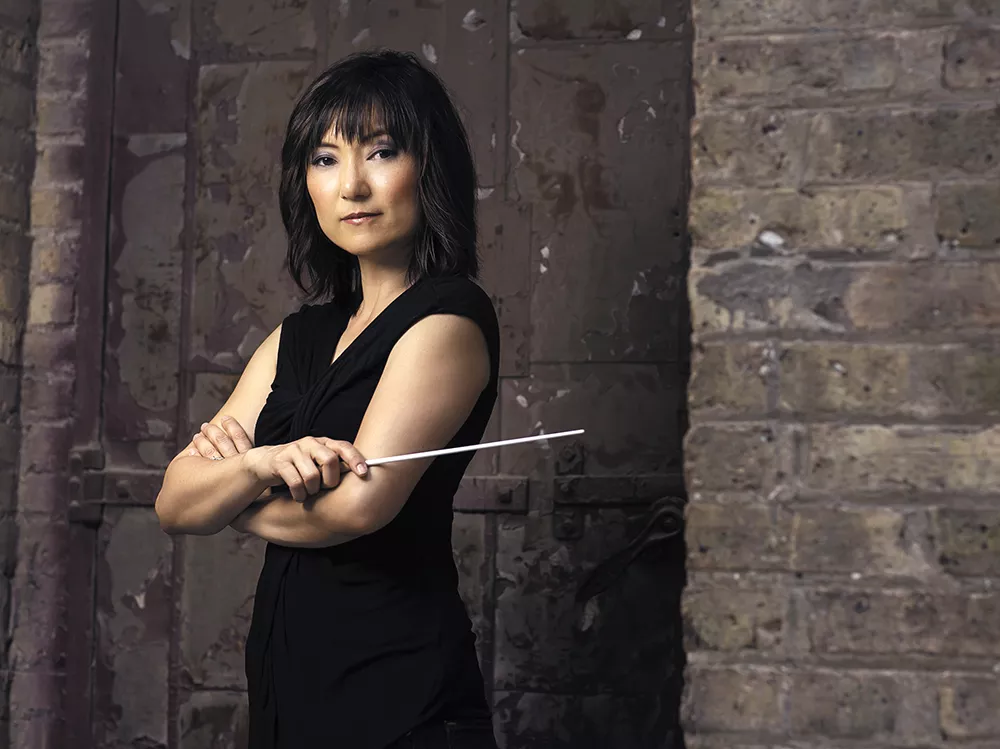 During the 2018-19 Spokane Symphony season, five candidates vying to take over for Eckart Preu as music director will lead shows at the Martin Woldson Theater at the Fox. As they do, we'll be asking them a few questions to get to know them a little better.
Next up is Rei Hotoda, the only woman among the finalists and the music director of the Fresno Philharmonic, who will take the baton for this weekend's program, "Classics 7: Korngold and Shostakovich," which includes works from Erich Korngold, Dmitri Shostakovich and Aaron Jay Kernis.
INLANDER: More than once you've pulled double duty, conducting an orchestra while simultaneously performing as a piano soloist. Is it difficult to hold the baton in your toes?
HOTODA: I've never really tried that one before, but it would add a very unique element to conducting from the piano. I usually lead the orchestra with my entire body while my hands are otherwise on the keyboard. I can definitely see Mozart using a baton with his feet, though, now that you say this.
It's no secret that female composers and conductors have traditionally been underrepresented in classical music. To redress this balance, female classical musicians should:
a) Disguise themselves for years as white, middle-aged men, waiting for an opportune moment to reveal their true selves in spectacular fashion to the astonished gasps of the audience.
b) Launch a "Symphony Grrrl" countercultural movement with a punkified Clara Schumann as its icon.
c) Stage a nationwide show of solidarity and refuse to perform or patronize classical music until Marin Alsop is the rule rather than the exception.
d) Other: ______________
D. Other. It's a secret and if I tell you, we will have to wipe your memory. But, all joking aside, I feel very strongly that me and my other fantastic female colleagues (who are all superheroes in my book) across all disciplines and career paths are addressing this and are having an impact.
Your repertoire spans Beethoven to Shostakovich. If you had to choose one of those two as your dinner guest (assuming, for the sake of conjecture, the absence of any conversational barriers), who would it be and why?
That's a hard one. I have so many questions for both of them. However, the foodie in me would focus a lot of attention on who I could introduce to what culinary delights. I would probably take Beethoven to my favorite Thai place and [have] a beer. Shostakovich for sushi and sake. But if I had to choose one as a dinner guest, I would probably go with Beethoven. I think he was probably quite a character and [would] appreciate my cooking.
Your guiltiest pleasure?
You know those moments when you have the guilty pleasure of playing a game and winning when you know your opponent struggles? Right now, I am completely addicted to beating my husband at backgammon. And, for the record, out of 100 games, I've won 99 of them. This has given me moments of sinister guilty pleasure much to his extreme dismay.
If you weren't involved in music professionally, you'd be doing:
I would be a world-famous cardiologist and philanthropist. I would work on the team that is developing the artificial heart and the proceeds from our success would go to creating a foundation that would support many artistic endeavors, including the commissioning of new works, development of theater projects, and exposure and education to the arts for all. Because the arts are the soul of humanity and community is its heart, I want access to the arts in all communities.
Your elevator pitch on why everyone should come see the "Korngold and Shostakovich" concert:
This concert will be like binge watching an intense Netflix or Hulu series. You just can't stop watching even though it is 2 am and you have to get up for work the next morning. The Aaron Jay Kernis work, "Musica Celestis," will be the pilot opener, the moment your curiosity is piqued. Next, the Korngold Violin Concerto will pull you in as you get to know the characters more intimately as the romance of the characters unfolds. The cliffhanger will be the Shostakovich Symphony No. 8, that will shake you to your very core, emotionally you'll be dying to see how it all comes to a close. Seriously, this concert is one that should be on your top 10 to watch list! ♦
Spokane Symphony "Classics 7: Korngold and Shostakovich" • Sat, March 9 at 8 pm and Sun, March 10 at 3 pm • $19-$60 • Martin Woldson Theater at the Fox • 1001 W. Sprague • spokanesymphony.org • 624-1200