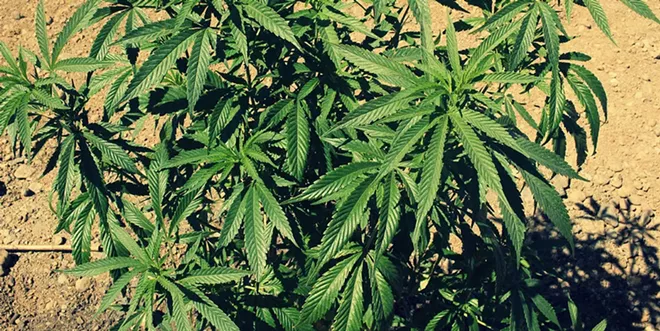 Tony Reynolds' career move baffled his children. He quit work in 2013 after 39 years in the automobile wholesale business to become a farmer.
"My family was kind of surprised, but very supportive of the move," Reynolds says. "My oldest daughter said, 'Dad, you raised us not to do drugs and now you're a drug dealer!'"
Reynolds owns Triple T Farms, a 23-acre marijuana farm just outside Cheney. The land, which once housed about 100,000 chicken coops, now houses about 1,500 marijuana plants across 2 acres.
"I have 143 cameras and 4 miles of wire taking care of all the security," he says. "I would rather break into Washington Trust than Triple T Farms."
Reynolds and his team of 43 employees have plans to expand to upward of 59,000 plants, hoping to supply enough marijuana for the entire state. The farm was founded in 2013 and received its grow license from the Washington State Liquor Control Board this February. The initial setup was chaotic.
"It was a long and difficult process," Reynolds says. "We brought in 7,500 plants in nine days."
Today, operations like watering and grow lamps are automated to cut costs. The farm uses a blend of Miller Soils and Coco Coir hydroponics to provide the plants with ample nutrients and hand-trims each flower.
"We are a very automated company," Reynolds says. "Soon we will be running 24 hours a day. ... We are in the process of developing a packing machine that packages 45 grams a minute. We have to be cheaper than the black market."
Triple T Farms produces 53 strains — their most popular are Bruce Banner and Orange Crush — sold locally at dispensaries including Sativa Sisters and Satori. The farm's indica and hybrid strains grow in a nine-week cycle, and sativas grow in a 12-week cycle. Some are grown indoors, some outdoors.
Employees wear uniforms and rubber gloves when handling the plants, continually following "clean room" protocols to prevent contamination and the spread of pests like spider mites.
"We don't grow bad product," Reynolds says, adding that every strain is lab-tested. "We like to think our bud looks better on the shelf than anyone else's." ♦