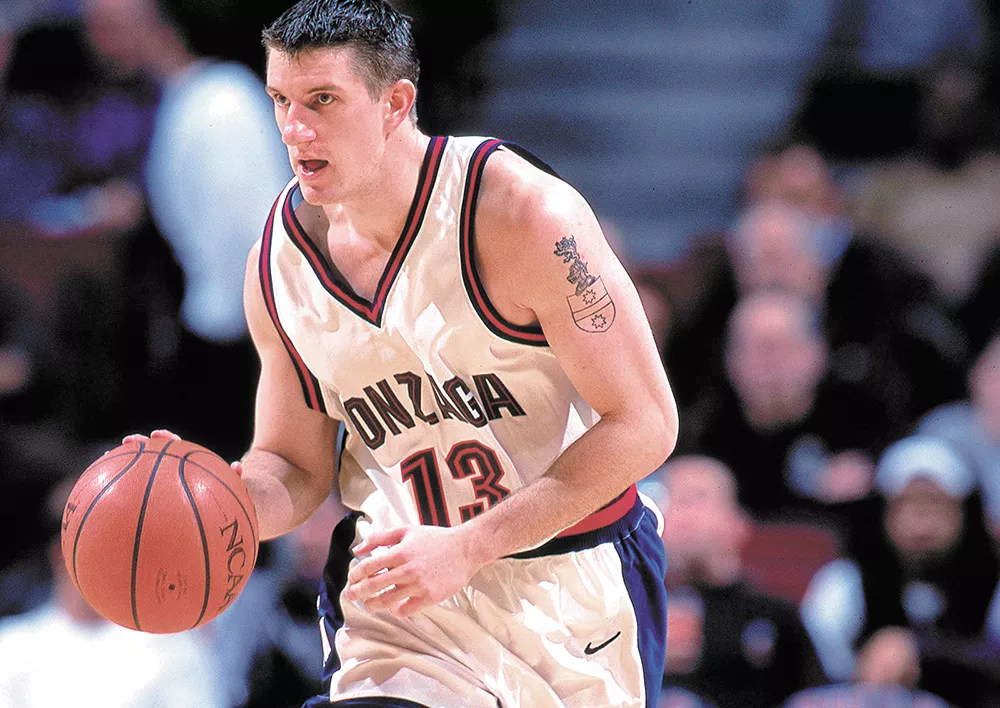 There are less than 10 days before the first 2014 Hoopfest games tip off and just a week before the tournament's ancillary events begin when we catch up with Matt Santangelo. But the new executive director of this mega basketball tournament isn't rattled — just like he wasn't rattled for those three crazy weeks in March of 1999 when his guard play helped take Gonzaga to the Elite Eight.
Thankfully, he's had former executive director Rick Steltenpohl, who stayed on this year as a consultant, to lean on for support. The tournament is a lot more complicated on the inside, Santangelo says, and encompasses far more of the calendar than a weekend in June. But again, Santangelo says he's got this.
The pressure of having the weight of one of Spokane's defining cultural events on his shoulders, though, is something he's spent some time thinking about.
"I remember one of the first questions I was asked when I took the job was something like, 'You've been handed a community trust; how does that feel?' And I was like, 'Wow — jeez, no pressure at all, right?'"
In its quarter century, Hoopfest has indeed become a beloved institution in a city that takes its basketball seriously enough to support the world's largest hoops tournament. Most think of Santangelo as a Spokane guy, but he's actually from Portland and had never played in Hoopfest, let alone set foot in the Lilac City, until he arrived at Gonzaga as a freshman.
After a GU career that saw him break the school's career assist record, Santangelo played seven seasons of professional ball in Europe. He and his wife, also a GU grad, eventually returned to Spokane. The community was reintroduced to Santangelo, or more specifically to his voice, during a three-season stint providing color commentary for Gonzaga men's basketball radio broadcasts. During that time, he also worked for a financial services company. The top job at Hoopfest, however, solidifies him as a true Spokane guy now.
Santangelo says the Spokane community is what has made Hoopfest such a proven entity.
"People come out to the community events here," he says. "It's not unique to Hoopfest, because if you look at the NCAA [basketball tournament] or Bloomsday or Ironman, those events are always some of the most well-attended for their respective fields."
Steltenpohl hasn't spent too much time worrying about handing over the organization to Santangelo, and hasn't looked back since he made the decision to step down back in February.
"I'm really at peace. I wasn't for a long time when I was trying to make the decision, but now I know it's [Santangelo's] gig, not mine," says Steltenpohl. "Hoopfest will always be a part of me, though."
When his tenure at Hoopfest is officially over after this weekend's tournament, Steltenpohl and Hoopfest coordinator Aaron Magner will team up for a new venture that will produce basketball tournaments around the country, and perhaps also internationally. In other words, they're taking the Hoopfest magic on the road.
Calling Santangelo a "servant leader," Steltenpohl says he has no doubts about his successor.
"He's a solid guy and a great basketball mind," says Steltenpohl. "I'm happy that he's the guy who's taking over."
Santangelo knows that Hoopfest doesn't need to be reinvented to remain successful, but he nevertheless has some ideas of where the institution could head next. One 30,000-foot notion is to make Hoopfest something that people think about more than just one weekend each summer.
"There's this whole idea of Hoopfest being every day of the year," says Santangelo. "What we can do as an organization is develop better basketball players and coaches and hold those coaches to standards. There's a lot of opportunity to how we introduce the game to people in Spokane."
He says he'd also like to see Hoopfest become somehow sanctioned with USA Basketball to make the event an official 3-on-3 championship. There's also talk of bringing in elite teams from big cities around the country. Santangelo says technological advances, like the new mobile app available at spokanehoopfest.net, will continue to change the face of the tournament, eventually bringing real-time score updates to spectators.
But Santangelo insists he's not out to merely hang more bells and whistles on Hoopfest. He says it will remain about the game.
"I'm a basketball junkie and that's how my mind works," he says. ♦