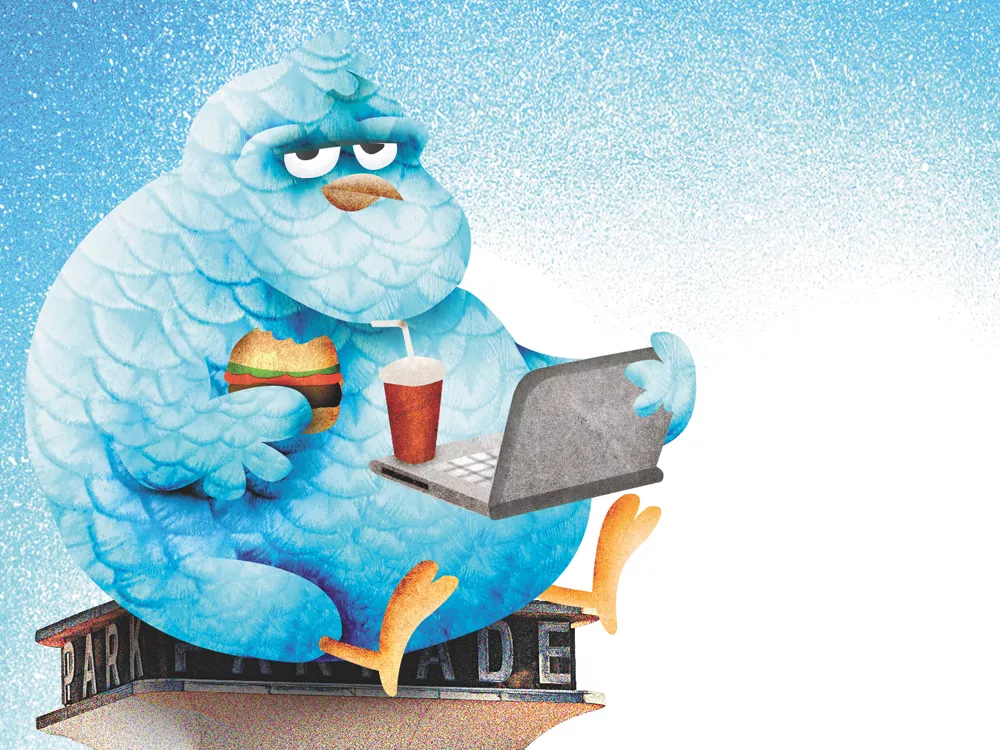 Jasmine Kemp
College student, news junkie, observer of the absurd
Twitter isn't just for narcissists, says Jasmine Kemp, a 20-year-old journalism student at Eastern Washington University.
It's for connecting simultaneously to people near and far, all and none.
"You're talking to everyone, but talking to nobody, just this huge vacuum," she says. "You're not necessarily directing it at someone, but someone still sees it."
In other words, a perfect conduit for broadcasting life's minor absurdities.
"Watched a spider land on someone's face. The screaming!" Kemp taps in one tweet. In another: "Engineering students going through hypotheticals about a building collapsing while you're in the bathroom. #what" Kemp's handle comes from the fact that she likes tea; also, that her first name happens to be a type of tea.
As journalist, she's sought out like minds. "I've actually had some wonderful conversations with Ed Henry. At the time he was the chief White House Correspondent on CNN," she says.
In fact, it was another CNN reporter who spurred her to create a Twitter account.
"I was watching CNN in 2008 and ... I saw Don Lemon and on his badge it said 'Follow me on twitter,'" she says. "He's a pretty cool tweeter, by the way."
But there are also fascinating conversations with random folks that she meets, like people on islands, England or Jamaica.
"It's interesting to feel kind of close to somebody while they're so far away," she says.
Her ethical ethos? Nothing "incredible lewd or horribly inappropriate."
"I try to be mildly professional in that sense," she says. (Joe O'Sullivan)

Mike Ellis
A professional tweeter who really doesn't want to be called a "professional"
Mike Ellis is on a New York City sidewalk when he picks up a call from The Inlander. We already know exactly where he is and what he's doing because most of his movements around the Big Apple, like everything else he does, have been announced, 140 characters at a time, to his more than 3,200 followers.
The previous night, he gave minute-by-minute updates of his cab ride, which even through tweets seemed absolutely terrifying.
Ellis, a native of Ritzville who worked in media around the country for more than 20 years before returning to Spokane last year, is a member of the no-longer-fledgling social media industry, and through his business operates the feeds for a number of local and regional clients, including KXLY. While he technically tweets for a living, he says he's not necessarily an expert. In fact, it's best not to use the term "expert" around him.
"When people start calling themselves social media gurus or experts, I think you should run far away from those people," says Ellis, who joined Twitter six years ago and has since posted almost 40,000 times.
While social media is part of what he does for a living, most of Ellis' tweets are not work-or-industry-related, but rather observations, jokes and efforts to connect the tech-savvy personalities of Spokane. In a way, he's built his own personal brand, something that Twitter allows one to easily do.
So what's his opinion of Spokane's Twitter community? In the parlance of this medium, it's a resounding #thumbsup. "I have never seen a group of social media influencers as I've seen in Spokane," says Ellis, "I'm blown away by the people who are on Twitter." (Mike Bookey)

Mia Volker
Watching 1,001 movies and telling you all about it ... and everything else in her life
You need to be careful what you say when you watch a movie with Mia Volker. Her boyfriend knows this well. Pretty much any remark he makes while he and Volker take in another of the 1,001 films she's trying to see in her lifetime appears on her feed.

The 30-year-old freelance writer, whose work appears on a variety of niche movie and pop culture websites, isn't just operating as a parrot for her witty boyfriend. She also offers up media and technology commentary (which includes plenty of bitching about Netflix) and, of course taking you along for the ride as she watches another one of the films listed in the book 1,001 Movies You Must See Before You Die.

Volker was an early adopter of Twitter, opening an account when she was working as a receptionist for a local television station in 2007 and tweeting the happenings of her workplace.
"It was the beginning of Twitter and they didn't really know what it was. They'd learn from what I was doing. I was the first person to have to sign the 'I wasn't going to do this anymore' paper," says Volker with a laugh.
Her account also offers links to her equally entertaining blog, Mia Does The Movies (miadoesthemovies.blogspot.com), as well as links to her published writing, all of which is painted in a mostly positive, mostly humorous hue.
"I make jokes out of everything. I try not to be too serious about it. I don't want to be too serious," says Volker. "It drives me crazy that people say things on the Internet that they wouldn't say in person." (Mike Bookey)

Four Ultimate Spokane Tweeters
You know you're a real Spokanite if you're following these local twits:
@FakeDougClark Kinda like the real Doug Clark, but with a better sense of humor. Throws hilarious satirical barbs at the Spokesman, City Council, the mayor — even us "hipsters" at The Inlander (clearly he's never seen us in real life). Follow his #Spokandia subplot.
@David_Condom A spoof account of Spokane's own commander-in-chief, David Condom — a fake mayor with a Napoleon complex — loves poking fun at just about anyone, especially @CathyMcMorris. Commonly throws out orders. After being elected last November @David_Condom's #Mayor4Hire hashtag was on fire with tweets like: "Ok, who said I look like a chubby Alfred E Newman? Get the waterboard!"
@PotholezNPlowz Formerly called FakeSpokanePlow and SpokaneStreets, the two accounts merged to riff on Mayor Condon's inclination to privatize city services. Their spoof company? PotholezNPlowz. Makes a lot of jokes only Spokanites will understand.
@AngryNIdaho With a description like this, we remain baffled whether this very entertaining Tweeter is serious or really funny: "Red-faced, neckvein-bulging, spittle-spewing angry North Idahoan: Taxes suck. Kill all the wolves. I [heart] Butch Otter, Ron Paul, Rand Paul, Mary Souza!" Awesome and terrifying — just like North Idaho.
Short Laughs
The Twitter-verse has become a de facto testing ground for comics, writers and your snappy coworker alike to test out their latest jokes. Obviously, the format lends itself well to this purpose, and if for nothing else, you should have a Twitter account just to enjoy the musings of the following jokesters.
Kelly Oxford
She was a stay-at-home mother of three who took to the web to share her musings about her kids, television and anything else she found hilarious. Now, she has a book coming out, a movie script in production and a sitcom pilot in the works.
Steve Martin
Yes, this is the Steve Martin of The Jerk and, more recently, best-selling bluegrass albums. Twitter was made for brilliant minds like this, as Martin shares quips like this in a recent post: "When you see a White Supremacist interviewed, you are immediately impressed at how they are so...so...supreme."

Kyle Kinane
He's emerging as one of the best alternative stand-up comics in the game. Here's a sample: "The documentary about my life, "Exit Through The Snack Shop," has been cancelled due to general lack of interest."
Rob Delaney
Just so you know, Twitter is not censored, which is why it's the perfect place for a guy like comic Rob Delaney. For example: "Rough day. My cousin Tony was diagnosed with whatever the f--- makes you wear those 5-toed rubber shoes."