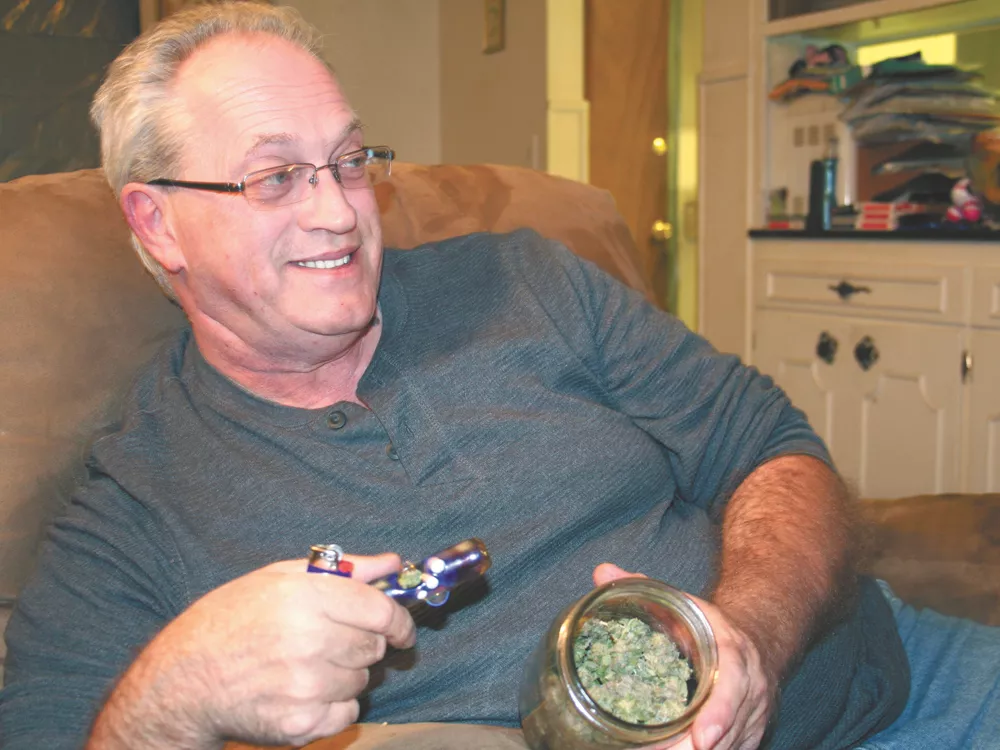 As he lounges in a recliner, Ricky Lewin drops a nug of marijuana into a glass pipe. It's a variety known as "Blue Dragon," and though its seeds come from Amsterdam, Lewin grows it here in Spokane. The plant flares beneath the lighter in Lewin's hand. He inhales, holds in and breathes out. Smoke vents from Lewin's lungs into the living room of his northwest Spokane home.
Lewin, 53, is nervous, but not from the reefer. In the morning, he'll head to the hospital, where surgeons will fuse several discs in his neck. It's a repair that stems from a collision in March, when a drunk driver plowed into Lewin's car and folded it in half — with Lewin inside.
A retired aeronautical engineer, Lewin already held a medical marijuana permit to ease his symptoms of lupus. While the weed deadens the agonies of these physical injuries, Lewin isn't just interested in pain relief.
"I can't lie," he says. "I smoke recreationally too."
His taste for pot comes from his days growing up in Seattle with his parents, who had particular rules about experimenting.
"My parents wouldn't let me smoke until I was 11," Lewin says. "They wouldn't let me grow until I was 13."
Courtesy of last month's successful vote on the ballot measure I-502, pot is legal, and Washingtonians older than 21 can now possess up to an ounce of marijuana. They can't toke in public, and there's nowhere to legally buy pot until the state figures out how to regulate it. No one knows if federal law enforcement will step in to block the law — deciding what drugs are legal is a federal issue — but parts of local and state governments are already beginning to find ways to live with the new law, which went into effect last week.
Maybe it's ironic that Lewin didn't support I-502. He voted against it, concerned about the new law's seemingly arbitrary low threshold for what would constitute a DUI. Not that Lewin despised I-502.
"I think that 502 was a damn good start," he says. "Legalize it. Just, you know, stop the madness."
Lewin's wife, Michelle, sits across from him on a couch that runs under a picture window. Michelle also smokes medical marijuana — hers is for irritable bowel syndrome — and also voted against I-502. But Michelle's daughter, Alesha Springer, who lives with the Lewins, takes a different perspective on weed.
"I'm very anti-it," says Springer, 19. But, unlike her parents, Springer voted for I-502. She likes the idea of government taxing marijuana for revenue.
Like any number of families who sat down in autumn to hash out candidates and issues ahead of the election, the Lewins discussed their opinions. After all, they're just like everybody else.
Says Michelle: "We have a life, we're a family, we're normal people."