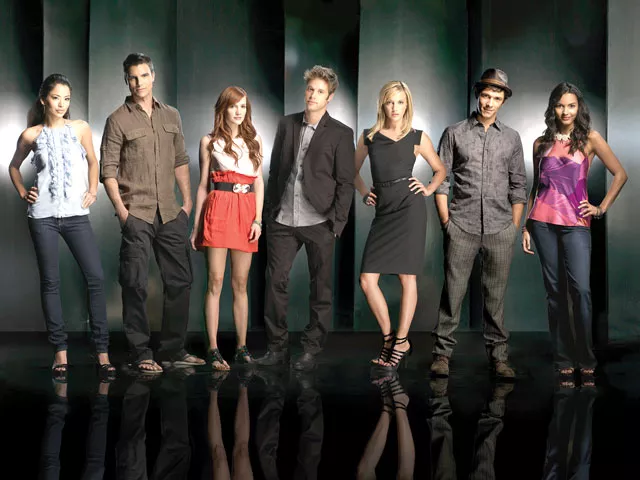 I loved the original Melrose Place for the first three of its seven seasons. And I'm sure all 73 loyal viewers still watching by 1999 were just fine when the series ended. Yet, in spite of viewers' lukewarm response to CW's new Beverly Hills 90210, the network is attempting another '90s resurrection with Melrose Place 2009.
The writer for the new series, Caprice Crane, lacks original series creator Darren Star's talent for infusing smart dialogue and self-deprecating humor into his characters. (Star also created Sex and the City.) Crane's one-dimensional pretty people are saying and doing things, but it's all irrelevant.
Amid dizzying camera moves, the pilot introduces us to the next generation of apartment dwellers. David's (Shaun Sipos) hot groping session is cut short by an urgent text message: "In serious trouble. Come. Now!" His friend, Auggie (Colin Egglesfield) is the stressed-out sous chef at the restaurant-bar where David leaves Ella (Katie Cassidy) behind to go help "Sydney," who turns out to be original cast member Sydney Andrews (Laura Leighton) who now manages crisis-prone 4616 Melrose Place.
---
Melrose Place
(Tuesdays, 9 pm, the WB)
---
Sydney, a recovering alcoholic, is downing red wine and persuades David to stay because she "did something really bad." I don't know what's more pathetic: That she's alone and evil at age 47 or that she still has to rent.
Med school intern Lauren (Stephanie Jacobsen) is dealing with money woes. The adorable couple, Jonah and Riley (Michael Rady and Jessica Lucas), might get engaged, but then they hear Ashley Simpson's character, Violet, screaming because Sydney the landlord is face-down in the bloody swimming pool.
At the crime scene, Ella quips, "Karma sucks. You stab enough people in the back and eventually you get a knife of your own." A flashback shows Sydney threatening to evict her.
The doors in a DeLorean-looking Mercedes lift up all Back to the Future-like to reveal the original series' bad man Dr. Michael Mancini (Thomas Calabro), who's now… whoa! David's dad! They hate each other and they both slept with Sydney.
By the end of 54 minutes that I'll never get back, we find out that David steals art, Lauren decides to have sex for tuition money, Ella makes out with a woman, and Auggie burns some bloody clothes. And there isn't a single reason to watch Melrose Place again.
TIVO-WORTHY

The Vampire Diaries

The CW's other new series The Vampire Diaries has me hooked. I'm a sucker for forbidden, hot, sexy vampire love. And Kevin Williamson (Dawson's Creek and Scream) creates characters with strength, intelligence and depth. Elena (Nina Dobrev), a newly orphaned teenager, is being stalked by a Stefan (Paul Wesley), a gorgeous, good vampire — he doesn't attack humans — because she looks just like his 18 th -century girlfriend. (Wednesdays, 8 pm, the CW)
The Nostradamus Effect
If you prefer your scary stories with fewer sexy leather-clad monsters and more doomsday prophecies, it's worth watching The Nostradamus Effect. Focusing on legends from the third Antichrist to the end of the Mayan calendar, find out all the ways our world could end violently. (Wednesdays, 6 pm, History)
It's Always Sunny in Philadelphia

Watch the self-obsessed co-owners of Paddy's Pub — Charlie (Charlie Day), Mac (Rob McElhenney), Dennis (Glenn Howerton), Dee (Kaitlin Olson), and Frank (Danny DeVito) — drive drunkenly over the line of what's appropriate on TV. (Thursdays, 10 pm, FX)