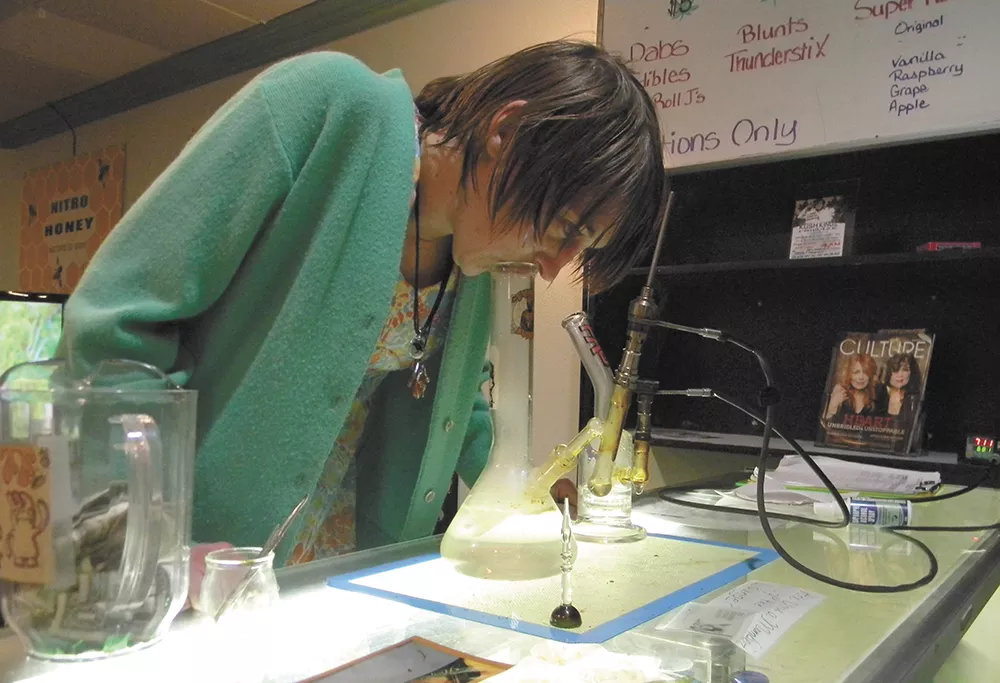 At the Members Lounge, located in a strip mall in Spokane Valley, the air is thick with laughter, coughing and a smell long associated with breaking the law.
Mike Stoedter, a representative from CO2 Organics, drizzles out complimentary "dabs," a molasses-like, highly concentrated marijuana extract, into a "rig," a vaporizer that's connected to a water pipe that patrons of the lounge eagerly line up in front of for a hit.
At the lounge, some people play pool while reggae and hip-hop blare in the background. Others seem to melt into the couches under the gaze of the several pictures of Bob Marley hanging from the walls. Others giggle or chat about making paleo or gluten-free baked goods infused with pot. The entire atmosphere at the Members Lounge has the feeling of a bar or a house party in someone's basement, except there's no alcohol in sight, only pot.
"It's the next natural step," says Eric Buchanan, the lounge's proprietor, of creating a social space, not unlike cannabis cafés in Amsterdam or Vancouver, B.C., for people to consume legal pot.
Even if marijuana lounges are the next natural step for legalized cannabis, it's a step into a gray area that nobody's quite comfortable with.
Just a handful of similar lounges in Washington state have been able to operate, because nothing in the state's pot laws explicitly that says they can't exist, but nothing says they can. As the use of recreational marijuana grows in the state, entrepreneurs, particularly those involved with pot tourism, want clarity on the law. Cities uneasy with legal marijuana, like Spokane Valley, want more authority over them. Lawmakers are currently considering an overhaul of the state's pot laws; it's uncertain if they will provide the much sought-after clarity any time soon.
"We live in a free country, and until they say you can't do it, I'm going to do it," says Buchanan, 40, who dresses on the more casual side of business casual, with a button-down blue shirt, white sneakers and shiny stud earrings. A construction contractor who grew up on Fairchild Air Force Base and in Spokane Valley, he's used marijuana medicinally since 2009 and saw a business opportunity to provide a place for people seeking to consume cannabis socially.
He opened the Members Lounge in July, and the adjacent MariJanes Tap House and Grill, with a business partner, in October of last year. Buchanan says that even though Spokane Valley is less pot-friendly than Spokane, he chose the property because its 7,000 square feet provided ample space with a good lease. He also has roots in the community, and with its address at 11420 East Sprague Avenue, it all just made sense.
But getting the operation to make sense legally hasn't been as straightforward.
"We don't want to do anything that's illegal," says Buchanan, who uses very specific language to describe the lounge.
The statewide initiative that legalized recreational marijuana in 2012 explicitly prohibits public use of the drug, and recreational stores are forbidden to allow people to consume it on the premises.
To get around these prohibitions, the lounge is set up as a "private club" where its 134 members (who pay a monthly membership fee ranging from $14.99 to $29.99) can consume pot via a vaporizer or edible. Members also can smoke pot. Although businesses in Washington state aren't allowed to expose their workers to smoke, Buchanan says the club gets around this by having "volunteers," not employees.
Members can bring their own stash, or if they're medical users, can purchase it from an in-house medical dispensary. There are no recreational sales of pot, but members can "donate" pot to each other. The adjoining bar is also kept completely separate from the lounge.
Erin Stone, 32, says she's been dreaming about a social place for stoners since she started smoking pot at age 17. In the past, she says, she's hung out at bars with friends and had to sneak outside to smoke pot. Those days are gone.
"I feel like it's been magic," she says between dab hits. "And it's only been open a few months."
State officials don't see magic in private pot lounges. In 2013, Gov. Jay Inslee sent a letter to U.S. Attorney General Eric Holder detailing all that the state would do to responsibly implement marijuana legalization, including a prohibition on consuming pot in private clubs. But efforts by the state to crack down on pot clubs have had limited success.
After pot became legal, establishments such as Frankie's Sports Bar and Grill in Olympia and Stonegate Pizza and Rum Bar in Tacoma set up private marijuana clubs on their premises. The Washington State Liquor Control Board reacted swiftly, establishing a rule in 2013 that prohibits the consumption of cannabis at bars.
The WSLCB can regulate businesses with liquor licenses as well as producers, processors and retailers of recreational marijuana, says board spokesperson Brian Smith. Because the Members Lounge is technically none of these, it falls outside of the agency's purview.
"It's absolutely, completely gray, Wild West territory," says Hilary Bricken, an attorney at the Canna Law Group. "As long as they don't have liquor in the establishment, [private pot clubs] have a fighting chance."
Bricken says that local governments have more authority over private clubs than the WSLCB. For instance, a local prosecutor could try to make case against a lounge, or a city government could revoke its business license. With so much uncertainty, she says, few business owners will take the risk.
Buchanan knows this risk and says his biggest concern is how "closed-minded" the city is going to be toward his club.
The city of Spokane Valley, with an older, more conservative city council, has had an uneasy relationship with marijuana. In December, citing a public health crisis, it declared a moratorium on new medical marijuana dispensaries, while allowing existing businesses to be grandfathered in.
"I would just like the authority to ban it or not," says Councilman Ed Pace, a Lutheran minister who refers to marijuana stores as "dealers." Pace is concerned that the lack of regulation over the Members Lounge could result in minors getting access to pot.
Mike Jackson, Spokane Valley city manager, says that bars need to undergo licensing and inspections and have rules aimed at preventing overserving of patrons and keeping minors out. Lounges, he says, should be subject to similar requirements or not be allowed at all. Revoking the business registration for the Members Lounge isn't an option at this point, he says, and Spokane Valley would rather see a change to state laws before it considers that option.
Briahna Taylor, Spokane Valley's lobbyist, has made two unsuccessful attempts to get an amendment that would give local governments more authority over lounges attached to two different pot bills being considered in Olympia. In an email exchange, she says there are still opportunities in this legislative session to get the issue resolved. However, Jackson isn't so optimistic.
"Effectively, I don't think it's going to go anywhere," he says.
Bricken says that despite demand for these lounges, businesses are unlikely to invest in them without clear legal footing, which she says is a particular problem for marijuana tourism.
Under the state's pot laws, it's illegal to consume marijuana on the street and other public places. Hotels generally prohibit smoking of any kind. So where is a marijuana tourist supposed to legally light up?
"It's a massive problem," says Chase Nobles, co-founder of Kush Tourism, a Seattle-based company that offers tours of pot growing and processing operations and has hosted people from all over the world. He says that there are weed-friendly bed and breakfasts, which his company steers clients toward, but they're operating under unclear legal circumstances.
In 2013, Louie Flores, the owner of the 1899 House, a Spokane bed and breakfast, saw an opening to serve visitors who want to smoke pot. He called up the WSLCB to see what the rules were, but after being on hold for nearly an hour, he received no clear answer.
After getting some guidance from the local health district, which Flores says advised him to treat pot like tobacco, the 1899 House announced that guests were welcome to bring pot and smoke it on the side patio (never inside). So far they've had four guests who've smoked pot during their stay. Flores expects that number to increase.
Eventually, he says some clear licensing requirements will emerge, but for now he'll make due.
"That's where we are at," he says. "We are an experiment." ♦