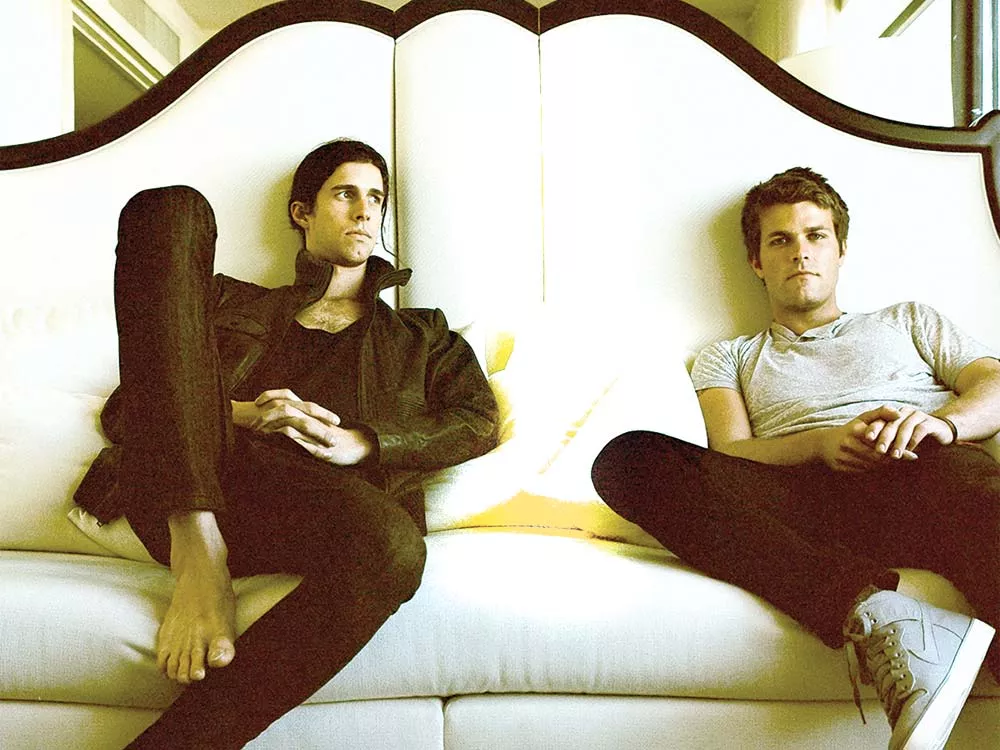 Prior to 3OH!3's sold-out show at the Knitting Factory last November, Sean Foreman went exploring. He searched around downtown Spokane for the place his band had played another sold-out show just two years prior. He was unsuccessful in his quest.
I snuck into that show at the Blvd — a building that was flattened to build a parking lot in 2009 — so Foreman's search brought back memories. Stage-front at a 3OH!3 show is a throbbing heap of bodies. And that night, particularly, featured a typical 3OH!3 audience: high schoolers, college kids, backwards-cap dude-bros, girls with Day-Glo-colored spaghetti straps and sharp-angled, post-emo haircuts. All the energy expelled by 3OH!3 was matched by the dancing masses bouncing up and down.
After the band had cleared the stage and the crowd began to disperse, it became evident that all our jumping around had almost collapsed the floor in front of the stage.
It literally was warped into a downward curve.
"Spokane is a cool city," he says. "It's a similar feel to the place where we grew up in Boulder, Colorado. It's kind of like a sleepy town."
It was from that similarly sleepy town that his electronic hip-hop duo, 3OH!3, exploded into the mainstream in 2008 with the single "Don't Trust Me," which went doubleplatinum. It was a shock for the band, especially considering that the track was originally only played on alternative radio and crossed over to the pop charts without them even pushing it.
"I know there's a backlash for bands that go more pop, but we don't intentionally do any of this," he says. "It's not like we have a scheme like, 'Oh, let's make it more pop.'" Still, the world of thumping party-an-thems isn't exactly treated kindly by critics. The band has played the Warped Tour, performed with Bone Thugs-n-Harmony and collaborated with Ke$ha and Katy Perry. And none of that endears the band to people who want music to be a serious art form.
But Foreman has learned to tune out the haters.
"People have a tendency, if something's fun, to think it doesn't have any credentials. Just because we have fun with music doesn't mean we're making fun of music," he says. "Some people like to pretend like they don't have a sense of humor or don't understand the point of tongue-in-cheek lyrics or sarcasm, and they're just not gonna like it, I guess."
Success has now thrust 3OH!3 to much larger venues — like the Spokane Arena. That poses new challenges for a band that thrives on making their shows seem like the ultimate house party.
"Our goal is to always keep the audience from feeling detached from the show, even if it's a big one. The more spectacle, like fireworks or shit that you bring, it almost makes people feel like they're not part of the atmosphere anymore. Spectacle comes second to having as strong a sound as you can have.
"That said, we have some stuff that we bring with us: animatronic wolves with laser beams in their eyes. Which is just a dream I think we've had since we were kids," Foreman says, laughing.
Foreman and his band-mate, Nathaniel Motte, recognize that they need to cram the good times in now. Songs like "My First Kiss" get creepier the older they get. He says they're just trying to have a blast while the getting's good.
"The first time were in Spokane we went in the giant red wagon after the show and maybe snuck a few drinks," he says.
Those are the memories that stick, despite their stardom. For me, I'll always remember being part of the sweaty throng that caved in the floor at the 3OH!3 show.

3OH!3 plays with Nelly, Sick Puppies, Cali Swag District, Big Reno and Dextrious • Thursday, March 10, at 6 pm • Spokane Arena • $35 - $45 • All-ages • ticketswest.com • (800) 325- SEAT