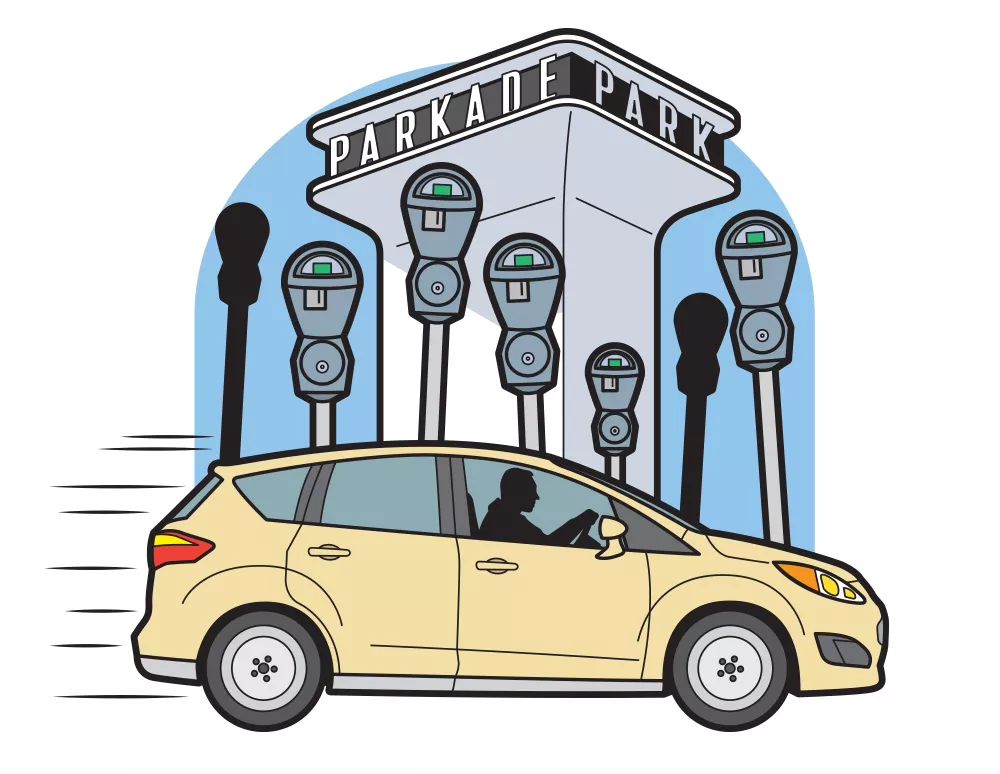 Back in the early '90s, in response to complaints about the downtown parking system, Spokane tore out its meters and made parking free. A Downtown Spokane Association ad promoting the change boasted: "About #!@*#! Time!"
It turned out to be a disaster. The two-hour limit was nearly impossible to enforce, downtown workers parked in the prime street spots instead of the lots and garages, and people coming to shop or eat dinner circled the block unsuccessfully.
"The whole point of parking meters is to keep traffic flowing in and out of your store," says Jan Quintrall, director of the city's Business and Developer Services.
The variables in the equation — rates, time limits, meter locations — have long been a matter of educated guesswork. That's changing in Spokane, as in other cities, with the installation of "smart meters" that do more than take credit and debit cards. The sensors that zero out the meter instead of leaving a few minutes for the next person — an unpopular aspect of the new technology — can also collect data that will let the city measure parking needs and run experiments. (Not all sensors in Spokane are operating yet, which is why you may get lucky and find a smart meter with time left.)
In San Francisco, the SFPark pilot program demonstrates how much is possible with this technology: Using sensors to measure supply and demand, pricing for each block is adjusted to charge the rate that optimizes parking availability. Prices can vary from block-to-block and hour-to-hour (within limits) to achieve the goal of 85 percent occupancy — about one open spot on every block at any time.
With that occupancy goal in mind, Spokane is planning to add more meters — but it's to regulate parking in places that need it, not to generate revenue, Quintrall says. Expect meters on the lower South Hill, where residents often can't find spots near their homes because hospital workers take advantage of the free street parking. New meters will also go in around Division and the University District. This is paired with long-needed residential parking program — tested as a pilot program and made permanent in December — that allows downtown residents to pay a monthly rate of $25 to park in any 10-hour parking space.
Compared to other cities, Spokane doesn't offer many parking breaks. Most cities of similar size charge no more than $1 per hour for short-term metered parking downtown, compared to $1.20 in Spokane. Parking is often free after 5 or 6 pm, unlike 7 pm in Spokane. In Tucson's city-owned garages, the first hour is free to lure longer-term visitors from the street parking. Boise's electronic meters give people 20 minutes for free at the push of a button — and that's a popular program they've had for more than a decade.
At least some of the quarters and dollars going into Spokane meters are invested back into the downtown street experience. The Spokane City Council approved a measure in June that dedicates parking revenue, minus expenses, to paying for two new downtown police officers and a fund for downtown improvements. An advisory committee of property and business owners led by the Downtown Spokane Partnership will decide where those dollars should be reinvested.
"It will allow us to put money toward everything from public safety to street trees, sidewalks, landscaping and even our entryways into downtown," DSP President Mark Richard says.
A new experiment in free parking is also beginning on the other side of the river on the new Summit Parkway, where, at the request of Kendall Yards management, parking has enforced time limits but no meters. Quintrall says it's Kendall Yards' call, but the city will be ready with meters if need be. ♦