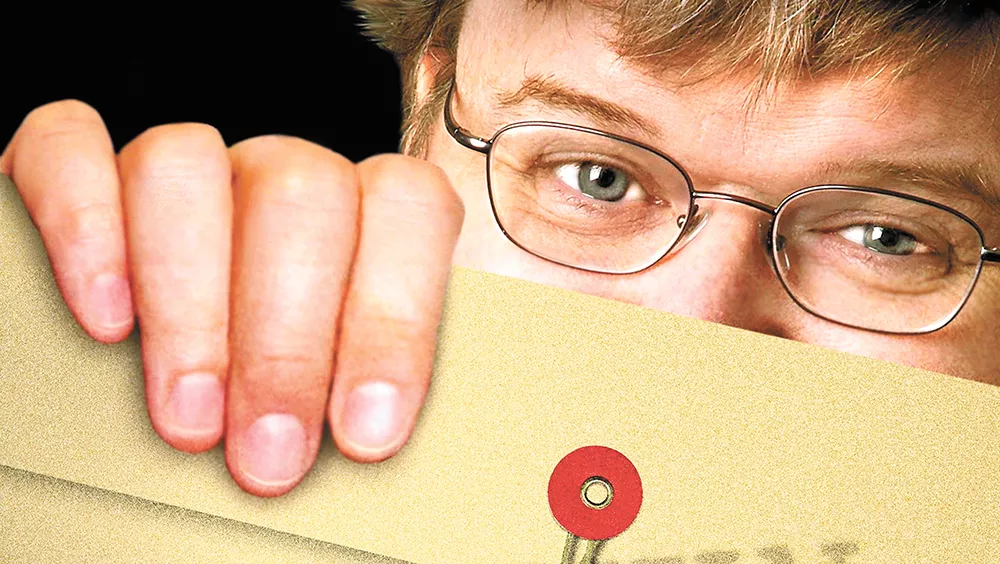 At this point, nobody goes into a Michael Moore movie not knowing what to expect. The activist filmmaker has been making progressive documentaries for nearly 30 years, and his audience is eager to hear his perspective on whatever is happening in the country or the world at any given time. There is quite a lot happening in the country and the world at the moment, and so Moore's latest info-dump of a film, Fahrenheit 11/9, could have just been titled What's on Michael Moore's Mind Lately.
In a culture where people are constantly bombarded by news and opinions on social media, Fahrenheit comes off as especially redundant. Anybody following Moore online over the last couple of years could probably have compiled most of this movie themselves. As a sort of greatest-hits compilation of progressive outrage, though, Fahrenheit has a certain blunt effectiveness. And as a rallying cry for those on Moore's side, it should serve nearly as well as the Donald Trump rallies do for those on the opposite end of the political spectrum.
Moore's last theatrical feature film, 2015's Where to Invade Next, was surprisingly optimistic, as Moore toured various foreign countries highlighting policies and programs that he hoped would be adopted in the United States. There's very little hope in Fahrenheit, though, and Moore's steady stream of vitriol becomes exhausting over the course of more than two hours as he eventually succumbs to the very problem he highlights in the mainstream Democratic Party, a sort of weary defeatism that despairs at the prospect of lasting positive change.
Although the movie begins by documenting the election of Donald Trump in 2016, it balloons to encompass a range of recent issues, including ineffectual Democratic leadership, insurgent left-wing political candidates, media bias, school shootings and gun control, teachers' strikes, the potential rise of fascism, the water crisis in Moore's Michigan hometown of Flint, and even the false warnings of a missile attack in Hawaii earlier this year.
Moore is self-aware enough to include himself among the liberal figures potentially to blame for Trump's rise (showing footage of his friendly interactions with Trump and others who would eventually become part of Trump's inner circle), and he doesn't pull any punches when dealing with politicians who are supposedly on his side but have, in his eyes, let down the people they're meant to represent.
That makes for an unwieldy number of targets for Moore to take on, even with the movie's bloated running time, and he's never able to bring them together cogently, instead constantly jumping back and forth among disparate threads. As a result, Fahrenheit is an unfocused mess of a movie, which is especially disappointing during the stretches when it seems like it could offer a unique perspective and do more than affirm the political views of its audience.
Those stretches, not surprisingly, all have to do with the Flint water crisis, which is obviously a very personal issue for Moore. The only instances of Moore's familiar political stunts target Michigan Gov. Rick Snyder, whom Moore holds personally accountable for the crisis. Moore shows up at the governor's office with handcuffs, attempting to perform a citizen's arrest (he's told that the governor is not in), and later he douses the front lawn of the governor's mansion with water from Flint after no one answers the intercom at the front gate. Like all of Moore's bits of self-aggrandizing political theater, these stunts don't actually accomplish anything, but they distill Moore's point of view into a set piece that's entertaining and easily understood, which is often the best way for him to get his point across.
One advantage that Moore has over the dozens of progressive documentarians who've sprung up since he released Roger & Me in 1989 is that he's a genuine entertainer, and he knows how to make his audience laugh and how to hold them in suspense, wrapping his messages up in movies that are more than just filmed lectures. He loses that thread far too easily here, just throwing together news clips and interviews in an undiluted stream of fury that too frequently resembles a social media echo chamber. ♦