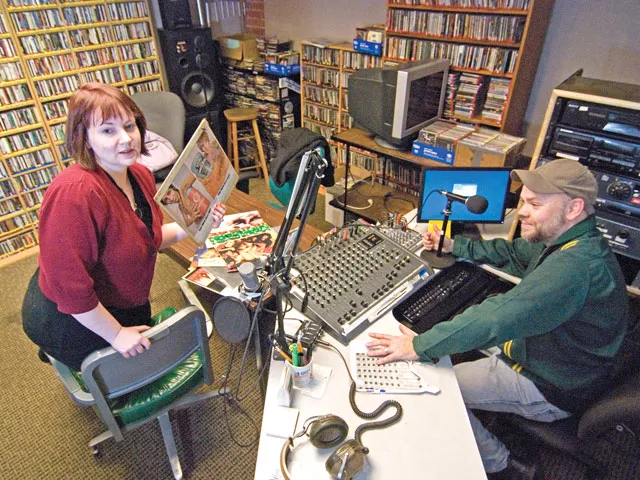 At a time on Saturday night when most people are either in bed or on a bender, the Dungeon Master is queuing up his next auditory adventure.
The Dungeon Master, a.k.a. Martin Faulks, is one-half of the team behind the KYRS community radio show "Nocturnal Transmissions," a show that focuses on underground rock from the late 1960s, early '70s and current music that follows in those footsteps.
"We're playing a lot of new bands that kind of channel what you hear in classic rock," Faulks says. "What we're trying to do is play music that's independent — definitely not stuff that you'd be likely to hear on commercial radio."
Faulks' counterpart, Amy Herman (DJ name: Yoko Phono) agrees.
"We started doing the show because we wanted to play music that our friends liked," Herman says. "And to be a portal for the bands we love that might not get a chance to be heard."
"Nocturnal Transmissions" was started in 2007 by Herman and then co-host Jason Flowers, with Faulks appearing as a semi-regular guest DJ under various pseudonyms.
"The show started with Amy and Jason doing a kind of comedy/music format, and Jason would do a lot of commentary," Faulks says. "I wasn't really into doing that, so when I stepped in full-time, we changed it a bit."
Quite a bit, actually. Listening to "Nocturnal Transmissions" 2.0 is like falling into a psychedelic Land of the Lost. Contemporary acts like the Black Angels and the Sword commingle with their sonic ancestors the Velvet Underground and Black Sabbath, and Faulks and Herman do an excellent job of blurring the lines between what's new and old.
"We get requests from very different age groups," Faulks says. "And it's cool to make connections and sort of bridge the gap between different segments of our listeners."
Faulks and Herman also mix in a good bit of obscure experimental rock.
Tragically forgotten bands like Neu!, Cluster, and Thirteenth Floor Elevators get some rotation, as well as local artists who exhibit the particular qualities the duo appreciates.
"We definitely try to play as many local bands as we can that fit into our aesthetic," Faulks says. "We like to play Oil of Angels, we play some old stuff like the Fumes, and we play a lot of the Makers."
The music on "Nocturnal Transmissions" is not generally heard outside of small rock clubs, the apartments of hipsters or dusty independent record shops. It serves as a vital touchstone for musically adventurous souls in search of a new fix, or sentimental listeners hoping to hear a deep cut from a long-lost record they remember from their youth.
In so doing, the show clears a necessary path through the tangled music scenes of the '60s, '70s, '80s, '90s and into our current decade, revealing a definite sonic line of heredity, a subterranean tunnel through which only a select few lucky — and often reluctant — rockers have ever emerged.
If only more shows were programmed this way.
"Nocturnal Transmissions" airs Saturday nights at 10 pm on KYRS 92.3 FM and 89.9 FM.