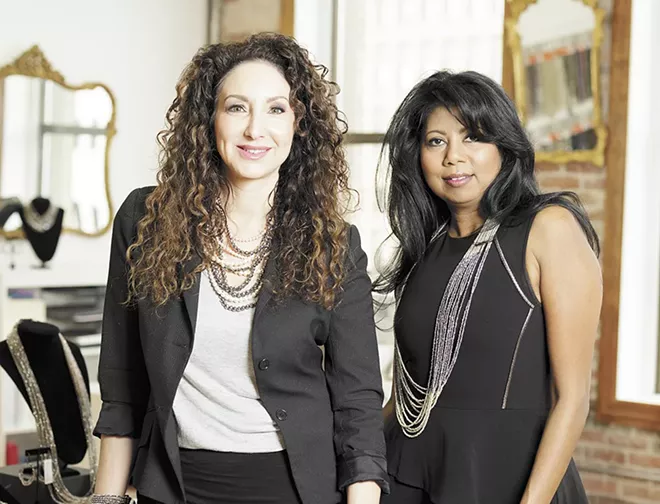 Spokane-based jewelry house Millianna continues to set trends in the ever-changing fashion and accessories world. Late last year the company — which hires refugee women living locally to hand-make its cut crystal beaded pieces — launched a line of versatile feather accessories that have since been spotted on celebrities and become an online bestseller.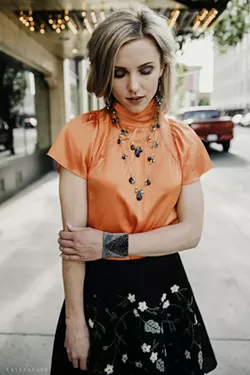 The ostrich feather and leather tie-on pieces can be worn as bracelets, chokers, anklets and even as a hair accessory, says Millianna spokeswoman Jessica Brooke. Retailing for $62 each, the pieces come in a range of colors.
"They've really been going strong since spring, and since it's still summer it's really easy to put them on with heels and sandals," Brooke says. "They're fun and fluffy and whimsical and very on point this season in fashion. In Vogue you see ostrich feathers all over the place."
In addition to an evolving collection of earrings, cuffs, necklaces and other pieces designed by owners Arianna Brooke and Sharmilla Persaud, Millianna has a new line of special bracelets that give back.
Priced at $25 and $50, the beaded bracelets' proceeds support Ronald McDonald House Charities of the Inland Northwest in Spokane, as well as the national nonprofit's branch in Connecticut, where Persaud is based. Customers can choose which location they'd like their purchase to support during checkout. Find them at millianna.com/pages/rmhc.