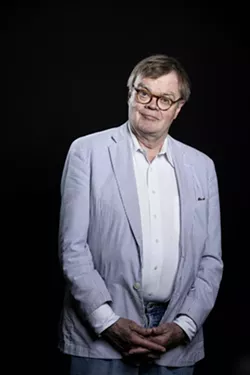 By MAYA SALAM
© 2017 New York Times News Service
Minnesota Public Radio said Wednesday that it was severing all business ties with Garrison Keillor, the creator and retired host of "A Prairie Home Companion," after allegations of "inappropriate behavior with an individual who worked with him."

Over four decades, Keillor, 75, had created a financial juggernaut for the radio network with his weekly broadcast of songs, skits and tales of his fictional hometown Lake Wobegon, along with related books, recordings and other products.
In a statement he provided to The New York Times, Keillor said, "I've been fired over a story that I think is more interesting and more complicated than the version MPR heard. Most stories are."
"I meant to pat her back after she told me about her unhappiness and her shirt was open and my hand went up it about 6 inches. She recoiled."

tweet this
Effective immediately, MPR said, it will no longer distribute and broadcast Keillor's remaining programs, "The Writer's Almanac" and "The Best of A Prairie Home Companion Hosted by Garrison Keillor."
It will also change the name of American Public Media's current incarnation of the show, which Chris Thile, a songwriter and mandolinist, took over in October 2016, after Keillor stepped down.
Jon McTaggart, president of Minnesota Public Radio, said in a statement that "all of us in the MPR community are saddened by these circumstances."
He added: "While we appreciate the contributions Garrison has made to MPR, and all of public radio, we believe this decision is the right thing to do and is necessary to continue to earn the trust of our audiences, employees and supporters of our public service."
Later Wednesday, The Star Tribune of Minneapolis published an email from Keillor in response to a reporter's questions, giving his version of an encounter with an unidentified woman.
"I put my hand on a woman's bare back," he wrote. "I meant to pat her back after she told me about her unhappiness and her shirt was open and my hand went up it about 6 inches. She recoiled. I apologized. I sent her an email of apology later and she replied that she had forgiven me and not to think about it."
Keillor claimed that they continued to be friends "right up until her lawyer called."
He insisted his discomfort with physical affection was common knowledge, adding, "If I had a dollar for every woman who asked to take a selfie with me and who slipped an arm around me and let it drift down below the beltline, I'd have at least a hundred dollars."