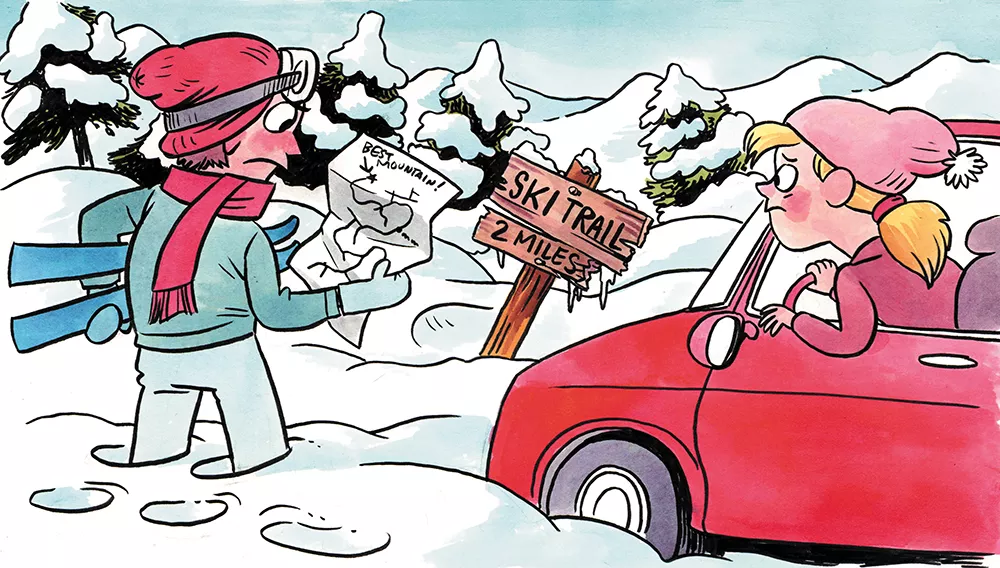 The night before a road trip is as exciting as the night before the first day of fifth grade. The car is packed, the playlist is loaded and all I can think about is the open road and adventure in front of me. If I play my cards right, I'll return only with stories of fresh snow, sunny days and awesome locals. But usually I come back with stories like the following:
The sucker hole
This is happening more frequently, as I'm feeling a little more confidence in adventuring while skiing at new resorts — of course, looking for hidden powder stashes. A couple of years ago, skiing at Whitefish after a healthy storm cycle, I was following a friend down a beautiful tree run on the back side. In our excitement, we neglected to notice all of the tracks heading right. We followed our greed for powder and ended up skiing into an area that required hiking out on flats for what felt like miles. Eventually we ended back on a groomer that took us to the chairlift.
More recently, on a January trip to Maverick Mountain outside of Dillon, Mont., I was riding the chairlift and noticed a beautifully untracked powder field. As I traversed to the stash, I quickly realized why it was untracked — 6 to 8 inches of fresh snow on top of rocks and logs. The only consequence to pay — other than to my ego — involved my ski tuner; there was plenty of base and edge damage.
Running out of gas
It was 2 am, and we were driving through the mountains between Austria and Italy, making our way to Slovenia. We had left the French Alps earlier that morning, traveling by RV. I was elected co-pilot for the driver, who shall remain nameless.
In the middle of a conversation that only made sense to those having it, he pulled the RV over and said, "Uh-oh." He quickly put his jacket on and started running up the highway. As everyone else in the RV started waking up, they had questions as to why we were stopped. Turned out the fuel tank was empty. Luckily for the driver, the fuel station was only a quarter of a mile up the road.
Sleeping in your car
Things happen. Gas runs dry during the loneliest hours of the night, and in the middle of nowhere, highways become impassable with snow-covered roads, slow drivers cause delays and sometimes, meeting a ski-town local results in late nights out on the town gathering information on snowpack and powder stashes. For this reason, I always pack a zero-degree sleeping bag. I've used mine more than once.
The dreaded return
Unless my local hill has had an unfortunate weather event like wind closure or rain, I know I can always expect someone to say upon my return, "You missed the best day of the season." I tune out what is happening back home, I don't check snow reports, and just focus on my adventure. Even with all my efforts to avoid such information, it's inevitable that while driving home, I'll receive a call, like I did two weeks ago, that goes something like this: I answer "Hello," and without a missed beat, my friend says, "Today was the best day of the year." ♦