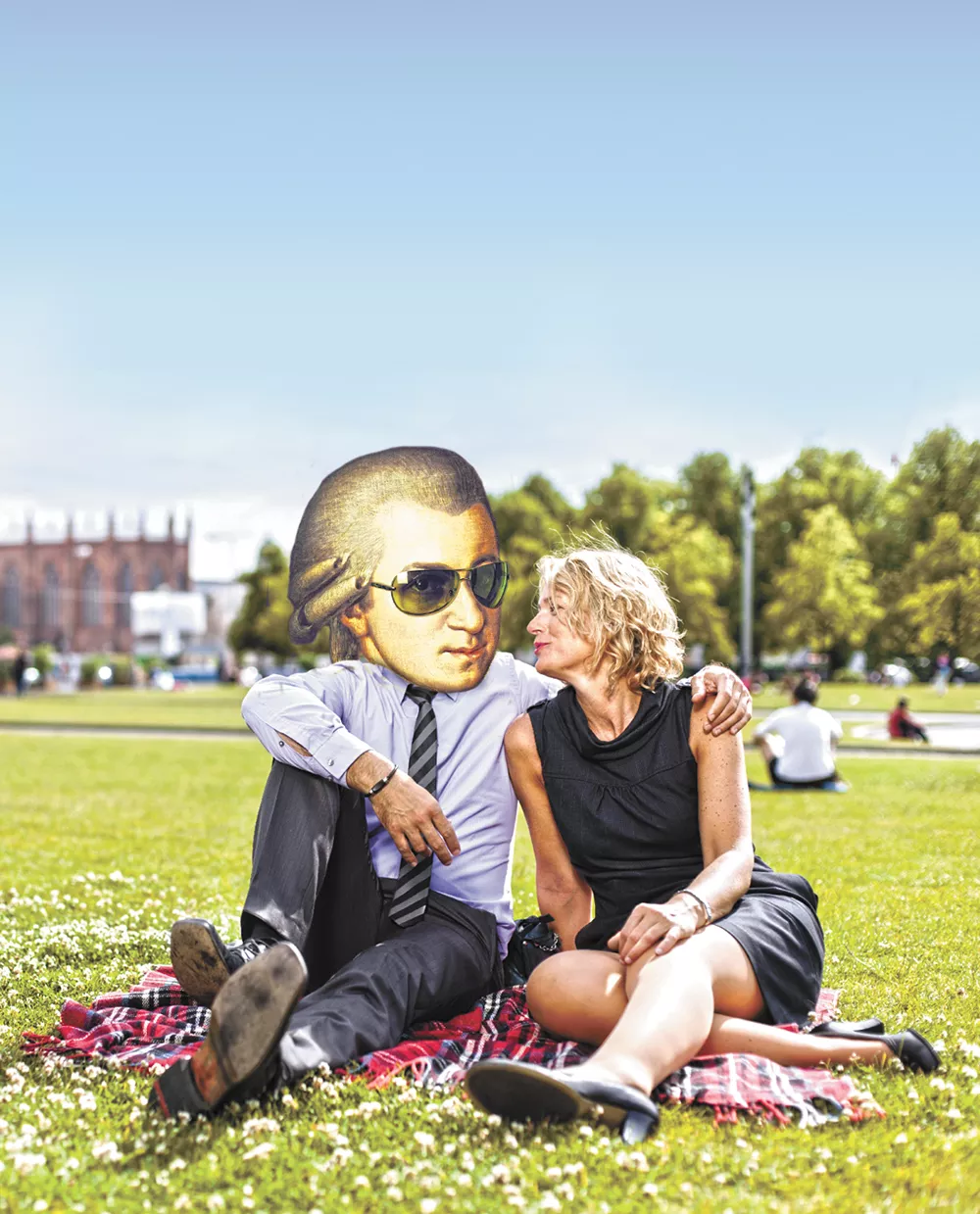 Verne Windham dreamed of Mozart. He wanted the chamber pieces in an outdoor setting, where people could savor the sound as they did in the 18th century, when Mozart first wrote music for wind ensemble. Twenty-four years later, the music director's vision of Mozart on a Summer's Eve in the lush gardens of Manito Park is still going strong.
"Mozart you can take on any level," says Windham, also the program director for local public radio station KPBX. "You can think of his music as cute and sweet, or you can keep going inside of it. He is casual and profound at the same time."
Much of the simpler music can be chalked up to the fact Mozart was a prepubescent when he scribbled out his first compositions. A child prodigy, he wrote his first symphony at 8 and opera at 11. Essentially, few of his 35 years on the planet were not spent writing music. While his genius is celebrated during every Mozart on a Summer's Eve show, Windham admits that this year's concerts will only include about 8 percent Mozart — pieces by Manuel de Falla, Heitor Villa-Lobos, Franz Schubert and Joaquin Rodrigo also are on the bill.
"This is a lot more than a celebration of Mozart, although there's nothing wrong with that either," says event coordinator Gertrude Harvey.
Along with the Connoisseur Concerts Wind Ensemble, which includes a handful of musicians from Spokane to Pullman, the program also is set to feature soprano Phoebe MacRae, cellist and Northwest Bach Festival Artistic Director Zuill Bailey and classical guitarist David Leisner, marking the first time a guitarist has been included in the event. Leisner and Bailey are preparing to record an album in the coming months, which means listeners get a preview of what's to come. Also on the program is a surprise instrumental finale Windham isn't telling anyone about.
Next week's concerts see Windham in a bit of a different role, as he won't be directing the performances from his horn chair. After a bike accident a couple of weeks ago, Windham decided to take a break from playing.
"But you can't keep me away from this," says Windham, who has missed only one other Mozart on a Summer's Eve performance, due to a battle with cancer. "This year I'll be narrating and onstage — very much the host, as always."
Windham explains that after 24 years, he sees many of the same families and groups of friends coming back.
"I know of people who build their family reunions around this event. It's become a tradition," he says.
Amazingly, the concert series under the evening sky has never been moved indoors to its backup venue, St. John's Cathedral. Harvey says there have been close calls, but it's never actually had to move.
"It's a quiet, beautiful night at the edge of the park while the sun is going down," Windham says. "It's the most personal way to be elegant." ♦
Mozart on a Summer's Eve • Tue-Wed, July 15-16, at 7 pm • $10 lawn seating /$30 table seating (limited tickets left) • Manito Park • 1800 S. Grand Blvd. • nwbachfest.com/mozart • 326-4942
For those reserving tables, Luna restaurant will cater dinner at a separate request. For those in lawn seating, bring blankets and/or chairs to sit on. Picnic food and alcoholic beverages are encouraged. Seating opens at 5:30 pm.