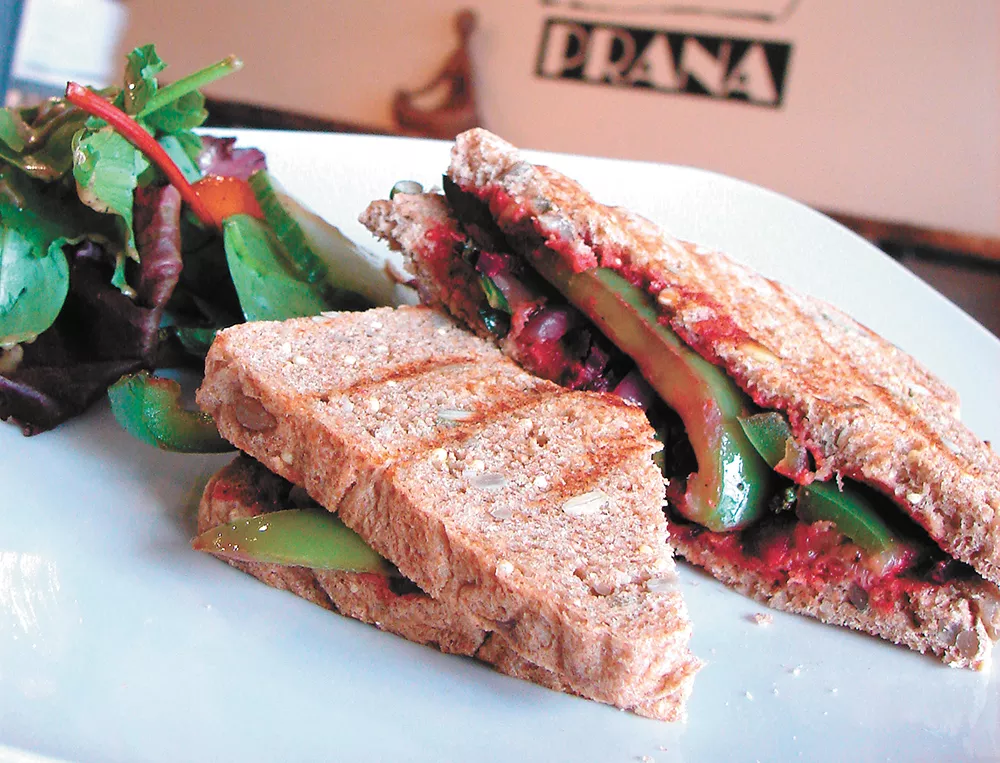 Jennifer Swope knows of at least one North Idaho restaurant where her kids can order anything off the menu: Prana Juice Bar & Eatery. One son, explains the mother of four, favors the Vibe Me smoothie — cashew milk, banana, strawberries, blueberries and hemp seeds ($6.95) — while the oldest daughter digs the black bean and avocado quesadilla ($8.25).
"Everything that's on the menu," says Swope, "I had my kids eat."
Swope started Prana after relocating to Coeur d'Alene from Billings, Montana, where she'd nursed the dream of opening a small smoothie and fresh-pressed juice business. "It ballooned into a vegan eatery," says Swope, whose initial interest in the relationship between diet and health was prompted by her then-3-year-old's diagnosis of genetic Attention Deficit Hyperactivity Disorder.
For years, Swope researched, experimented and developed recipes to provide her family what she calls clean eating: no dairy, gluten, processed foods, or refined sugars, with an emphasis on organic fruits, vegetables, nuts and select hormone- and nitrate-free meats.
For breakfast, the Caveman Burrito is Paleo diet-friendly with turkey bacon, organic cage-free eggs, white and orange sweet potatoes and a gluten-free tortilla that Swope makes from scratch ($7.95). The Pumpkin Chai bowl features almond butter, banana, pumpkin, granola and housemade chai ($8.95), while the grilled veggie sandwich features a tofu bread and beet hummus ($7.95).
Prana beverages range from smoothies ($6.95) and cold-pressed juice ($5.95-$6.95) to local DOMA coffee ($2.50-$4.50) and Bare Culture Kombucha ($4.25). Avocado lends a creaminess to the Love Me smoothie (almond milk, avocado, orange, spinach, raspberry, strawberry and sweetener — in this case, dates) while ginger gives the Kryptonite juice (spinach, celery, cucumber, ginger, kale, orange) a real punch.
Providing a family-friendly place is important, says Swope, who included a kids' area in the small storefront restaurant, as well as a kids' menu of Paleo and vegan classics like an AB&J with almond butter and jelly ($5.25). ♦
Prana Juice Bar & Eatery • 212 W. Sunset Ave., Coeur d'Alene • Open Mon-Fri, 7 am-3 pm; Sat, 8 am-3 pm • facebook.com/pranacda • 208-966-4120