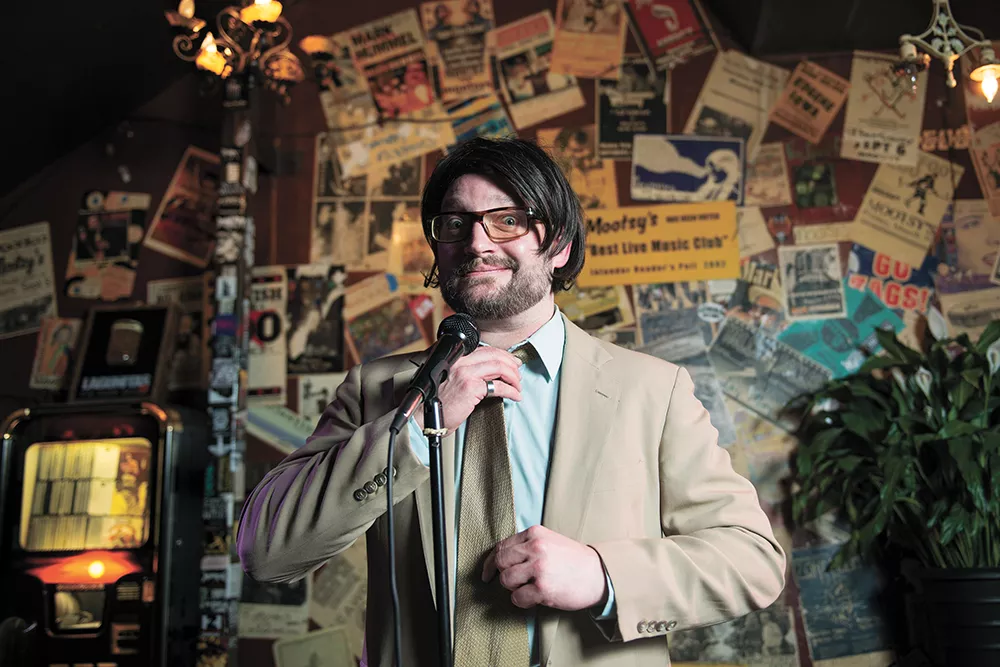 In the dim back corner of Mootsy's, a man in a tacky tan suit with a mop of fake black hair sits under a spotlight, welcoming competitors to the bar's monthly adult spelling bee.
"Welcome to the Mootsy's Spelling Bee, S-P-E-L-I-N-G," Richard O'Seanary says leaning into the mic, most of the crowd missing his intentional misspelling as they chatter away.
You might call him Dick O'Seanary — get it, like "dictionary?" — but chances are you know him better as downtown bartender and actor Danny Anderson. This year, he's been helping Mootsy's bartender Will Brasch breathe new life into the bar's spelling bee, which used to attract massive late night crowds before a previous host moved away.
For the revitalized spelling bee, the duo concoct a new theme every month. For July, it was "Summer Lovin': Spell me more, spell me more," with each of the four rounds themed on warm-weather topics like barbecues, summer camp and more.
It's free to participate, and happy hour goes on all day, offering $1 off everything.
Signups start at 9 pm the one Sunday a month the bee is held (usually the second Sunday, but check the Mootsy's Spelling Bee Instagram and Facebook for future dates) and by about 10 pm the 10 contestants should be ready to tackle their stage fright and do some good ol' fashioned spelling.
Brasch's personal lighting setup provides a colorful stage for the show, and Anderson has sound effects and music at his fingertips, making the bee feel like the lovechild of Who Wants to Be a Millionaire? and a '70s trivia game show.
Those things in particular make the show fun and accessible, which is one of the main goals the two had in revamping the bee, Anderson says.
"People are afraid of public speaking in general, let alone getting up and shaming them on their knowledge of vocabulary," he says. "We're just trying to make it more of a comedy show, make it fun again."
So the words are often super easy, offering more of a chance to make a quick joke than anything.
Take the first round, "Grills gone wild," when one woman is asked to spell "buns."
"Buns?" she asks, making sure she heard that right.
"Buns! It's a bread roll. Or a big ol' fat ass," O'Seanary quips.
She spells it right and the round moves on as others are asked to spell "melons," "sauce," "condiment" and more. But even if a speller missed one of the fairly easy words, they aren't eliminated right away.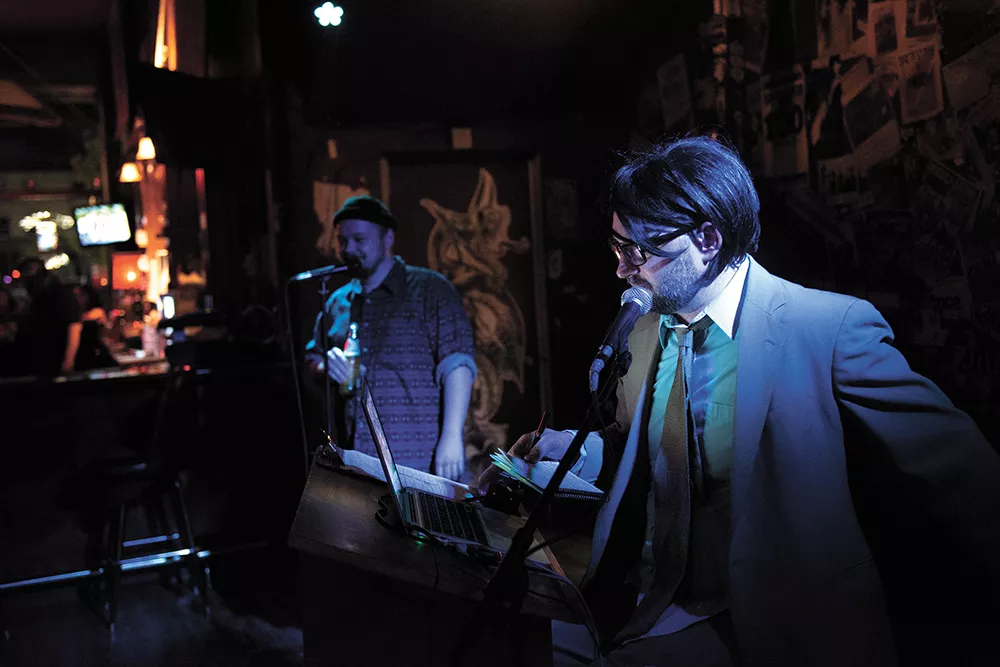 "I learned pretty early that it's not fun to shut everyone down," Anderson says.
Instead, words in the first round are worth one point, in the second are worth two, etc., with words typically getting harder by the third and fourth rounds.
It's worth emphasizing that the event is aimed at the late night crowd, and the list of words often reflects that, with body humor and sex making for easy punchlines.
The July bee's second round, "Camp: Pitch your tent," features summer camp words moving from "counselor" and "s'mores" to the more risky "virginity," "necking" and "fingering." Round three, "Summer Lovin': Messed up my ass," is primarily a list of sexually transmitted infections and sex acts.
It's at this point that spellers start missing words. Someone misses one of the "I"s in syphilis, while others misspell chlamydia and gonorrhea.
For the fourth and final round, "Hot Bods: Is your globe warming or are you just happy to see me?" the spellers take on heat-related terms like Fahrenheit, carcinoma and dermatologist.
By the end, only the top three point-getters get to wager their points Final Jeopardy-style for the last word. It's the only time spellers are allowed to write their answers down, and whoever spells it right and gets the most points, wins.
"I always thought that was a problem with other bees, is the final spelling is just a back and forth, so it's kind of fun to do that," Anderson says.
The final word for the three guys at the top of the point count tonight is "kumbaya." All three spell it right, but in the end, Paul Conley wins by a single point.
Afterward, he waits around to get a photo with Anderson in his O'Seanary getup.
"I've done [the bee] the last four times and tonight felt great, it was awesome," Conley says. "The fact they do this and it's so engaging is awesome."
The key for Anderson is trying to get people to enjoy participating, but also in making a show that's fun enough that people just want to come watch.
"We can usually scrape up the 10 people max to play, but we want an audience, and we've found friends, like, avoiding it because they're scared they'll be forced to play," he says. "We're trying to get the word out it's more of a comedy show and you don't have to play!"
It's all about having fun, Anderson says.
"It's not always 'syphilis' and 'fellatio,' but it also is," he says. "It's fast and loose and not to be taken too seriously. So study your dictionaries and come on down." ♦
Mootsy's Spelling Bee • Sun, Aug. 11, signups at 9 pm, show at 10 pm • Free • Mootsy's • 406 W. Sprague • facebook.com/mootsysspellingbee • 838-1570