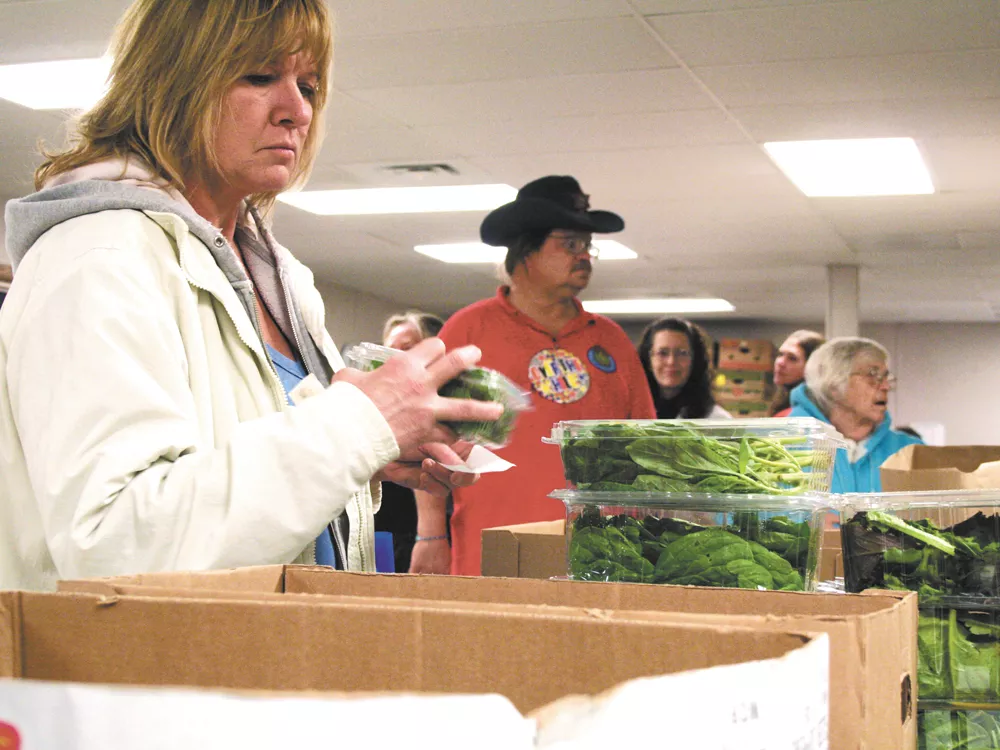 It's dark out on a recent Thursday night when the line at the Medical Lake food bank reaches the door. Director Peg James is bouncing from one room to the next as volunteers fill bags and boxes with food — mostly canned vegetables and soup, some boxed pasta and usually milk and eggs. They pass around bright pink and green sticky notes scribbled with the size of the family who's waiting in line in the next room.
"This looks like a lot," James says, surrounded by shelves stacked ceiling-high with cans. "But it will be gone in a month."
Despite the nation's slow-churning economic recovery, food banks like this one are struggling to feed their clients more than they did in the depths of the Great Recession. Even when donations are soaring, representatives say the growing number of people in need leaves a little less for everyone. The Medical Lake location is serving twice as many people a month now than it did in 2009. Second Harvest, which provides food to 250 food banks like this one around the region, is on track to distribute 2 million more pounds of food than it did last year (and more than double what it did in 2009).
Still, workers are seeing less food go home with each family. People who can prove they're living at or below the national standard for poverty — $23,050 for a family of four — are allowed to visit the Second Harvest food bank in their zip code once a month. That's their only visit, regardless of how much food is available at that time.
"Three years ago the majority of clients were getting enough food for the average family of four to last them about a month," says Melissa Cloninger, director of community relations for Second Harvest. "Now it's more like a week — maybe two weeks."
Nearly 49 million Americans are food insecure, meaning they're not always sure where they'll find their next meal, and more than half of them live above the federal poverty line, according to hunger relief charity Feeding America. About 46 million people are on food stamps, a program that's expected to see deep cuts when Congress revisits the farm bill in its next session. In Spokane County, about 71,000 people, or 15 percent, are food insecure.
"At some point, the community becomes numb," Cloninger says. "People are weary of hearing about all of the need."
Meanwhile, Spokane's patchwork of meal programs is trying to keep up with the same growing need. Various nonprofits throughout town offer meals on certain days of the week, but even those are precarious.
Shalom Ministries, which serves breakfast four days a week and dinner on Mondays in the basement of the Union Gospel Mission, shut down entirely for the month of September because of staffing and funding challenges, local homeless advocates say.
"It was tough. … For big chunks of time there was not a meal served on Monday nights," says Emily Paulson, who runs Gonzaga's Campus Kitchens program, which serves dinner at Shalom on Thursday nights and delivers food to other programs in town.
Gene DiRe, the associate director of programs at Catholic Charities' House of Charity, says his organization was forced to scale back operations to help pay for the sleeping program it offers homeless men every night. They cut their daytime shelter, closing it Sundays and Mondays, and stopped offering a full, hot meal on Mondays.
At the City Gate, a Christian nonprofit that offers meals, clothing and low-income housing in downtown Spokane, a few cans of fruit and vegetables dot the mostly empty shelves of the basement food bank. There are four bags of chips and a Costco-sized box of Frosted Mini-Wheats. Not exactly the makings for a family meal.
Jasmine Love comes here once a month to get what she can, but she admits it's usually not enough to make full meals. On her last trip, there were no canned vegetables or fruits. The 23-year-old, who wears a green winter coat and her blonde hair pulled into a loose bun, lives upstairs in City Gate's Alberta House Apartments, and says she's been looking for work for months. When she and her husband don't have enough in the cupboards, they eat meals the organization serves four nights a week.
"[Finding food] is a huge burden," Love says. "It feels good to be able to make something for yourself."